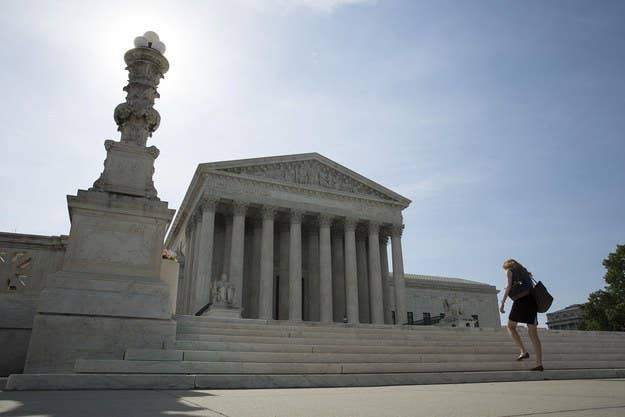 WASHINGTON — Marriage for same-sex couples is legal in five more states, and is likely coming to more states after the Supreme Court's decision not to review a set of cases on the topic.
But, significantly, hardly any Republicans have reacted to the news.
On Monday afternoon, Sen. Mike Lee was one of the few GOP members to issue a statement. His home state of Utah was one of the states where a marriage ban was overturned by an appeals court and the state is now moving forward with allowing same-sex couples to marry. Lee called the Supreme Court decision to not review the appeals "disappointing."
Texas Sen. Ted Cruz likewise criticized the decision on the part of the court and announced that he would introduce a constitutional amendment that would allow the states to define marriage.
" I will be introducing a constitutional amendment to prevent the federal government or the courts from attacking or striking down state marriage laws," Cruz said.
Supreme Court decisions are often met with swift reaction from members on Capitol Hill, filling reporter's inboxes with statements of disappointment or support for whatever the justices have ruled. All the more when the decision impacts a hot-button social issue.
The muted response from congressional Republicans is telling. As public opinion on legalizing marriage for same-sex couples has dramatically shifted in its favor, the GOP's opposition has quieted. Republicans have often argued that the decision on marriage should be left up to the states.
Several congressional Democrats, including Minority Leader Nancy Pelosi, celebrated Monday's decision by the court to not review appeals of lower-court rulings on state laws banning same-sex couples from marrying — leading to legalized marriage for same-sex couples in five more states, with six others expected to follow in short order.
Lee, in his statement, argued the court "owes" it to the people in the states concerned to rule on the marriage issue.
"Nothing in the Constitution forbids a state from retaining the traditional definition of marriage as a union between a man and a woman," he said. "Whether to change that definition is a decision best left to the people of each state — not to unelected, politically unaccountable judges. The Supreme Court owes it to the people of those states, whose democratic choices are being invalidated, to review the question soon and reaffirm that states do have that right."
Last year, after the court's ruling striking down part of the Defense of Marriage Act, congressional Republicans were divided as to how to proceed. A vocal minority wanted to see some kind of congressional action — like a vote on a federal marriage amendment — in response to the decision, but the majority were ready to move on and drop the issue.
Silence remains the most popular position among congressional Republicans. There are currently only four Republican Senators and two GOP House members who have come out in support of marriage equality.
This story has been updated with a statement from Sen. Ted Cruz