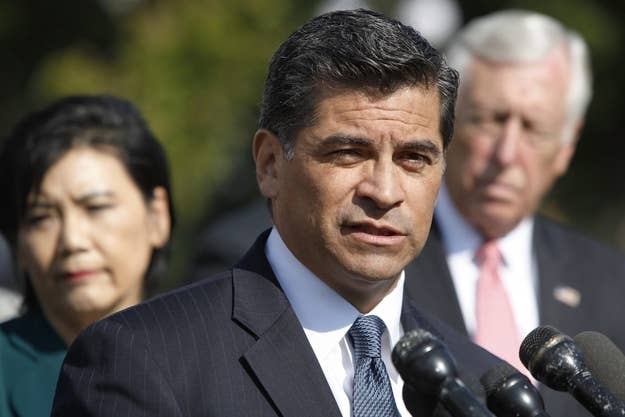 The Congressional Hispanic Caucus will not release a resolution demanding action on deportations from the administration, following a Thursday meeting with President Obama and his announcement the administration will review deportation practices.
Members of the CHC said Friday that the president's review of deportation practices accomplishes what the resolution was intended to do.
"The bottom line is that the resolution was so that we could get some action," Rep. Lucille Roybal-Allard said. "And we got the meeting with the president, he's going to be working with us, so we've met that goal. So there's really at this point no need for the resolution. We've gotten at this point the attention that we needed."
The resolution, which would have been a public stand for CHC members only, had been the source of major back-and-forth in recent weeks.
Under pressure from activists, the CHC put together a resolution intended to push back against the administration's deportation record. After activists called the resolution's language too mild, the CHC drafted a more strongly worded resolution to be released Thursday night.
The White House asked the CHC to postpone or cancel a vote on the resolution, and invited three CHC members to meet with Obama Thursday night.
Following that meeting, Obama ordered a review of his administration's deportation practices.
Rep. Xavier Becerra (D-Calif.), who is also chairman of the Democratic caucus, met with the president Thursday and was positive about the review.
"We're resolved in the caucus to get this done," Becerra said. "We went to the president and made it very clear, we're not going to sit simply because the Republicans are twiddling their thumbs. We need to move, we need to do things and we need the administration to work with us as best they can. And the president in every way said 'I'm there, I will do everything I can.' The caveat is he will do everything he can, and as president he can't change the law."
Becerra also described an upcoming meeting with Department of Homeland Security Secretary Jeh Johnson as "so important."
"They are finding out what they think they can do, we'll let them know what we think they can do and hopefully what we'll find is that we'll move on some things," he said.
The deportation issue has become a source of tension for Obama and Latino activists — and within the movement to overhaul current immigration laws — this year.
In recent weeks, the president has been called the "deporter-in-chief" by Janet Murguia, the head of the National Council of La Raza.