Congress Wants The Obama Administration To Take Action Against The Venezuelan Government
"What's going on there is horrific, it's horrific," Rep. Mario Diaz-Balart says. As violence in Venezuela continues, members of both parties expressed frustration at administration inaction.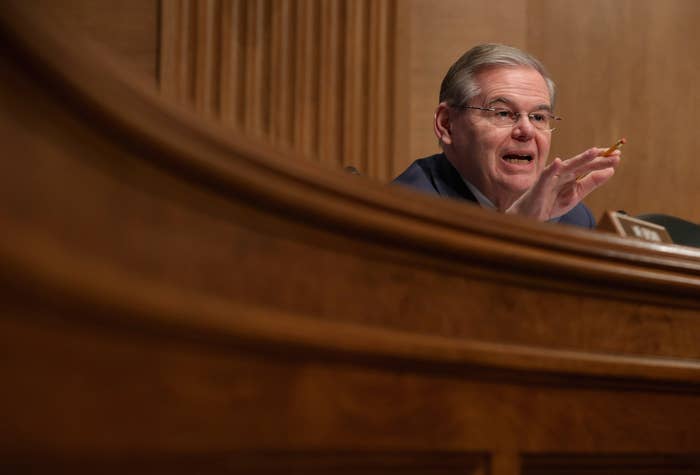 WASHINGTON — While the world is captivated by the Russian invasion of Ukraine and a missing Malaysian plane, a bipartisan group of lawmakers is increasingly frustrated by the administration's inaction on another crisis: The political violence in Venezuela.
Since demonstrations began against the regime of Venezuelan President Nicolas Maduro in early February over poor economic conditions and security concerns, at least 31 people have been killed in protest-related violence. Opposition leaders have been jailed, and social media has been intermittently censored.
Both the House and the Senate have passed resolutions condemning the actions of the Maduro regime — but lawmakers are impatient for more action, especially from the Obama administration, and exasperated by the lack of American media coverage.
"I wish the Malaysian jet would land in Venezuela because then we would get coverage," said Rep. Ileana Ros-Lehtinen, a Florida Republican.
"What's going on there is horrific, it's horrific," Rep. Mario Diaz-Balart, another Florida Republican said. "What's going on there is getting very little attention and almost no attention from our administration."
"The sad part is that the administration could do something," he said. "We've written letters to the president detailing things he could do right now to show solidarity with the folks who are trying to recover their democracy. For some reason this president, frankly, at this stage is refusing to do anything."
Ros-Lehtinen and Diaz-Balart are leading the House effort to rally support for a bill that would impose sanctions on Venezuelan officials and authorize funds for civil organizations and protesters; a companion bill is currently working through the Senate.
"Ukraine rightfully has gotten a lot of attention but at the same time the Ukrainians are standing up for their rights — the Venezuelans were doing the same. Little by little we are losing Latin America to thugs and autocrats," Ros-Lehtinen said.
But it isn't just Republicans who want to see the Obama administration take action in Venezuela. Democratic Foreign Relations chair Sen. Robert Menendez is leading the upper chamber effort — along with Sen. Marco Rubio — to pass sanctions.
"What we are trying to do through our legislation is not only rivet attention, but rivet action that sends a clear message to the Maduro government that this is not acceptable," Menendez told BuzzFeed.
Menendez said he too would like to see Obama take stronger action on Venezuela.
"I have not seen in this particular case, unlike Ukraine where the president has been very firm and started a series of sanctions on his own, I have not seen the same type of response in Venezuela," he said. "It seems to me the crisis may be different, but it is a real challenge to democracy within our own hemisphere and a real consequence to the message that we send throughout the hemisphere about what is permissible or not for one government to do to its citizens."
The violence and protests shows no signs of slowing: Just this week, three more people were killed in Venezuela in protest-related violence. Maduro allies have launched a treason investigation into opposition leader Maria Corina Machao; another opposition leader, Leopoldo Lopez, has now been in jail for more than a month. Corina Machao has since gone to appeal to the Organization of American States, with the delegate from Panama giving his seat to her so she could make her case.
Rubio has aggressively tried to shine a light on the situation in Venezuela for some time, addressing the crisis from the Senate floor last month. Rubio sent a letter to Treasury Secretary Jack Lew to meet with Venezuelan Americans on a recent trip to Florida to "discuss what steps, if any, your department has taken or intends to pursue regarding financial sanctions against individuals committing or ordering gross human rights violations in Venezuela."
The administration maintains it is taking action. Secretary of State John Kerry testified before the House Foreign Affairs Committee last week that the administration was "not only speaking out but taking steps."
"We are engaged now with trying to find a way to get the Maduro government to engage with their citizens, to treat them respectfully, to end this terror campaign against his own people, and to begin to hopefully respect human rights and the appropriate way of treating his people," Kerry said. "And we're — we think it's time for the [Organization of American States], for the neighbors, for partners, and other international organizations to all focus on Venezuela appropriately, hold them accountable."
(For her part, Ros-Lehtinen described his answer as "hemming and hawing.")
A National Security Council spokesman told BuzzFeed in a statement that the administration has been "in touch with Congress on recent developments in Venezuela."
"Our immediate focus is on encouraging the start of a meaningful dialogue between the Venezuelan government and its people. With our international partners, we continue to look at what more we can do in support of that effort. At the same time, we've been clear about the need for protestors to be released and for fundamental freedoms like freedom of speech and assembly to be protected and respected," Jonathan Lalley, the NSC spokesman said. "It isn't just the United States that's expressed these views; you've heard the same from the OAS, the EU, and countries across the region. The future of Venezuela is for the Venezuelan people to decide. They have legitimate grievances that deserve to be addressed. We have strong historic and cultural ties with the Venezuelan people, and we remain committed to our relationship with them."
Lalley also said that the administration condemned the government's moves against Corina Machao, the opposition leader under investigation by the Maduro regime.
"This is exactly the wrong direction for the Venezuelan government to take at a time when grave economic and social problems need to be resolved through the democratic process…We join the international community in calling on the Venezuelan government to choose dialogue over confrontation," he said.
Meanwhile, Capitol Hill says they have no intention of giving up on some kind of action. The Senate unanimously passed their resolution supporting the Venezuelan people and only one member of the House voted against the resolution in that chamber.
"It was necessary to express immediate concern," Menendez said. "That alone was not enough … I'm looking forward to trying to move legislation when we return."
This story initially misidentified the 31 people killed in Venezuela's protest violence as protesters. Some were also members of the security forces and bystanders.
Kate Nocera is the DC Bureau Chief for BuzzFeed News. Nocera is a recipient of the National Press Foundation's 2014 Dirksen Award for distinguished reporting on Congress.

Contact Kate Nocera at kate.nocera@buzzfeed.com.

Got a confidential tip? Submit it here.