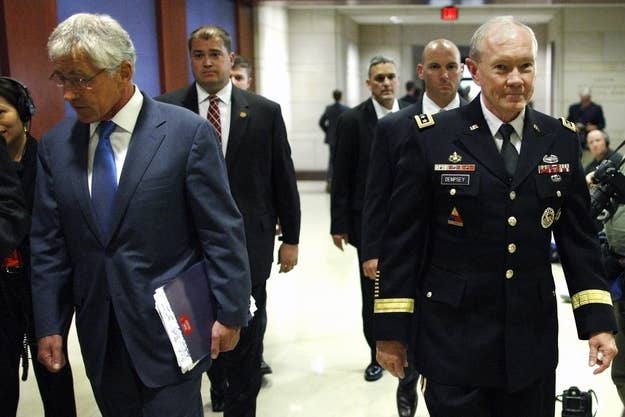 WASHINGTON — There was a collective sigh of relief on the Hill Monday, as lawmakers quickly began to embrace a Russian proposal aimed at ending the standoff between President Obama and Syrian strongman Bashar al-Assad over his use of chemical weapons.
Facing a politically difficult vote on whether to authorize Obama's use of military force to limit Assad's chemical weapons ability, members of Congress seized on the 11th-hour Russian plan — which would require Syria to turn over its weapons stockpile to international control — hopeful a diplomatic approach would take a military strike out of the equation.
"I'm not convinced that [striking] is the best thing for America to do, and I'm heartened by the reports of an offer by the Russians to negotiate an agreement for the international community to take hold of the chemical weapons in Syria," said Democratic Rep. Hank Johnson.
Following a briefing on the Hill, members of both parties said the option to work through diplomatic means with Syria was appealing and warranted full attention. Coming into Monday, members found themselves in the unenviable position of having to choose between voting for politically unpopular strikes against Syria, or issuing a public rebuke against the president on the international stage.
In an interview with CBS on Monday, President Obama called the Russian plan "potentially positive development."
"Let's see if they're serious," Obama said. "But we have to make sure that we can verify it and enforce it, and if in fact we're able to achieve that kind of agreement that has Russia's agreement and the [United Nations] Security Council's agreement, then my central concern in this whole episode resolved."
By the late afternoon, Senate Majority Leader Harry Reid decided to scrap his plans for a vote on authorizing military strikes, telling his colleagues on the floor that "the international discussions continue relative to the matter in Syria. Normally, what I would do in a situation like this is file cloture today. But I don't think that's to our benefit. I don't think we need to see how fast we can do this. We have to see how well we can do this matter."
Sen. Dianne Feinstein, chairman of the Senate Intelligence Committee, said in a statement shortly following Russia's announcement, "I would welcome such a move… I believe that Russia can be most effective in encouraging the Syrian president to stop any use of chemical weapons and place all his chemical munitions, as well as storage facilities, under United Nations control until they can be destroyed."
Rep. Peter King, a staunch supporter of striking Syria who has been critical of the White House for coming to Congress for approval to attack the country, said that he was open to considering the proposal but wary of Russia's intentions in the region.
"You have to look at it but also be skeptical. I'm concerned about giving Russia that much leverage in the Middle East, but it does have to be looked at," he said. "They've been pretty weak in the Middle East. To bring them back in would be a way to duck a tough issue, which is why [Obama] should never have gone to Congress in the first place."
Some Democrats saw the offer from the Russians as proof that Obama had made the right move in going to Congress for approval before striking Syria.
"I like what Russia is coming out and saying today, and if there's an opportunity to do this through diplomatic and political means, it would have never happened without Barack Obama," said Rep. John Larson, the former chairman of the Democratic caucus. "It would have never happened if he didn't give pause and take the matter to Congress."
"It's very good for the president," said Rep. Joe Courtney. "Obviously it didn't happen in a vacuum, he can legitimately take some credit for it."
Although the conservative and progressive wings of American politics were firmly opposed to U.S. involvement in Syria, the vast majority of lawmakers came back from the August recess sitting on the fence.
"I've heard new things today about Russia's diplomatic move, and it gives me a level of conflict I didn't have before, because I'm torn. Certainly I'm disturbed about the women and children who have been murdered in Syria. Certainly I'm disturbed," said Florida Democrat Frederica Wilson. "But if a Russian who Americans really don't trust but is willing to stand up to the Syrians and say come to the negotiating table, it should interest every single elected official in Washington. I want to hear more about it ... I've always said there has to be a way that this can be solved this diplomatically. Because we definitely don't need more war."
Russian President Vladimir Putin could be giving lawmakers — and the White House — at least a temporary out. However, not all lawmakers are pleased with Washington's sudden embrace of the Russian proposal.
"I think they're playing us like a fiddle," said Sen. Lindsey Graham, one of the chief proponents for military action against Assad.