Congress Goes Through The Motions As Government Shutdown Looms Closer
The House has hatched another plan to send to the Senate, mere hours away from a government shutdown. "I would prefer a system of regular order around this stupid place," said one GOP member.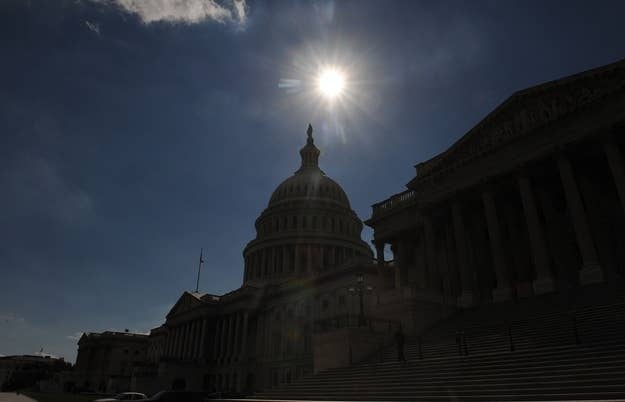 WASHINGTON — The high-stakes congressional ping-pong game continued on Monday, as the deadline to avert a government shutdown drew closer.
House Republican leadership has refused to pass a short-term government funding resolution without tying it to changes to Obamacare. Senate Democrats won't pass a bill that makes any changes to the law. So now the two sides are passing bills back and forth, hoping that whoever is caught with the bill when the clock strikes midnight will get the majority of the blame for a shutdown.
Everyone agrees on one thing: It's the other side's fault.
"I would prefer a system of regular order around this stupid place. That would be my preference," said Wisconsin Rep. Reid Ribble. "If they don't like our plan, send us something back and we'll take it to conference and work it out. That's how negotiations should work."
Senate Majority Leader Harry Reid and President Obama have been firm in their position to not negotiate over government funding. House Speaker John Boehner has said the House will not pass a so-called "clean" resolution. And today, they cycled again through what passes for the new normal on Capitol Hill: The Senate killed a House-passed bill, and the House formulated a new plan to send over.
"They try to send us something back, they're spinning their wheels. We are not going to change Obamacare," Reid said at a press conference Monday. "They want to make changes in Obamacare. Wait until after the debt ceiling. Wait until they're willing to sit down and do a budget for us, with us, and approach this in a reasonable manner."
GOP leadership's latest offer to the Senate and Obama is a bill that funds the government through Dec. 15, but includes a measure to delay the health care law's individual mandate and gets rid of federal subsidies for the health insurance of members of Congress and their staff — an idea pushed by Louisiana Sen. David Vitter.
After days of back-and-forth, Republican members left their closed-door conference quietly, with few members offering comment on the latest GOP plan. It was a stark contrast from Friday, when they were united and excited to send the Senate a plan that delayed implementation of the entire law and repealed the medical device tax.
Conservative members were skeptical of the GOP's new plan because it did not go far enough in their view. Texas Rep. Louie Gohmert, one of the most ardent opponents of the health care law, was unsure how he was going to end up voting.
"It still continues to fund Obamacare … I want to get rid of the subsidy if America doesn't have it, but at the same time I don't want to vote to fund Obamacare," he said.
And conservative groups, like ForAmerica, came out in opposition to the plan.
"It is now clear that House Republicans are not going to insist Obamacare be defunded. That is a surrender. If Republicans in the House had proposed a one-year delay and defund measure, we could have endorsed it," said ForAmerica chairman Brent Bozell. "Instead they have reneged on their repeated pledge to do everything in their power to defeat the Obamacare train wreck. Every Republican who has voted to fully fund Obamacare must be aware that he now owns it."
"It is becoming apparent that the Republican Party is incapable of keeping its word."
Other Republicans sounded more hopeful that the latest plan would put Senate Democrats in a politically difficult position of having to vote down ending federal health care subsidies for themselves, even if the government shuts down.
"If they are not going to accept a delay of Obamacare, then they need to live under it the same way the American public has to," said Florida Rep. Dennis Ross. "That's what we're doing. If they won't accept that, then let them explain to the American public that they shut down the government because they don't want to be subjected to Obamacare. That's the message."
Moderate Republicans, meanwhile, are more than frustrated. Pennsylvania Rep. Charlie Dent said he was ready for the standoff to end.
"Sooner or later, we are going to have to pass a clean continuing resolution to fund the government before the end of the day," Dent told CNN. "The tactics that have been employed up until this point — I suspect it will not be successful."
"I think now it's imperative that we just fund the government, get on with the business of governing," he said.
And Maine Sen. Susan Collins said in a statement Sunday that trying to make changes to the health care law through the government funding process was a fool's errand.
"I voted against Obamacare and have repeatedly voted to repeal, reform, and replace it," she said, "but I disagree with the strategy of linking Obamacare with the continuing functioning of government-a strategy that cannot possibly work."
Kate Nocera is the DC Bureau Chief for BuzzFeed News. Nocera is a recipient of the National Press Foundation's 2014 Dirksen Award for distinguished reporting on Congress.

Contact Kate Nocera at kate.nocera@buzzfeed.com.

Got a confidential tip? Submit it here.