Clinton Keeps Washington Democrats — Her Would-Be Defenders — In The Dark
Senior Capitol Hill aides say the Clinton camp has not made a coordinated outreach effort to brief Democrats on how to handle questions or defend Clinton.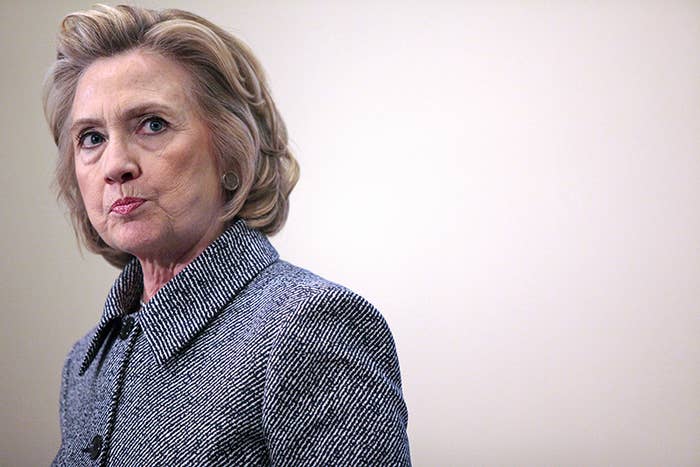 WASHINGTON — Democrats are eager to defend Hillary Clinton from criticism of her email — but her would-be defenders say they've been taken by surprise by revelations about her email, and by the lack of ammunition from her aides to would-be allies.
Even as Clinton attempted Tuesday to explain the email controversy at a press conference — the first time she had publicly addressed the issue — top Washington Democrats and her potential allies on the Hill say they have heard little or nothing from the Clinton camp in the week since the story broke.
Only a very small number of senators, television surrogates, and top officials have heard directly from Clinton's staff since the New York Times broke the story last Monday. Few, if any, appear to have known knew the Times story was coming, despite the fact, multiple Democratic sources said, that Clinton's top spokesman had provided talking points on a separate foreign donations story that very morning.
A Clinton spokesman did not respond to a request for comment.
While BuzzFeed News was able to confirm that some individual lawmakers have been contacted directly by Clinton staff, five senior Senate Democratic aides said Clinton's camp has made no official coordinated attempt to reach out to lawmakers and provide them with talking points or guidance on how to handle press questions. One leadership aide did say a Democratically aligned organization provided some members with talking points Monday.
Another Democratic aide said that because Clinton does not have a fully functional campaign staff, Clinton's defense has come almost entirely from groups like Correct the Record, so outreach and coordination among allies has been haphazard.
"I hope that changes really quickly," the aide said.
While the closely held approach frustrated Democrats in D.C., it did prevent one hazard in the press: leaks, something the Clintons are usually averse to and something Capitol Hill is known for. Regardless, the relative silence may be coming to an end. Following Clinton's remarks at the press conference, spokesman Nick Merrill released a Q&A document to reporters detailing the email situation in response to various questions that have been raised.
White House officials have privately expressed frustration with the way Clinton and her team had handled the fallout to the email story, the Wall Street Journal reported this week. Clinton's press conference, one Obama Administration official remarked Tuesday, "conjures up the worst of the '90s."
The Democratic National Committee, while unable to defend Clinton as if she were the Democratic nominee, is usually quick to respond to negative stories by counter attacking GOP presidential hopefuls. It wasn't until the day after the Times report did they begin to attack Jeb Bush for using personal email to conduct official business as governor. One veteran Democratic strategist argued it appears that even close Clinton ally David Brock wasn't given a heads up on the email story, noting his response operation wasn't up and running "until a full 12 hours after the story came out … which makes me think they didn't get a heads up."
The strategist argued the email story has exposed the central weakness of the Clinton operation: its aversion to leaks and unwillingness to accept them as a cost of doing business.
"I can sympathize," the strategist said. "If you're trying to control the story of how you're going to roll out your announcement" maintaining a small footprint with few actively engaged surrogates makes sense. "But then you open yourself up to this," the strategist warned, arguing, "I don't think they necessarily have that infrastructure or enacted that infrastructure … [which means] you have no way to get things out to your 50 top talkers."
A Senate Democratic aide questioned why Clinton's staff allowed the issue to linger for so long without being forcefully addressed, noting the scandal made headlines even during Israeli Prime Minister Benjamin Netanyahu's controversial speech to Congress last week.
"When it started to break through Bibi day, they should have known it was a big deal," the aide said.
"That's a lesson they're going to have to learn, it's not so much whether they think it's important or not, it's whether its going to get traction with voters," the strategist said.
A K Street operative argued the bungling of the scandal is a result of the Clinton camp's siege mentality when it comes to the press. "This is a 20-year mentality that has evolved over time. 'The press will always give us shit … [so] screw it, we're going to ignore it,'" the operative said.