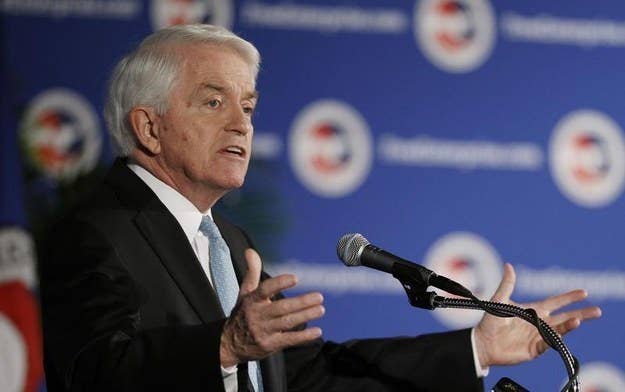 WASHINGTON — The Chamber of Commerce has had a triumphant few weeks.
Key candidates supported by business lobby have won their Republican primaries, some in big upsets. But five of the candidates stand in opposition to one of the core issues the Chamber of Commerce has lobbied hardest for: major legislation on immigration.
Chamber President Tom Donohue has been strident for months, insisting Republicans must pass new immigration laws.
"We'll be absolutely crazy if we don't take advantage of having passed an immigration bill out of the Senate," he said just a few weeks ago, remarking that Republicans shouldn't "shouldn't bother to run a candidate in 2016" if immigration reform doesn't get done. But none of the endorsed candidates who have won with the Chamber's endorsements are proponents of the Chamber-supported Senate bill.
The Chamber has spent millions supporting the slate of candidates in recent months: Thom Tillis in North Carolina handily won his senate primary a few weeks ago, as did Rep. Tom Cotton in Arkansas on Tuesday. Two House members, Reps. Mike Simpson of Idaho and Bill Shuster of Pennsylvania — both once thought to be seriously at risk to a primary challenge — also emerged victorious. Rep. Jack Kingston secured a second-place spot in Georgia's senate primary, sending him to a July runoff. And, of course, Senate Minority Leader Mitch McConnell cruised to victory in Kentucky.
But practically all of the candidates have said that immigration reform can't happen without border security first, however, and fixing current law needs to be a priority. And many view the Senate bill as "amnesty" for the 11 million undocumented immigrations in the U.S.
Cotton actually took to the pages of the Wall Street Journal last year to say the House of Representatives wouldn't touch the Senate bill, and argue against going to any kind of conference on the legislation.
"The House of Representatives will reject any proposal with the Senate bill's irreparably flawed structure, which is best described as: legalization first, enforcement later … maybe," he wrote.
Simpson of Idaho, a top target for conservative outside groups, said that the support from the Chamber was crucial to his re-election and estimated they spent roughly $1 million on his behalf. Simpson's said that while he's for "fixing the immigration system," he says on his website it should happen by making sure "borders are secure and discourage illegal immigration by fixing our broken immigration law."
"I'm for fixing the immigration system," he told BuzzFeed. "But I don't think that's why they endorsed me. It's because of my record over the years supporting the same issues the Chamber supports, like trade agreements and the economy. The [Senate bill] isn't going to go anywhere over here and I think they know that."
Although Kingston supports several Chamber-endorsed provisions like temporary work visas, he says on his website, "There should be no amnesty for any individual who has crossed the border illegally."
For its part, the Chamber says it's not a "single-issue organization." Blair Latoff Holmes, a spokeswoman for the Chamber, said in a statement that while immigration reform is a priority, so is winning in the general election.
"The Chamber is not a single issue organization and we aren't going to agree with members or candidates 100% of the time … Immigration is certainly a top-tier issue for the Chamber but we're also focused on policies that will create jobs and grow the economy such regulatory reform, trade, and energy development to name a few," she said.
"This cycle we're investing our resources in places where we can make a difference, and will put the Chamber brand behind candidates who believe in free enterprise, who have the courage to govern, and who can win in November," she added. "A candidate's electability and a willingness to govern are key metrics in our involvement."
But at least one challenger plans to use the Chamber's support for immigration reform against an incumbent.
The Chamber has plans to spend on behalf of Mississippi Sen. Thad Cochran, who is facing primary challenge from state Sen. Chris McDaniel. McDaniel's spokesman Noel Fritsch slammed the investment to Politico, calling it a "pro-amnesty super PAC."
"The new $100,000 contribution from the Chamber to the pro-Cochran, pro-amnesty super PAC removes all doubt that the pro-amnesty crowd will do anything to keep their pro-amnesty candidate in office," he said.
Cochran, though, voted against the Senate bill last year calling it "fundamentally flawed."