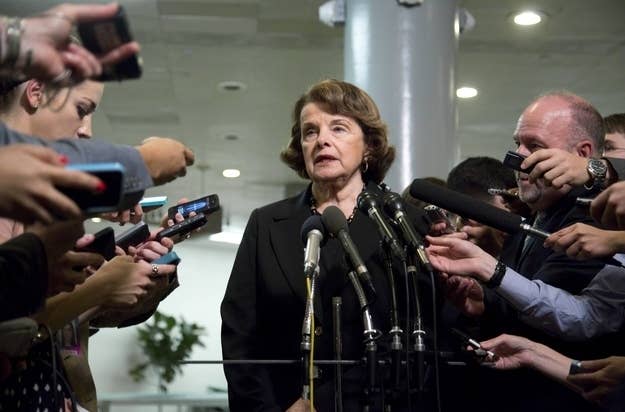 WASHINGTON — Sen. Dianne Feinstein, a lead supporter of the National Security Agency's domestic surveillance, said on Tuesday the Supreme Court should weigh in the constitutionality of the programs.
Federal Judge Richard Leon ruled on Monday that a program which collects data on millions of phone calls — revealed by former NSA contractor Edward Snowden this past summer — was likely unconstitutional and "almost Orwellian."
"Only the Supreme Court can resolve the question on the constitutionality of the NSA's program. I welcome a Supreme Court review since it has been more than 30 years since the court's original decision of constitutionality, and I believe it is crucial to settling the issue once and for all. In the meantime, the call records program remains in effect," Feinstein said in a statement. "Those of us who support the call records program do so with a sincere belief that it, along with other programs, is constitutional and helps keep the country safe from attack. I believe the program can benefit from additional transparency and privacy protections."
Feinstein also noted in her statement that a California Judge, Judge Jeffery Miller, had found the program to be constitutional and Leon's opinion "differs from those of at least 15 separate federal district court judges who sit, or have sat, on the FISA Court and have reauthorized the program every 90 days—a total 35 times in all."
But Leon's ruling energized some of the program's biggest critics, including Sen. Ron Wyden of Oregon who has long been pushing for reforms. The issue has united liberals like Wyden and conservatives in Congress who argue the program is a stark violation of privacy rights.
"It is an astounding day when a federal judge says a government surveillance practice would leave James Madison aghast. What the judge is saying supports a position I've held for some time," Wyden told reporters on Monday. "The idea of collecting all these phone records is not inoffensive data collection as some of the proponents have said. It is digital surveillance. That's why our bipartisan coalition is going to keep pushing very, very hard to ensure that we come up with more effective approaches to ensure people are protected but they don't invade their constitutional rights."
Kentucky Sen. Rand Paul said the "NSA phone surveillance program is a blatant abuse of power and an invasion of our privacy," and US News reported on Tuesday that he was weighing a class-action lawsuit on behalf of "hundreds of thousands" of plaintiffs.
"I think that judge may be right. This is one place where the conservatives and liberals tend to agree," said Sen. Tom Harkin, a liberal senator from Iowa. "It died down a little bit only for other reasons but believe me its there and it's a big issue."
Majority Leader Harry Reid said it was necessary to have a "good public debate" on the NSA programs but that other judges had disagreed with Leon's ruling.
"We know that senators, both Democrats and Republicans, would like to change the law as it relates to some of the collection activities and I think that's good," he said.
Arizona Sen. John McCain said he agreed with Feinstein's premise that the Supreme Court should take up the NSA programs but blamed larger holes in the system for both the leaks and the lack of oversight of the program.
"But where was congressional oversight? Why did we have to find this stuff out from Mr. Snowden. Why were members of the intelligence committee surprised at this information. Why is that?" he asked. "Why should a guy who is not even a government employee but an employee of a contractor have access to everything that Snowden had. There's a serious problem with the way that our government functions and the handling of classified information."