Bill That Would Have Put Limits On The NSA Fails Key Senate Vote
Sen. Patrick Leahy's USA Freedom Act, which would have put some limits on the capabilities of the NSA, didn't get the votes for full consideration.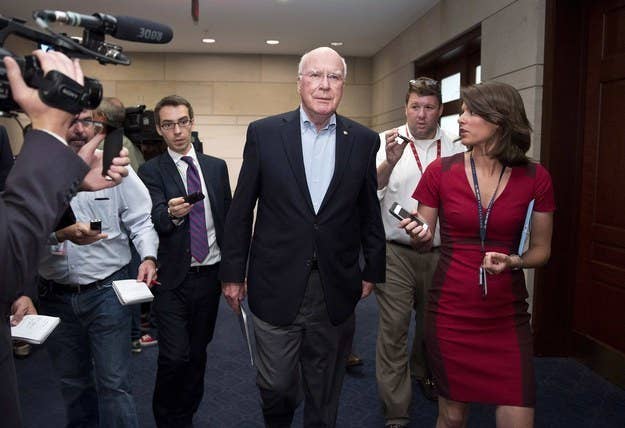 WASHINGTON — A bill that would put limits on certain parts of the National Security Agency failed a key procedural vote in the Senate on Tuesday night.
The USA Freedom Act, sponsored by Democratic Sen. Patrick Leahy and pushed by civil liberties groups, failed to reach the 60-vote threshold that would have opened the bill up to debate on the Senate floor. It failed 58-42.
Leahy had insisted on getting the bill a vote in the lame-duck session of Congress. It was co-sponsored by several key Republicans like Sen. Ted Cruz of Texas and Sen. Mike Lee of Utah. Sen. Rand Paul, a vocal opponent of NSA spying, voting against the bill because it extends the Patriot Act by two years.
Republican Leader Mitch McConnell was also whipping against the bill, saying early Tuesday on the Senate floor that in the middle of the fight against ISIS was not the time to reform the NSA. The Obama administration had come out in support of Leahy's bill.
"The programs we have in place strike an appropriate balance between protecting our civil liberties and keeping our nation safe. And I think the bill before us would upend that delicate balance completely," McConnell said.
The House passed a version of the USA Freedom bill earlier this year. Leahy said he was "disappointed" by the vote and he "would not give up the fight."
Kate Nocera is the DC Bureau Chief for BuzzFeed News. Nocera is a recipient of the National Press Foundation's 2014 Dirksen Award for distinguished reporting on Congress.

Contact Kate Nocera at kate.nocera@buzzfeed.com.

Got a confidential tip? Submit it here.