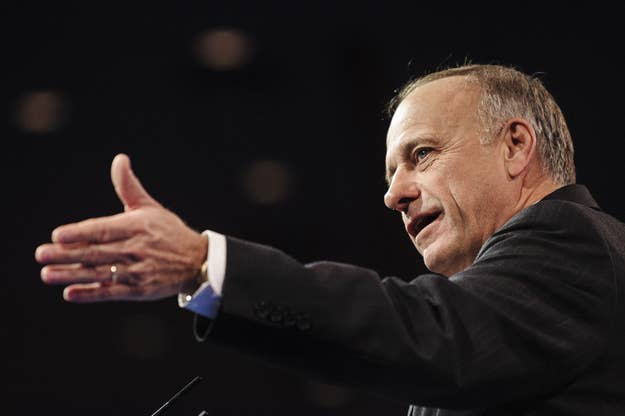 WASHINGTON — Steve King was prepared to talk about immigration for six hours all by himself if he had to.
On Wednesday, the Iowa congressman and immigration hard-liner had organized a press conference-turned-rally scheduled for three hours in the morning and three hours in the afternoon — with a two-hour break for an anti-IRS rally — to protest the immigration bill moving through the Senate and to "have a debate not happening inside the halls of Congress."
"I didn't know when we started out this morning if I might be standing here alone till 5 o'clock tonight," he told BuzzFeed. "I couldn't have said go if I wasn't ready to [do] that. I told my staff, if I can't carry the whole load then I can't say yes."
But King didn't have to talk by himself. Crowds showed up in droves. One member of Congress after another showed up to give speeches. The Heritage Foundation's Robert Rector dropped by to talk about his widely criticized study that the Senate's immigration bill would cost $6 trillion (though there was no criticism from this crowd).
For King, the outpouring of support from tea party groups and like-minded members of Congress was proof that his efforts to stall, and hopefully kill, the Senate's immigration bill in the House were working. If party leaders had hoped King would sit this fight out, by day's end on Wednesday he had made it abundantly clear he wasn't going anywhere.
"People kept asking, 'What's Steve King going to do?' And I heard their voices dripping with contempt that they were going to be able to run over the top of us and of course that's not the case," he said.
"I don't want it to be personal, and I don't want it to be a family feud, but I didn't force this debate, they did."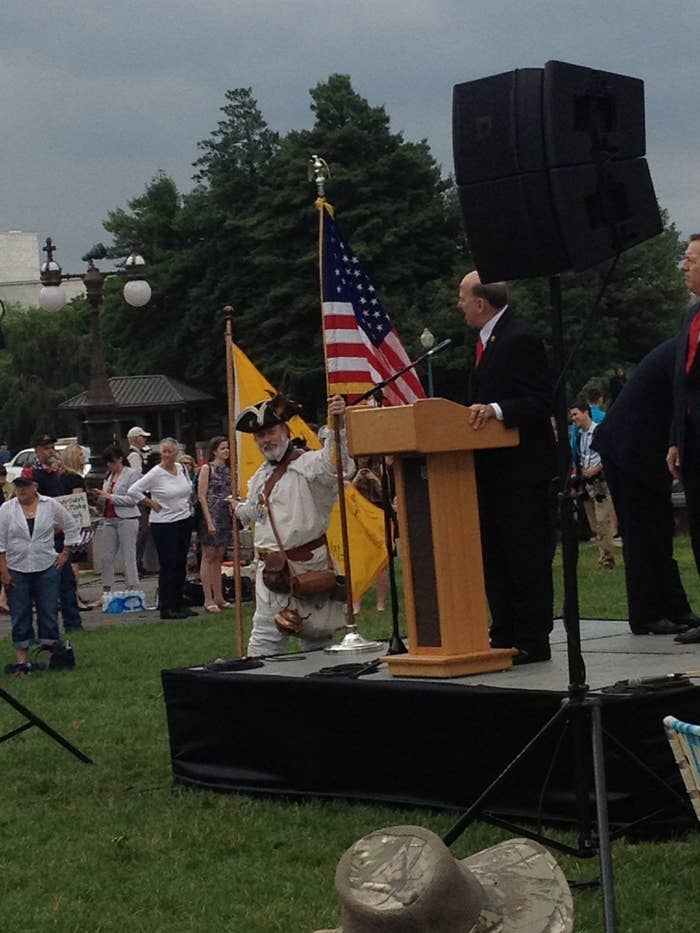 "What we have today is maybe the longest press conference in the history of the United States Congress," King said in the morning.
"This bill is at its core amnesty," King said to cheers. "We're here to today…to take this debate outside the halls of Congress. If it's not going to be good enough inside, we'll take it outside!"
National Republicans have called for immigration reform as they work to gain Hispanic votes, and the party in Congress is split between those who would support comprehensive immigration reform that includes a path for citizenship for undocumented immigrants, and those, like King and Texas Rep. Louie Gohmert, who say immigrants who came here illegally should not be given citizenship and the border needs to be secured.
"This is about the rule of law," King said many times.
Supporters of comprehensive immigration reform argue that King, Gohmert, and others are outliers in the Republican party and point to polling that shows the majority of Americans support a pathway to citizenship that comes with tighter border security.
"With their abysmal showing among Latinos in the last election, it is suicidal politics to let the Steve King wing continue to drive and define the GOP," said Frank Sherry, executive director of America's Voice, in a statement. "There is a path forward in the House, but it requires the adults in the GOP to work with Democrats and modernizers and do the right thing for the country, which is also the right thing for their party."
Conservatives are wary that House Speaker John Boehner will find a way to bring immigration reform to the floor of the House, although Boehner has said he will not do so without a majority of Republican support.
But by the end of the day Wednesday, King and his crew were feeling more emboldened than ever to keep on fighting.
"This is so important, and I think our Republican leaders aren't getting it," said Gohmert. pointing to the IRS, Obamacare, and other issues troubling the Obama administration. "Our Republican leaders are saying, 'Let's change the subject.' Are you kidding me?"
As hundreds of King's tea party supporters continued their rally, Rep. Cathy McMorris Rogers, the chair of the House Republican Conference, emerged from the Capitol for own press conference a few dozen feet away. Flanked by a small cadre of pro-reform Hispanic faith leaders and aides, McMorris Rogers' press conference was dwarfed by King's throng.
Several members of Republican leadership had met with the Hispanic leaders to talk about immigration issues in their communities as the House begins to tackle immigration reform.
"The goal of this gathering was to talk about these faith-based and community-based leaders about what they are seeing in their communities, and it's a conversation Republicans want to have," she said.
Rep. Mario Diaz-Balart, a Florida Republican working on a House immigration bill, spoke briefly in Spanish at the McMorris Rogers event and was heckled by one of the tea party protestors who had wandered over and yelled, "Learn English!"
King had wanted the tea party show up, and show up they did. They were mad: at Boehner, at Congress, at the Senate's 'Gang of 8,' at the media, and especially at Florida Senator Marco Rubio.
"Throw them both out, go home," said Jessica Hayes of Boehner and Rubio. Hayes had come to Washington from West Virginia to protest the Senate bill and throw her support behind King. "If I break the law, I go to jail. We need to enforce the laws that are on the books, send the people that are here illegally home and don't let them back in."
Cheryl Griffin drove up from St. Lucie Florida, armed with a sign that read "Marco: Early advocate of Muslim Brotherhood takeover." She had campaigned for Rubio in 2010, and wore two buttons: one with 'Rubio 2010' x-ed out, and another that pictured Rubio in a sombrero with devil horns.
"Today I would vote for Charlie Crist — at least I know who he is," she said. "He used us. We did not send him here to do this. He's here to say no and stop it."
The star of the morning session was undoubtedly Michele Bachmann, the Minnesota congresswoman and tea party favorite who recently announced she would not run again for her House seat.
Bachmann, feeling inspired, asked that all children under the age of 18 come up to the stage, and a woman attending the rally from North Carolina, Angela Murray, handed Bachmann her 6-month-old, Terra.
"Say hello to Terra, and say hello to America's future. I want to ask you something. Little baby Terra is looking at a very different future, when you look at what the politicians have promised ... someone has to pay for those programs. The children that are here on this stage including baby Terra, this is their obligation. Is it compassionate to ask Baby Terra to potentially pay for all of this?" she said.
The crowd spontaneously erupted into a chorus of "God Bless America," and Kalee Carrick, a factory worker from Steubenville, Ohio, started to sob. Crying right along with her were her co-workers Jordan Wright and Terri Leasure, who had driven through the night to attend the day's rally.
"It's an emotional song," Carrick said. "If we don't take a stand now, those kids won't even know that song."