Anti-Abortion Activists Target Republican Congresswoman After Nixed Abortion Ban Vote
Congresswoman Renee Ellmers is at the center of the controversy over the pulled vote to ban abortions after 20 weeks.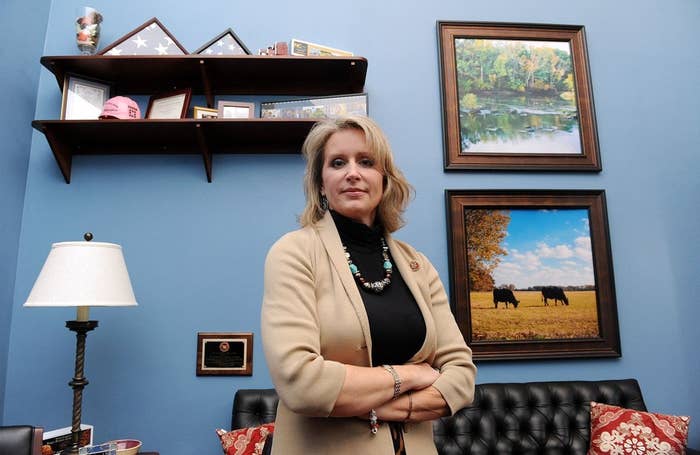 WASHINGTON — At the last minute on Wednesday night, Republican leadership pulled a bill to ban abortions after 20 weeks of pregnancy after several women and moderate members from their own party protested.
At the center of the controversy over the pulled vote and the target of much of the ire from anti-abortion activists is Congresswoman Renee Ellmers, a 3rd term member from North Carolina, who objected to language in the bill that would have required women to report their rapes to police prior to seeking an abortion. Ellmers and Rep. Jackie Walorski withdrew their co-sponsorship of the bill last week.
The vote was to take place on the same day as the March for Life, when hundreds of thousands anti-abortion protesters march through D.C on the anniversary of the Roe vs. Wade court decision. The House instead passed a bill banning taxpayer funding for abortions.
On Thursday, approximately 50 people who had participated in the March for Life stood outside of Ellmers' office, where a weary legislative director dutifully took notes to hear their complaints.
"I want to tell you…we are very upset with Renee," Tami Fitzgerald, the executive director of the North Carolina Values Coalition, told the staffer. "We are going to make sure someone else takes her seat in 2016. We are not going to put up with these shenanigans. She cratered a big pro-life victory today."
Fitzgerald told BuzzFeed News that Ellmers was their focus because she had voted for similar legislation last congress and that Ellmers "had been on record as a no-exception pro-lifer."
"She started this folly. Instead of getting behind a pro-life bill that will save 18,000 unborn children per year…she has fought behind the scenes to get the bill pulled off the calendar today and change it," Fitzgerald said. "I do not believe the controversy over this rape exception is big enough to torpedo a major pro-life bill like this."
Ellmers has gone on to explain that she was concerned about legislation that would appear "harsh and judgmental" to young people and women.
"She said she was concerned about how 'millennials' will feel? Millennials are pro-life too. They're out there marching today," said Gwen Eppard, who traveled from Maryland to attend the March. "I just feel like she betrayed them too. If she's saying she's pro-life, she didn't act it."
Socially conservative members of Congress were confused by the vote switch as well.
Without mentioning Ellmers by name, Rep. Tim Huelskamp said "if you vote for a bill one year, and oppose it the next that is very difficult to explain.
"I think there's mismanagement on this. They pull this the night before? There are 150,000 marchers who are already concerned about the House leadership's commitment to life and this only furthers their concern," Huelskamp told BuzzFeed News.
Republican conference chairwoman, Cathy McMorris Rodgers told attendees of the march that leadership was still committed to passing the 20 week ban.
However Rep. Charlie Dent, a moderate from Pennsylvania, said that the criticism of Ellmers specifically was unfair.
"It wasn't just women members. It was me. It was other members," he told reporters.
"It's unfair to target her because there were many members — male and female — who had concerns about the language. I guess it was reported that at the retreat she said something about it so they are picking on her, but I think it's unfair," he added.
Kate Nocera is the DC Bureau Chief for BuzzFeed News. Nocera is a recipient of the National Press Foundation's 2014 Dirksen Award for distinguished reporting on Congress.

Contact Kate Nocera at kate.nocera@buzzfeed.com.

Got a confidential tip? Submit it here.