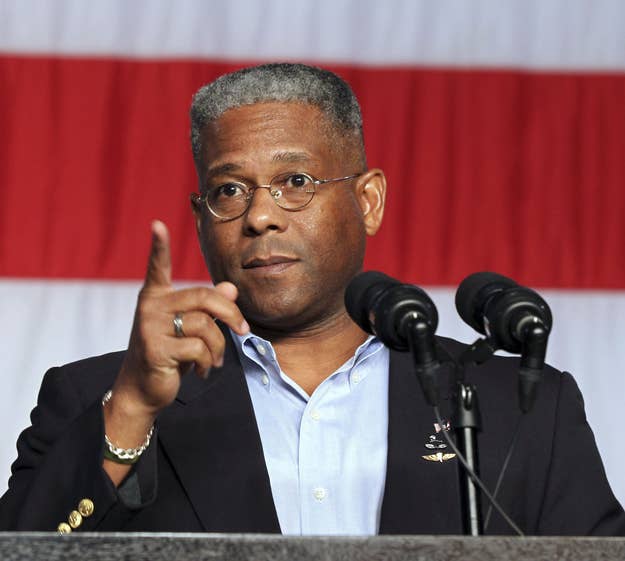 WASHINGTON — On the roof of his new North Capitol Street office building, Col. Allen West points over to his old office, the United States Capitol.
"I'm coming back here to keep an eye on Washington, D.C., and report back to people," West said in a recent interview with BuzzFeed. "There are people that want to know what's going on here, and I believe that folks still believe that I'm a trusted voice."
It has been five months since West left Congress. When the one-term former congressman and face of the 2010 tea party wave lost in a close and extraordinarily expensive contest last November to a young Democrat named Patrick Murphy, Democrats were gleeful. But he did not leave quietly. He fought with the courts and election officials for two weeks before conceding, and at the time, the congressional press corps joked that West might continue to show up for work in the Capitol even if he lost.
That's kind of what ended up happening.
Three weeks ago, West returned to D.C. full-time, moving into an apartment near Capitol Hill. He stays in D.C. Monday through Friday, returning to Florida on the weekends to spend time with his family. He's made multiple appearances on Capitol Hill, only this time he's there as the director and star of an online TV show, NextGeneration.Tv, a project of the conservative PJ Media company. The show is the latest attempt at drawing a younger conservative audience to political programming, and PJ Media hired young pundit Michelle Fields to work as a host and correspondent alongside West.
So does West, who paints himself as a consummate D.C. outsider, see any conflict with the fact that he's selected Washington to be his primary residence even now that he's out of office?
"No, absolutely not," he said. "When the big guy at PJ Media talked to me" — West will not say who exactly approached him — "about coming on with them, and he kind of laid out what he wanted me to do, I told him, you can't cover Washington D.C. and the political scene from [PJ Media headquarters in] Los Angeles. So they made the decision to invest here, and put the resources here, and as you can see we're in a beautiful building, we're in the shadow of the Capitol, so you can't have a better spot."
Like so many of his 2010 colleagues, West ran against the status quo of Washington, D.C. But he also had a no-holds-barred approach to the media and would wander through the Speaker's Lobby, where reporters would hang out, to say exactly what was on his mind. He'd answer any question, and say things that were reliably headline-worthy.
There was the time West famously said at a town hall he believed that 78 to 81 Democrats in Congress were also communists, and the time he wrote to Debbie Wasserman Schultz to tell her she was "not a lady."
His comments made him a hero among his conservative fan base and a boogeyman to Democrats, who often pointed to West as an example of everything they hated about the tea party.
"With Allen West, love him or hate him, there's not a lot of bullshit, there's not a lot of finger up in the wind. He's a guy who says what he believes, whether that's good or bad, whether that's electorally winning or not, he is going to be straight up," said Florida Republican strategist Rick Wilson. "He has a very devoted following."
Wilson sees the draw that West could have with a younger generation of Republicans.
"I've met a ton of Young Republican–type kids who absolutely would crawl over broken glass for this guy," he said. "There's not quite as large a demo as the Ron Paul kids used to be, but this is a guy that is unbelievably authentic. That's not always the politically smartest thing to do, but authenticity is a very big calling card in this world."
West's return to D.C. includes a contract with Fox News and book coming out soon.
There are few surprises in his work for PJ Media so far. In one recent video titled "Allen West on the Liberals' Benghazi Stupidity" he called The New York Times "a flagship leftist propaganda newspaper" for running an editorial that referred to the terrorist attack in Benghazi as a "Republican obsession." In another, he and Texas Rep. Louie Gohmert, who voted for West for speaker of the House, sit down for an interview. They talk about welfare fraud, and how there needs to be a special prosecutor to investigate the Obama administration over the IRS scandal, Benghazi, and the Justice Department seizing the phone records of reporters and editors. The two are clearly pals and happy to see one another: West tells the audience Gohmert makes the best ribs he's ever had. Gohmert tells West he would have done an "awesome job" as Speaker of the House.
Though the platform and venue has changed, West has not. He still doesn't drink coffee or alcohol (he calls ginger ale his "fun drink"), and though he's more dressed down these days in cowboy boots and jeans, his blazer is adorned with military pins and an American flag.
When they were working to get their show off the ground, Fields and West spent every day, all day, together for weeks in Manhattan Beach. He refused to rent a car, opting to walk wherever he needed to go. He was unfailingly punctual, a habit he developed in the military.
"I mentioned that I wanted to get a car so I could go to the mall or whatever," Fields recalled. "His response was, 'Well, I have two feet.' It was very Allen; he never needs anything," Fields said.
West says he'll be critical of Republicans when he has to be. He's frustrated by the party's lack of engagement with the black community, and argues that conservatives can win African-American voters by spending more time making economic arguments in black neighborhoods.
"We need to show up. It's not about a bigger tent or whatever, just show up," he said.
He's not comfortable calling himself a reporter, or a pundit, or even a politician, although he's left the possibility of running for office again in the future very much open. He's is a regular on the GOP speaking circuit, giving speeches at both the Georgia and Virginia Republican conventions. West says he's also "doing some things to try and help" the House Republicans' campaign arm.
"I don't like labels. I'm a former soldier and I'm a former member of Congress. People believe that I'm a trusted agent," he said. "There are a lot of things we've been uncovering to people that the regular news cycle doesn't cover. I think it's important for people to really understand, what is the legislative process, what is really happening up here in Washington."
As far as his own political future goes, West says he's not concerned with it, although he told conservative radio talk show host Tammy Bruce that he'd "look into getting back into the political framework in 2016."
"I don't sit around trying to plan out what's going to happen day to day or year to year," he said. "You know, right now I have a platform and ability to commentate and analyze what's happening in the political scene. I'm very fortunate."