A Friday Night Mess In The Senate
There's not a clear end in sight to the fight over the Patriot Act and surveillance programs. "We're gonna run the clock and they are going to have to either try to work with us or we'll be here all weekend."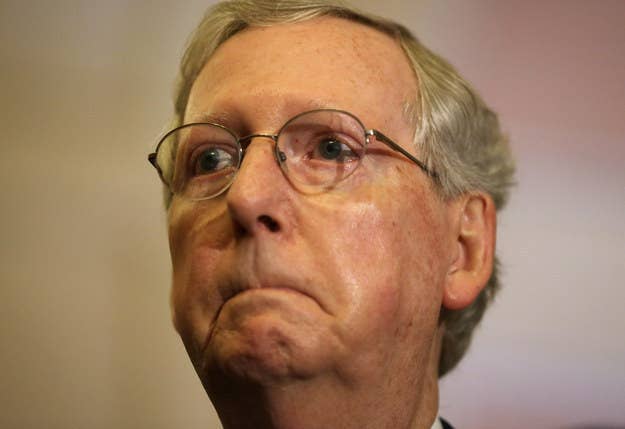 WASHINGTON — The fight in the Senate over how to extend expiring portions of the Patriot Act was never going to be easy, but on the Friday night before Memorial Day weekend it turned into a downright mess.
While the Senate worked their way through passing a trade bill (which as of a few weeks ago was a focal point of drama), much of the conversation on the floor centered around when exactly they would vote on a pair of bills dealing with the Patriot Act. Without an agreement from all senators, Senate rules required that the earliest the bills could get a vote was 1 a.m. on Saturday morning.
And Rand Paul, who launched a 10-and-a-half-hour "filibuster" on Wednesday to protest the Patriot Act and NSA surveillance, was not in the mood to let everyone leave early.
On the floor, Majority Leader Mitch McConnell, a McConnell aide, and Sen. Bob Corker approached Paul at various points. Lips pursed, he'd say something, shake his head, and they'd walk away. Paul said he wanted guarantees on votes on amendments to the USA Freedom Act or he was not going bargain.
"We're trying to make the Patriot Act less bad. We're not quite an agreement to have the amendments," he told reporters. "We're gonna run the clock and they are going to have to either try to work with us or we'll be here all weekend."
Pizza was rolled into the cloakrooms at one point. New Hampshire's Jeanne Shaheen stocked up on Diet Coke in the carry-out. And no one, it seemed, knew exactly what was going on.
"Are we done?" an optimistic Barbara Mikulski asked Bob Casey as he walked through the first floor of the Senate.
When he told her they were not done, Mikulski said Casey's enthusiastic walk towards the exit had given her some fleeting hope.
Ted Cruz, who will usually stop to give reporters a press-release-length comment in response to questions, simply said, "Beats me," when asked by a reporter if he knew what was going on.
Jeff Flake said that it was unclear to him why they hadn't dealt with the expiring provisions sooner, as they knew the deadline was coming up.
"I don't think we have a good excuse," he said. "It is what it is now."
The Senate currently has two votes set up. One concerns the McConnell-favored short-term extension of the Patriot Act — in it, there are no changes to some of its provisions, like the bulk collection of phone records. A second vote on the House-passed USA Freedom Act — a bill favored by some Republicans and most Democrats to make changes to the program — will also take place. Paul opposes the USA Freedom Act; he says it does not go far enough to change the Patriot Act. Both are expected to fall short of the 60-vote threshold they need.
House Republicans and the Obama Administration have been pushing for the Senate to pass the USA Freedom Act, though, and the GOP leadership in the House has indicated they will not return from their recess to approve a short-term stop gap measure if the Senate passes one. No one really knows how the stand off ends, but some Democrats were ready to blame McConnell and his team for running out the clock.
"This is our job but we could have seen this coming weeks ago," said Chris Murphy. "The fact is Republicans intentionally engineered this and we're jammed and now they can't control their own people. This is the consequence of half the Republican conference running for president."
Kate Nocera is the DC Bureau Chief for BuzzFeed News. Nocera is a recipient of the National Press Foundation's 2014 Dirksen Award for distinguished reporting on Congress.

Contact Kate Nocera at kate.nocera@buzzfeed.com.

Got a confidential tip? Submit it here.