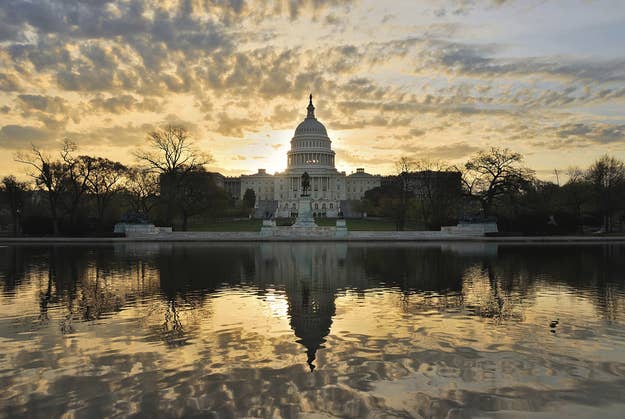 WASHINGTON — Even Congress hates Congress.
The last few months have been filled with similar announcements: Democratic Rep. Bill Owen announced Tuesday that he's retiring. Rep. George Miller announced his retirement the day before. On just one day in December, Reps. Jim Matheson, Frank Wolf, and Tom Latham all said they wouldn't run again.
All told, 14 members of Congress say they will retire at the end of the term — so far.
The number isn't out of the ordinary really — between 11 and 25 House members have retired in the last six cycles — but each day seemingly brings a new announcement.
A number of reasons have been thrown out in media coverage: the demise of the moderate member, frustration with the constant partisan bickering, and the dearth of legislative action. Polling has shown the American public has a higher opinion of dog poop, the DMV, and jury duty than it does of Congress. And it turns out members of Congress themselves may not feel much differently.
"That's a lot of it. I was talking to one member who is retiring and I said, 'Do you feel good about it?' and he said, 'I really do. It just got to the point where it wasn't worth it," said Kentucky Rep. John Yarmuth.
"It's pretty stressful. Everybody is aware the system is broken and that becomes stressful. You wonder what can I do to make it work better," Yarmuth added.
"People get a little war weary and not a lot is getting done around here," said Rep. Charlie Dent, a moderate Republican from Pennsylvania.
Dent said he's "very happy" to be in Congress but understands that some of his fellow members want out.
Minority Whip Steny Hoyer, speaking recently on C-SPAN's Newsmakers program, conceded that lawmakers might be just as fed up with Washington.
"Both parties are experiencing the results of the frustration that has come from the gridlock that we've seen in the last two and a half years under Republican leadership where we have not acted in a positive way to work together to reach compromise to move this country forward," Hoyer said. "This is not only affecting American people but also members."
The committees are taking credit in either direction: The National Republican Campaign Committee chairman Greg Walden said he was counting the retirements of Matheson and McIntrye, who hailed from red districts, as a win for Republicans.
"I think it's a leave or lose mentality more among Democrats than among Republicans especially when you look at the seats that are coming open," he said.
The Democrats, meanwhile, happily took credit for the retirements of both Runyan and Griffin. Those members were on the Democratic Congressional Campaign Committee's "Heat Wave" program.
Inside Congress, there's at least one boon, though: With all the members leaving, there's a little more space for those who remain.
"Frankly the retirements have benefited me because I'm on the Appropriations Committee," Dent told BuzzFeed. "And many of the people who have retired are on the Appropriations Committee and they are senior to me, so now I'm in the top 12 in terms of seniority, which increases the possibility for a subcommittee chairmanship. So it's benefited me."
Correction: A previous version of this story misstated the party of Rep. Bill Owens. He is a Democrat. (1/15/2014)