2014 Could Be A Year Of (Very Small) Action
Don't expect anything big from 2014 but there are some glimmers of optimism from members of Congress. "I'm sure there will be something that will burp out of this dysfunctional congress," quipped Rep. Peter DeFazio.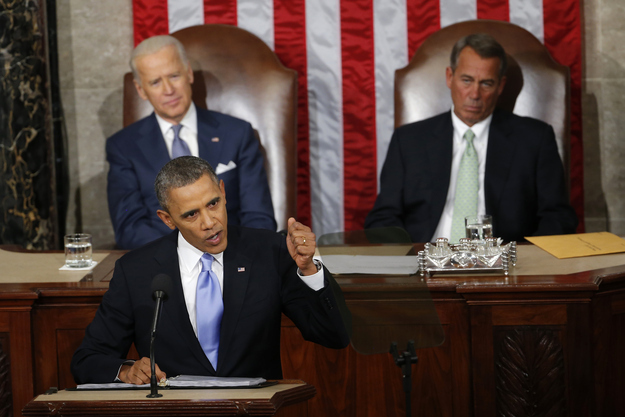 WASHINGTON — After three years of standoffs, something like a bipartisan spirit has descended on Capitol Hill.
In his State of the Union address, President Obama declared that 2014 needed to be a "year of action." Congressional Republicans at their conference retreat last week appeared to be working toward shaking their "party of no" image. Among members, there's a sense that something will happen this year — not something big, but something.
"I'm sure there will be something that will burp out of this dysfunctional Congress," quipped Democratic Rep. Peter DeFazio.
What exactly that will be, DeFazio and other members of Congress don't exactly know. But in talking to members there's a deep desire to be seen as more functional and productive as congressional approval ratings are at an all-time low.
"I'm very optimistic about 2014 — we passed a farm bill neither side is overly happy with but we like enough," said Republican Rep. Adam Kinzinger. "We did the same thing with the budget deal and if the president is sincere, we can find small areas where we can work together in moving this country forward and have a year of action."
Kinzinger said that since House Republicans "got the shutdown out of our system" they needed to refocus on "doing more than just opposing the president."
"The idea that we are somehow going to come to an agreement on huge philosophical differences probably isn't going to happen," he said. "But it doesn't mean everything has to be stalled and we can't do anything."
It may have taken a really, really long time, but Congress finally passed a farm bill, and a budget deal effectively took a government shutdown off of the table for the rest of the year. With those big-ticket items out of the way, members might start looking to sweat the small stuff instead.
Republican House leadership highlighted four points from the State of the Union address where they saw opportunities to work with the president in a letter shortly after the speech. The tone, while critical of Obama's desire to use executive actions, was more open to negotiation on bills dealing with jobs and energy that have already passed the House.
"There are some places where we're probably going to continue to have some incremental movement but I think that the tenor is better than it was, and I'm hopeful we can get some things done with the appreciation this will probably quickly turn into a election year," said Republican Rep. Pat Meehan. "You have to be realistic in the expectations of that."
Democratic Rep. John Delaney recently put together a bipartisan dinner for freshmen at his house, and even some House conservatives, not exactly known for their willingness to reach across the aisle, walked away from it open to the idea of spending 2014 coming together on the small stuff.
"It was awesome, there was 50 of us," said Florida conservative Ted Yoho. "It shows the camaraderie we have across the aisle and that's a great thing. We're going to find the common ground we can agree on; you know stuff that's not contentious."
There are fault lines, however, rooted in the long-held divisions between the caucuses.
"The problem is much of the small things get held up because we can't get some of the bigger items done," said Joe Crowley, the vice chairman of the Democratic caucus. "I would argue that one relatively small item is unemployment insurance. This is a not a complicated piece of legislation and it would show good will that we are helping all Americans."
Democrats remain sharply critical of Republicans for inaction on both raising the minimum wage and extending unemployment insurance. Crowley offered passing a three-month extension of unemployment insurance as a an example of a "small item" on Congress' to-do list. Republicans want to see an unemployment deal paid for — but Senate Democrats say they are addressing the issue.
Potential major conflicts, however, loom with another a looming debt ceiling fight, which usually has the power to suck up all of the oxygen out of pretty much everything else for a long time.
And while immigration may be the one big exception to the small ball rule immigration reform, problems aren't likely going away there either.
House leadership last week released a set of tentative policy "principles" on the topic. But Republicans are wary of Obama and remain divided in their own party. Rep. Paul Ryan, who has long pushed for immigration reform, threw some cold water on that possibility Sunday, telling ABC's "This Week," Republicans have a hard time trusting the president to enforce the laws, making the odds of a deal more difficult. Not to mention the fact that a good chunk of the conference remains opposed to acting on immigration anytime soon.
Asked whether he believed the House GOP would simply unify around some immigration principles and do little else, Rep. Patrick McHenry replied simply, "Yes."
The reason? A big compromise during an election year will be nearly impossible to achieve, McHenry said squarely blaming Obama and Minority Leader Nancy Pelosi.
"All she wants to do in my estimation is get back the speaker's gavel. She's not about policy, she's not about helping those who want to come here in a legal way," he said. "She cares about the politics of it and the votes in the next house election. It's clear that the president cant control his own party in getting maybe 60%, 70%, 80% of what he wants. He's playing for 100% of what he wants."