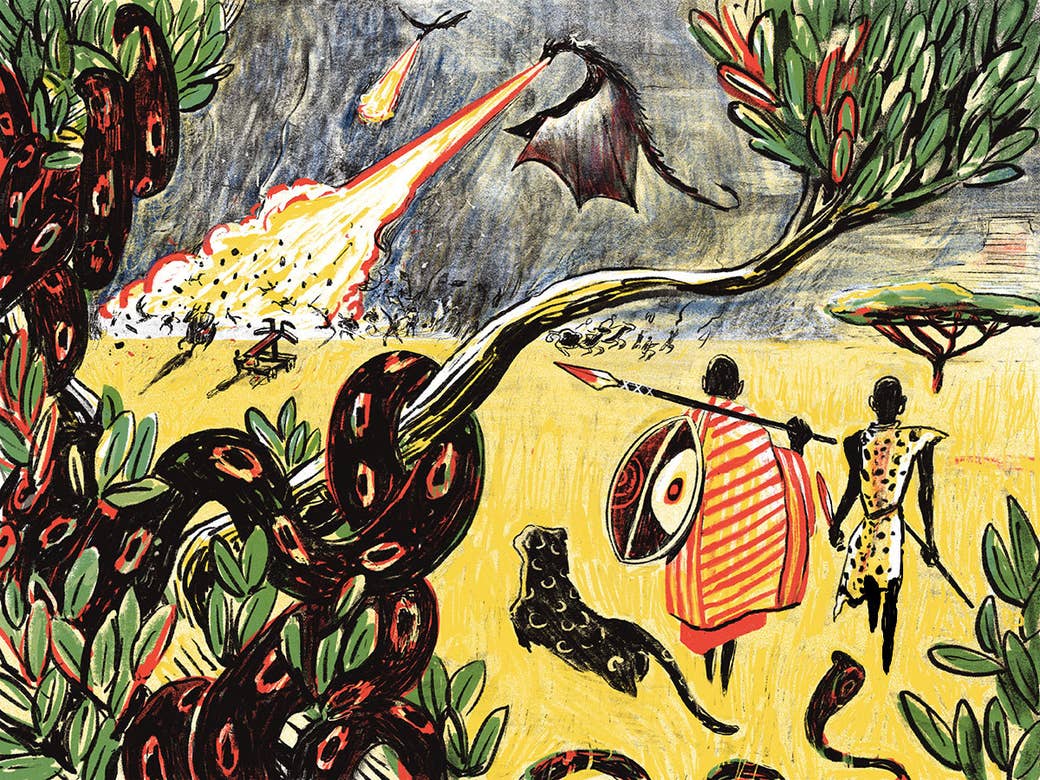 If you were to google "African Game of Thrones," the vast majority of hits would stem from Marlon James' recent press blitz for his new fantasy novel, Black Leopard, Red Wolf. James' novel, about a young man named Tracker who joins a team of supernatural figures to search for a missing boy, has already been optioned for the big screen. It's no surprise that a concept like "the next Game of Thrones" would garner a lot of enthusiasm — especially as the HBO series comes to a close. Audiences are craving the next big fantasy epic. And amid criticisms that Game of Thrones was too white, what better way to answer that craving than by setting an epic in a mystical African past?
The problem, however, as James himself admitted in an interview with the writer Victor LaValle, is that branding Black Leopard, Red Wolf as the African Game of Thrones was initially a joke. "I said that as a joke in a magazine and it took off so much that even [George R.R.] Martin emailed me saying he was so excited." James' novel isn't the first work of African fiction to get Martin's attention either; in 2017 it was announced that Nnedi Okorafor's African-futurist novel Who Fears Death is being developed into a series by HBO with Martin attached as executive producer.
But James' novel and Okorafor's book, about a young woman in a dystopian Sudan who can transform into a bird and visit the mythical Land of the Dead, really have nothing in common with the medieval Game of Thrones.
They are, however, indebted to the late Nigerian author Amos Tutuola, who wrote the fantasy The Palm-Wine Drinkard in 1952, the first novel written in English by a West African writer about an African subject. James sprinkled his acknowledgments of Tutuola's influence throughout his press run for Black Leopard, Red Wolf. A Publishers Weekly profile mentioned the presence of a double volume of Palm-Wine Drinkard and My Life in the Bush of Ghosts beside James' desk, and James included The Bush of Ghosts in his "recent reading" list in a piece for Virginia Quarterly Review. In an interview with PBS NewsHour, he noted that his "literary sensibility is as much shaped by Amos Tutuola as it is by Charles Dickens."
Tutuola's influence on Okorafor is even more explicit: The Palm-Wine Drinkard is included in Who Fears Death, as part of the "Great Book" that survives from before the apocalypse. Yet Okorafor's attitude toward Tutuola is indicative of readers' and literary critics' ambivalence around his work since it first appeared; in an interview with Weird Fiction Review she mentioned that although she enjoyed Tutuola's first novel, "I don't like the way it's written. I don't see it as a style, I see it as Tutuola's English not being strong (it wasn't his first language) and him needing an editor." And while Okorafor admits that many will disagree with her assessment, there is no denying that Tutuola's work overall, and his use of English in particular, is strange and beguiling to most readers, whether or not they are from the African continent. (A journey into the Bush of Ghosts with Tutuola may also have prepared the one-star Goodreads reviewers of Black Leopard, Red Wolf who were hoping for more Martin than Tutuola.)
But amid America's growing appetite for African fantasy, Tutuola's work is worthy of a reappraisal. His compelling narratives and inventive mixture of traditional folklore with wholly unique supernatural elements offers a lot to contemporary readers.

I first encountered Tutuola about five years ago, when I began my master's degree in African literature. I'm a white woman from the New York suburbs, but a mix of curiosity and serendipity have led me to studying African literature — I'm currently writing my doctoral dissertation about genre and death in fiction from Africa and the diaspora, and I'm particularly interested in novels and short stories that play with readers' expectations of what "African literature" even means. I fell in love with Tutuola immediately. The opening lines of The Palm-Wine Drinkard offer an excellent glimpse into why:
I was a palm-wine drinkard since I was a boy of ten years of age. I had no other work more than to drink my palm-wine in my life. In those days we did not know other money, except COWRIES [sic], so that everything was very cheap, and my father was the richest man in our town. My father got eight children and I was the eldest among them, all of the rest were hard workers, but I myself was an expert palm-wine drinkard. I was drinking palm-wine from morning till night and from night till morning. By that time I could not drink ordinary water at all, except palm-wine. But when my father noticed that I could not do any work more than to drink, he engaged an expert palm-wine tapster for me; he had no other work than to tap palm-wine every day.
The opening premise fits comfortably alongside any number of fairy tales from any number of cultures: A spoiled son of a wealthy and powerful man spends his days committed to nothing but drinking palm wine, so much so that his father hires a servant to do the dangerous work of scaling and tapping the palm trees to keep his son sufficiently quenched. Certainly, heavy drinking and the cheeky dismissal of one's hardworking siblings wouldn't seem out of place in the Lannister family tree. The novel quickly takes a dark and uncanny turn, however, when the "tapster" falls to his death — and our narrator must journey into the Bush of Ghosts, and eventually to the Dead's Town, in an attempt to find him.
For me, the pleasure of Tutuola comes from how clever he is. The notion of a man who drinks so much palm wine that he couldn't possibly drink something as bland as water is funny. When the protagonist of the novel later evades the Grim Reaper by hiding under a bed made of bones, I laugh and cheer for him. The delight in Tutuola's writing often comes from its strangeness. His sentence structures don't generally adhere to conventions. His punctuation and capitalization seem random, and he seems to make odd or even incorrect word choices at times.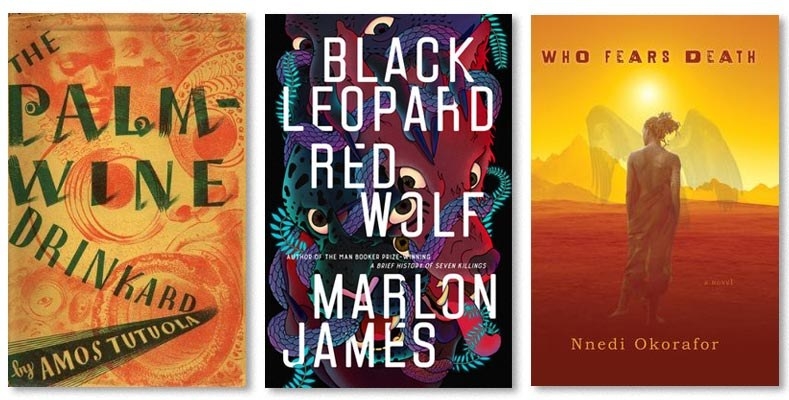 The further into the Bush we travel, the fewer rules apply to the story, both in terms of the rules that govern the natural world and those that govern the English language. For example, an early scene sees the narrator entering into a battle of wits with a god who might know how to get to Dead's Town. He tells us, "after the seventh month that I had left my home town, I reached a town and went to an old man, this old man was not a really man [sic], he was a god and he was eating with his wife when I reached there." This is a lot of information for a single sentence. Furthermore his phrasing, while it can be compared to the modernist, stream-of-consciousness style of a writer like James Joyce, also feels more clumsy than fluid due to the repetition of words and phrases throughout.

Much of the story reads as if Tutuola is in a hurry to summarize all of its events for us rather than transport his readers to the Bush of Ghosts. Thus, dialogue is embedded in the sentences without quotation marks or other grammatical signals to differentiate between his words and the words of others. But Tutuola pulls it off because the stories he tells are so strange, funny, and altogether entertaining.
Tutuola's novels are all relatively short, but they contain the kinds of subplots, side quests, and digressions typical of epics such as The Odyssey, or Arthurian legends, or, yes, A Song of Ice and Fire. But while readers are often happy to forgive an episodic or even scattered plot, the controversy with Tutuola remains with his language — his word choice, his grammar, or as the Welsh poet Dylan Thomas put it in his 1952 review of the novel, his "young English."
Reviewing the novel for the New York Times in 1953, Selden Rodman spoke to the anxiety both "Westerners" and Africans felt about the pleasure the former took from the novel: "If you like Anna Livia Plurabelle, Alice in Wonderland, and the poems of Dylan Thomas, the chances are you will like this novel, though probably not for reasons having anything to do with the author's intentions." For Rodman and other Western readers, The Palm-Wine Drinkard could only ever rise to the rank of guilty pleasure. Sure, it had the playfulness and humor of James Joyce or Lewis Carroll, but could such a book, by a Yoruba-speaking West African, be high art?
On the other hand, West Africans themselves were deeply skeptical of Western readers' enthusiasm for Tutuola. In a letter to the editor of West Africa, a London-based news magazine, Nigerian reader I. Adeagbo Akinjogbin admonished the periodical for what he saw as an overly flattering portrait of the author, writing that Tutuola is clearly "not an academic man and therefore … it is not a high literary standard that has attracted so many European and American readers." Rather, Akinjogbin and other West African readers accused Westerners of seeing Tutuola as proof of their racist notions about exotic and uneducated Africans. For many Nigerians, still living under dehumanizing and exploitative British colonial rule, Tutuola's works were an embarrassment, another weapon in the Western arsenal leveraged to deny black people self-rule.
After the success of The Palm-Wine Drinkard, Tutuola went on to publish many more novels and collections of short stories, including My Life in the Bush of Ghosts (1954), The Brave African Huntress (1958), The Witch-Herbalist of the Remote Town (1981), and The Village Witch Doctor and Other Stories (1990). However, by 1958, Things Fall Apart by the university-educated Nigerian novelist Chinua Achebe had arrived on the scene, eclipsing Tutuola with its more traditionally modernist sensibilities and portrayal of precolonial Nigerian history, an approach that would prove more accessible to readers around the world. Plus, Achebe's mastery of the English language gave Nigerians an example of a writer to take pride in, and offered liberal white Europeans and Americans a chance to experience an "exotic" African story that they could also comfortably consider high art.
While Western readers moved on from Tutuola, West Africans were able to reevaluate his work out of the oppressive pressure of the colonial gaze. In 1966, literary critic and academic Eldred Jones revisited The Palm-Wine Drinkard for the Bulletin of the Association for African Literature in English, revealing some of the inventive ways Tutuola had drawn from West African folklore for his novel, and concluding that, "reading Tutuola must be a very different experience for an African who knows the stories and motifs he exploits, and a non-African to whom these ideas come fresh and strange." But he also noted that "the language is likely to be as puzzling to him as to a European, for Tutuola's merit is not essentially linguistic." Thus, with Jones' and others' revisions of Tutuola, space is opened up for people of all backgrounds to take pleasure in these novels without necessarily devaluing their author.
The Palm-Wine Drinkard is definitely not the African Game of Thrones, but it is a novel based on folkloric stories that combine the mystical with the political. With so many African fantasy novels resonating in the US and Europe now, it seems like the perfect moment for Amos Tutuola to reenter the public conversation, especially with titans such as James and Okorafor citing him as an influence. In fact, the Tutuola renaissance has already started. In 2015, a group of African literature scholars founded the Amos Tutuola Literary Society, and exciting contemporary writers like Okorafor, Chris Abani, and Chigozie Obioma all cite The Palm-Wine Drinkard as influences. Readers of all backgrounds ought to revisit one of African fantasy's founders — and allow themselves to have fun doing so. ●
Kate Harlin is a PhD candidate and instructor of English at the University of Missouri-Columbia. She is currently writing a dissertation about suicide and contemporary African fiction. Her work has appeared in the LA Review of Books and Prairie Schooner.