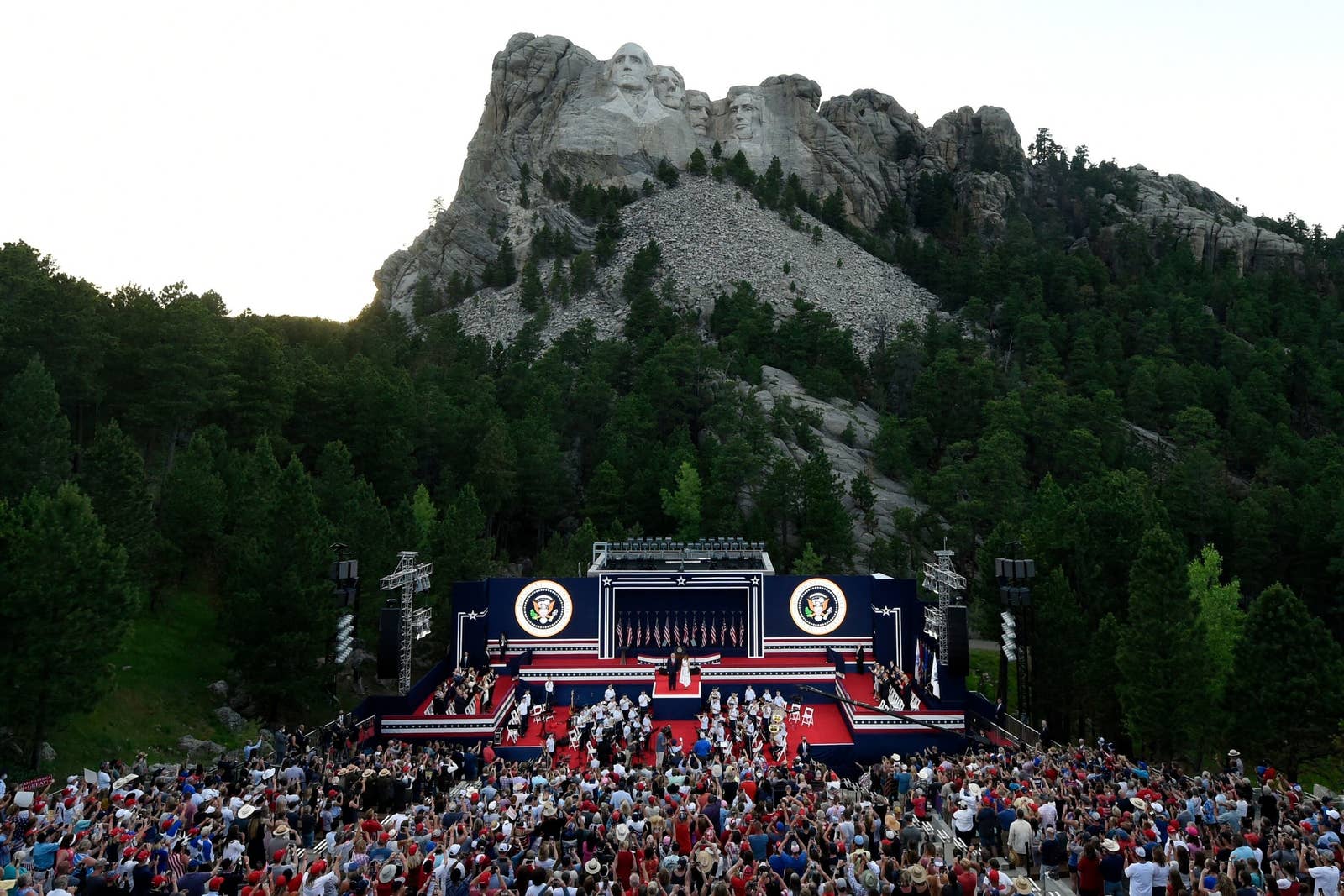 President Donald Trump stopped by the Black Hills of South Dakota for a 4th of July celebration at Mount Rushmore on Friday, but was met by protesters, who were initially relegated to a "free speech zone," but eventually blocked the road for about four hours in a demonstration of solidarity of Indigenous rights and the ongoing Black Lives Matter movement.
Demonstrators created a blockade to the president's event by parking vans across the road and removing the tires, photographer Micah Garen of Four Corners Media told BuzzFeed News. Protesters then formed a line as they faced off with local police, sheriff's deputies, and the National Guard, who were armed with riot gear.
"Protesters were organized and determined to hold the line, peacefully on their end," Four Corners Media photographer Marie-Hélène Carleton told BuzzFeed News. "They were getting a lot of negative jeers from Trump supporters, things like 'Go home, go back to where you came from.' I don't think they understood the irony."
Several protesters and members of the media were pepper-sprayed at close range by sheriff's deputies, including Garen, he told BuzzFeed News.
"They saw the camera. They were targeting journalists, everyone," Garen said. "It didn't matter."
Garen and Carleton credit the fact that the protest remained relatively peaceful to members of the Lakota tribe, specifically young women who were demonstrating by singing, burning sage sticks, and using megaphones to call for peaceful protesting.
"There were a lot of young Indigenous women on the frontlines of it all," Carleton said. "They were very thoughtful and very vocal."
Eventually, authorities gave protesters a 30-minute warning to disperse or face being arrested, with most people choosing to leave, Garen said.
Unlike protesters, many attendees of Trump's event did not wear a mask, despite the ongoing coronavirus pandemic, which the president only briefly mentioned in a speech marked by divisive remarks.

"One woman we spoke with quoted Psalm 91, that Jesus will protect us against pestilence," Carleton said. "There was a lot of religiosity around the discussion of the virus. Every single Trump supporter we talked to did not believe the virus was a danger."