The Army Corps of Engineers last week closed Oceti Sakowin Camp, which had been protesting the Dakota Access Pipeline since August 2016. Mexica tribe photographer Josué Rivas, who is currently working with Honor the Earth, has been living in Cannon Ball, North Dakota, since last summer. BuzzFeed News spoke to him about what he witnessed during the camp's closure on Feb. 23.

How long have you been at Standing Rock?
Since August. I'm from Los Angeles originally. My uncle is from Standing Rock — my spiritual uncle. He made a call for me to come out and document what was going on in his territory.
What happened today [Feb. 23] at Standing Rock?
What happened is that the people who remained in camp through the winter were given an eviction notice to remove themselves. Through my photos, I was able to document the forced removal of the Oceti Sakowin Camp, which I believe was the end of a chapter.
Where are you going now?
I will continue on here for another week and then go back to my family and rest and get ready for whatever is next. I know the opposition to DAPL is not over and people won't stop until the project is dead.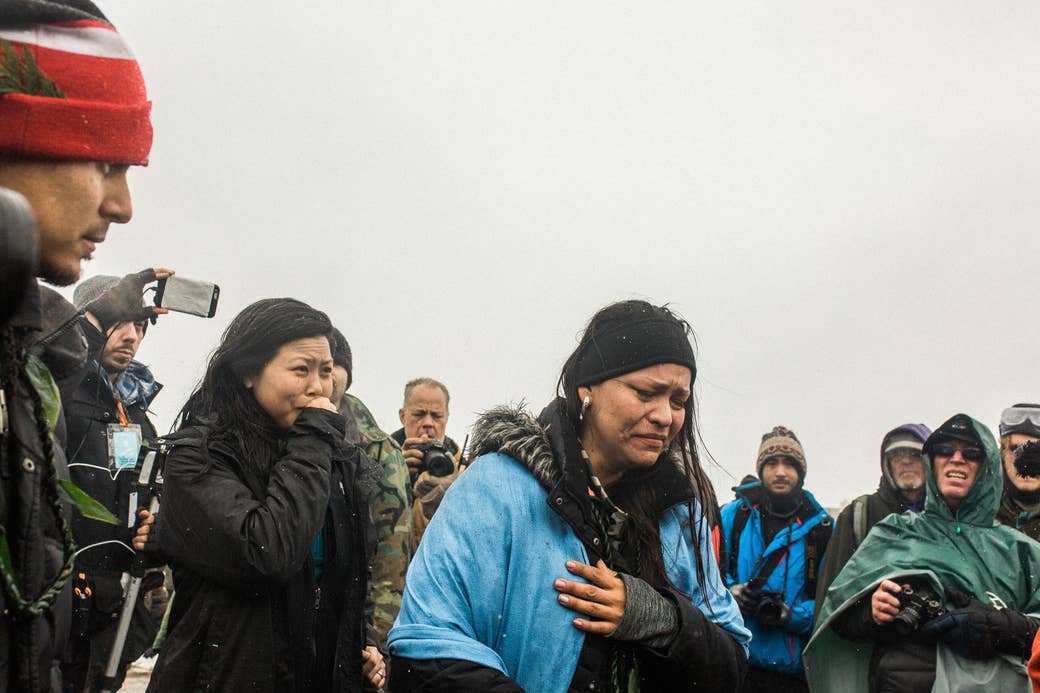 How has it been emotionally, watching everything come down?
It might sound weird, but there is a little bit of victory in the sense that, for what I witnessed, including yesterday [Feb. 22], people never backed down. They held their ground in a peaceful way, rooted in prayer. Even though the people were forcefully removed from unceded treaty land and they are out of the camp, it's like a turn of a page. From what I witnessed in the last six months, people getting maced, shot at with rubber bullets, being out in the river in the cold — remembering those things and then going to yesterday when people walked out of the camp in prayer, that was powerful.
It doesn't mean that the pipeline won't be stopped — there's still work to do — but it feels good that the people remained strong until the last minute and kept their honor.
Can you speak about the fires happening at the camp?
A Dine (Navajo) water protector asked his elders back home what they should do about the traditional structures that they built in camp. The elder said that because of the previous behavior by law enforcement disposing of tips and ceremonial items in a disrespectful way in October, the structures should be burned in a ceremony to protect them from disrespect.
I've witnessed and been a part of many ceremonies at the camp. In order to document them, I first had to have a clear intention on why I wanted to be part of them. A lot of the ceremonies and traditions were illegal until 1978, and because of the the American Indian Freedom of Religion Act, we are able to practice them today. For people at the camp, these ceremonies and songs were the last things they had, so I honored that and made sure my approach was gentle and respectful.

These camps were a ceremony of its own — it wasn't just about a pipeline, it was a movement about identity, about solidarity and sovereignty. For myself, as an indigenous man, I often felt isolated in mainstream "American" society. At Standing Rock, I became a majority, and that is something I never experienced before. As a journalist, I was able to educate other journalists about the power in these prayer camps. It's very empowering. It makes you feel more confident in your right to be indigenous and in your ability to be a journalist.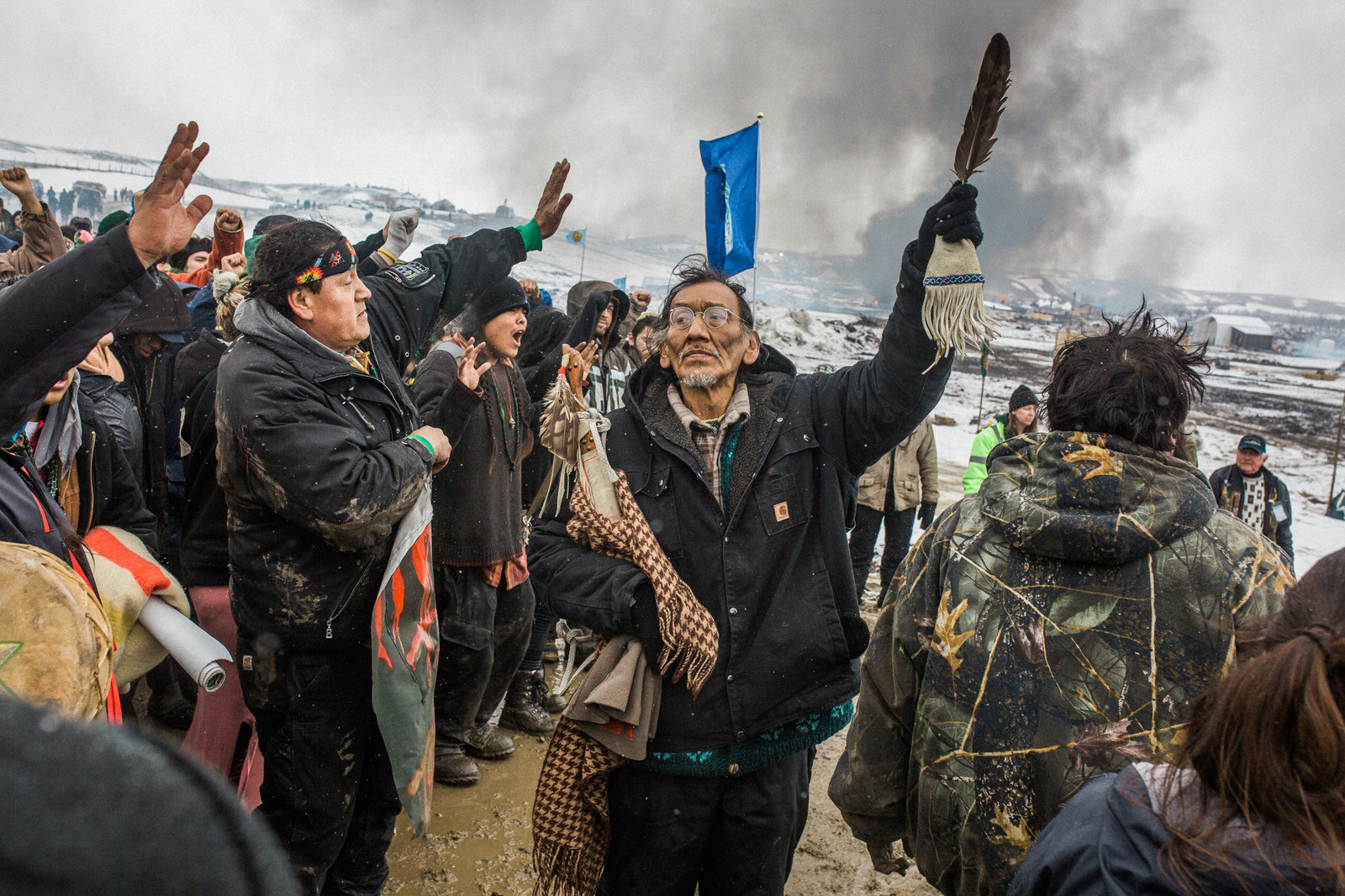 There's been a lot of discussion over who should tell the story of Standing Rock and how it's been portrayed in the media. Can you talk about that a bit?

I think what happened with the media at Standing Rock — at first it was a blackout, there was a lack of coverage, there was no investment from major media outlets, and once conflict starting happening, people invested themselves in the story. We saw a lot of inconsistency from the media in reporting, with large outlets coming in trying to tell the story of a people that they didn't fully understand.
There was a core group of us as indigenous filmmakers and journalists that were here throughout. A lot of times when you go to indigenous communities there are a lot of non-native reporters trying to tell the story of those people.
In this movement, you saw native people doing simple things, such as grabbing their phones and starting a livestream; you saw native people taking charge of their narrative; and from that, larger media outlets would contact us for our footage because they never sent their correspondents in the first place.
We need more indigenous journalists to document their communities so that we get culturally accurate portrayals of who we really are and not what people think we should be.
What I saw at Standing Rock, non-native journalists and filmmakers were really intrigued by the culture, they saw the Native Americans, the tipis, the feathers, the horses, but they were lacking the understanding of who Native Americans are in modern history. They were anthropologists in a way, and it's not fully their fault, it's just the lack of education in the history of our communities. They weren't genuinely invested in the people — they were mostly attracted to the romanticized idea of who we are.
I would encourage people to document their own communities; it makes you more connected to the story. It's a little more accurate and more honorable.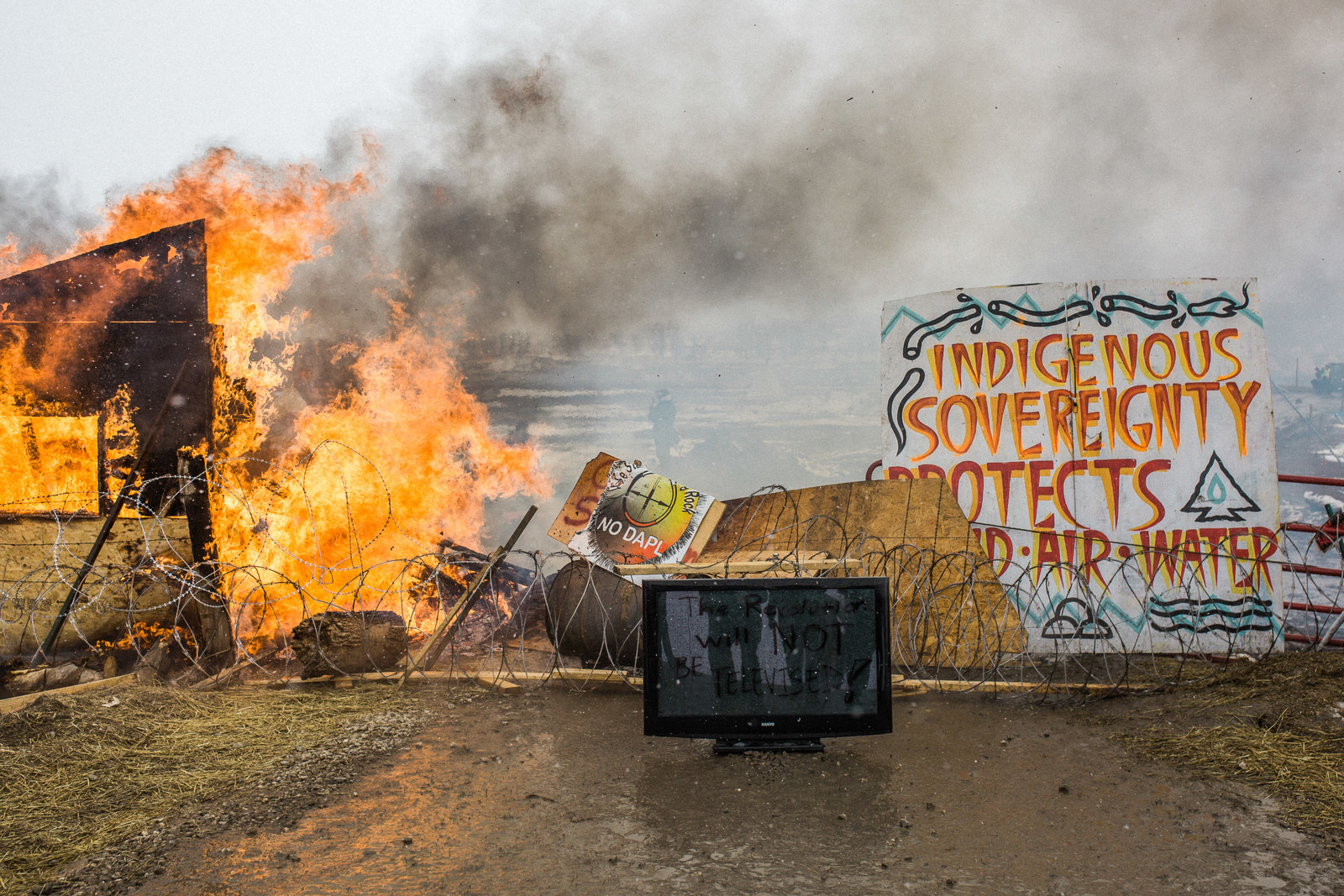 What are two things you would want to state explicitly about Standing Rock?

I would tell the world that what happened at Standing Rock really is the epicenter of the modern civil rights movement. Before there were protests against Donald Trump, there were prayers here. People got inspired by Standing Rock to eventually continue to stand up to other issues, as all these issues are connected.
And it came from a prayer.
The second thing is the importance of having proper, consistent coverage from indigenous people on the ground. There were drone operators, photographers, filmmakers who weren't being recognized as they should have been. Before we are journalists, we are human beings. And I think that indigenous journalists understand the importance of approaching the story with intimacy and not just getting the story that is on the surface. We understand how to report from an ethical place, not an extractive place.
One way to counteract those ways of reporting, one very useful way of doing that, is creating a body of work — something that you invest yourself in. The more time I spend here on the ground, the more I understand how my work will preserve the story of Standing Rock for future generations. I'm building a project with layers so that I can tell a full story instead of just a few good photos.
We as journalists need to invest ourselves in the stories and be consistent, not just take some photos over the weekend and feel like that's all you need to do.