After an inauspicious 2015–16 season during which there were no true new ratings successes on network television, NBC's This Is Us might even feel like a relief to the whole industry. Mass culture is slightly less dead than it had appeared to be!
The weepie (sobbie?) show, created by Dan Fogelman, was an immediate hit, starting with its Sept. 20 premiere. According to Nielsen live-plus-same-day ratings (viewers who watch a show live or almost live), it drew an audience of 10.1 million and a 2.9 in the 18 to 49 demographic that advertisers care about the most. Yes, it had gotten NBC's best launchpad, premiering after The Voice — but now it bears the distinction of the only scripted show that has improved on The Voice's lead-in.
Promoted as a comedic drama about a group of people who share the same birthday, a twist at the end of the pilot revealed that This Is Us is actually about one family, the Pearsons. Milo Ventimiglia and Mandy Moore (the Pearson parents), and Sterling K. Brown, Justin Hartley, and Chrissy Metz (the adult Pearson kids) co-star, as the show jumps back and forth in time from the '80s to the present.

As the 2016–17 season has progressed, ratings for This Is Us have remained remarkably stable — meaning, it did not suffer the same fate as last season's Quantico (ABC) and Blindspot (NBC), both of which seemed like successes in fall 2015, but fell off dramatically as they went on. (Both drama thrillers are now iffy to be renewed for third seasons.)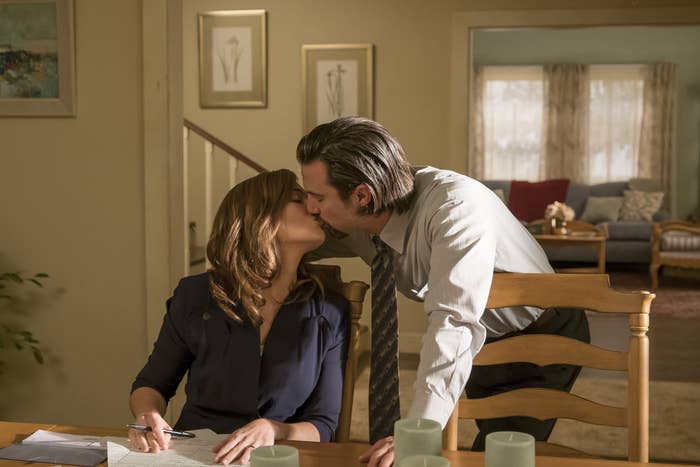 After building steadily for several seasons with medium-sized hits like its Chicago franchise, This Is Us has become the key to NBC's current No. 1 ranking in the 18 to 49 demographic. (CBS, as usual, is No. 1 in total viewers.) There are only two episodes left in This Is Us' 18-episode first season, but NBC renewed it for two more seasons in January.
Ten years ago, a 2.0 rating in the 18 to 49 demographic was a sign of imminent cancellation for a network series. But in this fractured television universe, it represents a bar few shows on cable or network television can achieve in live-plus-same-day ratings. The top shows among 18 to 49 year-olds are AMC's The Walking Dead (5.7 in live-plus-same-day, still strong in its seventh season), CBS's The Big Bang Theory (3.3, currently in Season 10), and Fox's Empire (a 3.2 in Season 3) — followed by This Is Us with a 2.6.
And in live-plus-seven ratings — the viewers who watch episodes within a week of airing — This Is Us amasses a 4.7 among 18- to 49-year-olds and 15 million viewers. For context, those aforementioned shows are also popular with large audiences: In live-plus-seven ratings, The Walking Dead draws 16.9 million viewers with an 8.3 in the demo; Big Bang, 19.9 million, with a 5.2; and across platforms such as Hulu and VOD, as well as on Fox itself, Empire draws 16.1 million, with a 4.8.
Television is changing so rapidly that it's unclear how much longer these measurements will matter. The streamers — Netflix, Amazon, and Hulu — don't even report ratings; premium cable (HBO, Showtime, and Starz) care only about cumulative ratings and growing subscribers, not demographics. According to FX's research, there were 454 scripted series in production in 2016 as television continues to peak — the result of which is that nearly everything is niche. The most recent example of a big network hit was Fox's Empire during the 2014–15 season. So for This Is Us to be able to infiltrate on a large scale is almost shocking.