That Racist "Project Greenlight" Episode Title Was A "Production Mistake"
The title "Hot Ghetto Mess" was taken from a scene deleted from the final version of the episode.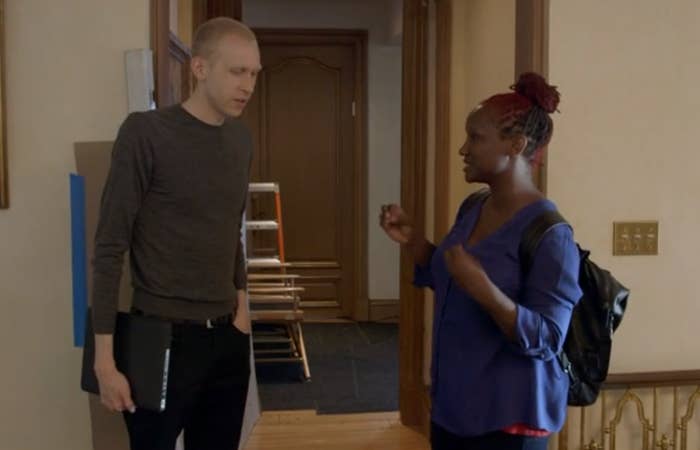 The fourth season of the filmmaking docuseries Project Greenlight — rebooted by HBO after a 10-year absence — has become an instructive, uncomfortable prism through which Hollywood's continuous troubles with racism and sexism have been shown in clear relief.
So the fact that the season's sixth episode — which saw the tension between Jason Mann, the white director of Project Greenlight's movie, The Leisure Class, and Effie Brown, the film's black producer, come to a boil — bore the racially provocative title "Hot Ghetto Mess" seemed like a bizarre, if not racist, choice.
In the episode, Brown, who has continuously emphasized diversity among the crew as a priority — especially since The Leisure Class is about rich, white people — replaced a black actor who was set to play a chauffeur with a white actor. Brown, who has produced such films as Dear White People and Real Women Have Curves, had said previously that if there weren't to be any black cast members, she did not want to see any actors of color playing servants. She told the first assistant director, "The only black person in the movie is not going to be a chauffeur."
"A butler, a chauffeur — these are tropes we've seen time and time again," she told the cameras. "And I think those images are done."
In the episode's main story, Mann, who went to Columbia University's graduate film program and has resisted Brown's efforts to keep the movie within its budget, appeared to take personally that HBO thought a stunt he wanted to do with a car might not be affordable or safe. After Brown told him she was trying to find the money to do it, Mann did not thank her, and instead shifted back and forth on his feet, seemingly unable to look at her.
Later, to the camera, Brown said, "I get quiet disdain for getting him what he wants. And it is killing me."
The title "Hot Ghetto Mess," it turns out, was drawn from something Brown said to describe the heat on the set during this portion of the shoot, and the delays the weather was causing. But those who watched "Hot Ghetto Mess" did not have that context, because the entire sequence — which HBO put on YouTube for several hours on Monday afternoon after the uproar about the episode's title — had been edited out of the finished episode.
In the scene, which did not air, Brown said, "We are nowhere near where we were supposed to be at this time. Like, it's just a hot ghetto mess."
On Monday, Project Greenlight's production company, Magical Elves, issued a statement through HBO:
"Though it may not be obvious, the majority of Project Greenlight titles come from a line spoken inside the episode. An earlier cut of the one that aired Sunday included another chaotic day on set resulting in the remark 'this is a hot ghetto mess.' In a scramble of last minute edits and changes, however, that scene was removed. The episode was then renamed the 'The Pivot' but the change was not reflected on the delivered master. It was a production mistake for which we take full responsibility. HBO is taking steps to correct the title across it platforms."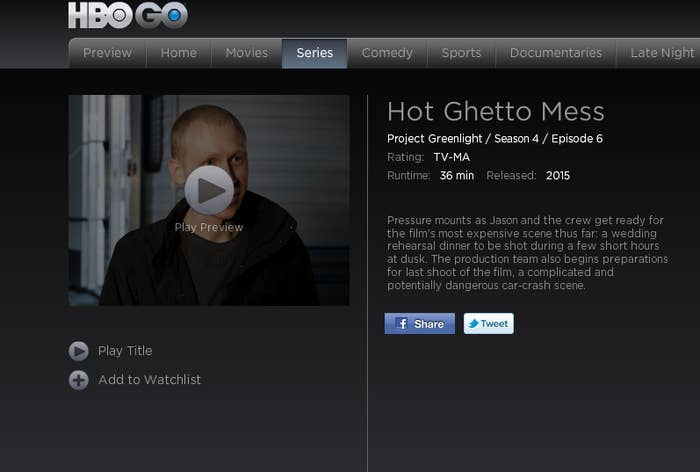 A follow up to HBO asking whether Magical Elves might consider the episode title to be ill-conceived even if Brown's quotation had been included in "Hot Ghetto Mess" was not immediately answered.
On Sunday, when someone tweeted a picture of a channel description of the episode at Brown, Brown wrote back, "NO WAY!!! Is it really called Hot Ghetto Mess?!! Wow. Okay."
She also retweeted the comedian W. Kamau Bell, who had written, "Dear #ProjectGreenlight, Why was tonight's show called 'Hot Ghetto Mess'? Signed, Every Black Person Watching Tonight." Requests to Brown's publicist to comment were not returned.
The season has shown Mann and Brown clashing repeatedly; Brown bearing the blame for another producer quitting the project; and executive producer Matt Damon telling Brown on camera that racial diversity in film is a casting issue, not a behind-the-scenes one (for which he later apologized). It's been an extraordinarily revealing look at how subtle, yet insidious prejudices can affect power dynamics in the production of entertainment. If calling the episode "Hot Ghetto Mess" indicates that reality television's years-long history with another racist trope — the angry black woman — is alive and well, then Project Greenlight may have shown its own biases.
UPDATE
This story was updated to reflect that HBO took down the deleted Project Greenlight scene from its YouTube channel.