Since this story appeared in September, Bill Cosby was further accused — again and again — of sexual assault. In November, Mark Whitaker, the author of Cosby, told The Daily Beast that though he hadn't written about Cosby and sexual assault in his biography, he would "have to address that in future editions of the book, if not sooner."
On July 22, Simon & Schuster issued this statement:
"In light of recent events, and at the request of some individuals who offered endorsements of Mark Whitaker's biography Cosby, Simon & Schuster and the author have decided to remove all of the celebrity endorsements we received prior to publication last fall. In addition, there is no plan for releasing a paperback edition, or for issuing a revised version of the book."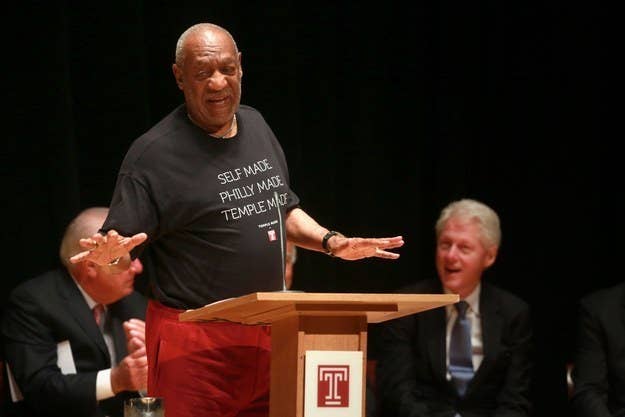 Mark Whitaker's new biography of Bill Cosby, Cosby: His Life and Times, is a hefty 468 pages, excluding its acknowledgments and index. It covers the 77-year-old comedian's life and career, from his childhood through Fat Albert, The Cosby Show, and his prolific and ongoing standup performances. It also delves into his family life, including the 1997 murder of his son, Ennis.
In the acknowledgments, Whitaker writes, "Without Bill Cosby's help, this would have been a different and less revealing book, and I am deeply grateful to him." It's no surprise, then, that Whitaker's tone throughout is admiring. Cosby operates under the indisputable assumption that its subject was a transformative African-American figure, and that his place in mainstream popular culture helped lead white Americans to being comfortable with the idea of a black president ("the Cosby effect"). Perhaps consequently, Whitaker does not spend much time on Cosby's famous temper, nor does he dwell on his increasingly controversial statements about young black people, which have caused him to become a polarizing figure in recent years. In terms of Cosby's relationships with women, Whitaker does refer to his "roving eye" — Cosby has been married since 1964 — and he reports on a "rendezvous" Cosby had with a 20-year-old woman named Shawn Berkes, who later claimed that she'd had his baby, Autumn. (This scandal came out eventually, because as an adult, Autumn ended up blackmailing Cosby and going to prison for it.) In his review of the biography in the Wall Street Journal last week, Edward Kosner described Whitaker's handling of Cosby's "philandering" as "circumspect to a fault."
And what is absent entirely from Cosby is any investigation of the 2006 lawsuit against him in which a woman alleged he had drugged and raped her two years earlier. One striking aspect of the suit is that 13 women came forward with similar allegations of Cosby drugging and sexually assaulting them, and they all volunteered to testify against the comedian had the lawsuit gone to trial. But Cosby settled under undisclosed terms. (The accuser filed a police report in 2005, but Cosby was not charged.)
It seems like a notable turn in a person's life, one that a biographer would investigate. So BuzzFeed News asked the book's publicist at Simon & Schuster whether Whitaker would discuss the omission. Over email, she said that he was too busy to talk since the book was just released this week, but offered this written response from him:
"I was aware of the allegations, but ultimately decided not to include them in my book. I didn't want to print allegations that I couldn't confirm independently. In the case of the Shawn Berkes/Autumn Jackson scandal, I managed to do that, based on court records and previously unaired interviews, and as a result I not only write about that case at length but advance the ball with fresh reporting. In the case of the other allegations, however, there were no independent witnesses and no definitive court findings, which did not meet my journalistic or legal standard for including in the biography."
Without being able to speak with Whitaker — the former editor of Newsweek and former managing editor of CNN — I was unable to ask whether he was holding sexual assault, a crime that often does not have "independent witnesses," to an unrealistic standard. Nor did I get the chance to ask if he explored other possible avenues of reporting, like the lawsuit itself, which was filed in the Eastern District of Pennsylvania, and contains a number of details, including the accuser's name. Apart from that, did Whitaker attempt to find any of the 13 other women? Two of them spoke to the media earlier this year. Perhaps he would have found them to be credible.
In describing his contact with Cosby for the book, Whitaker writes he had 15 hours of time with the comedian — "by far the most access he has given any prospective biographer." Had any of that time been spent asking Cosby about the settled lawsuit and other allegations, it probably would have been a lot less.