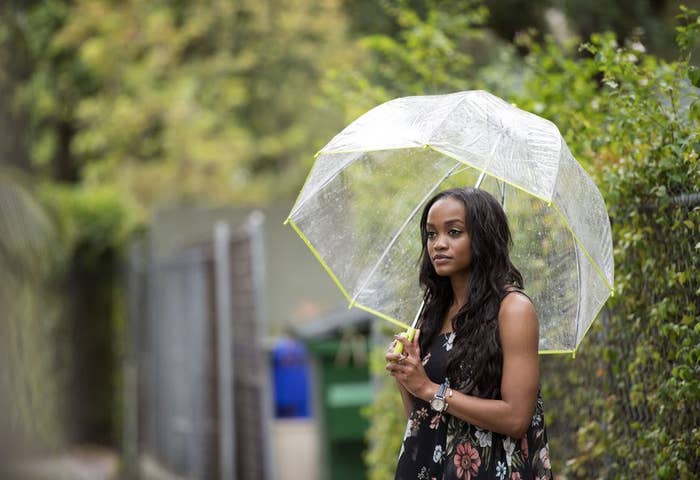 On this season of ABC's The Bachelorette, Rachel Lindsay — an attorney from Dallas, and the first black lead in the history of the franchise — has continued to be as engaging, smart, funny, and insightful as she was on Nick Viall's season of The Bachelor earlier this year. Yet despite Lindsay's charms, the ratings for this season of the show are down considerably when compared to the previous season, which starred JoJo Fletcher.
Monday night's episode reflected the season's downward trend, drawing an audience of 5.6 million viewers and a 1.4 in the 18-to-49 demographic that advertisers seek the most.
Comparing the ratings for the first five episodes of Lindsay's season to Fletcher's for the same period last year, The Bachelorette has lost a million viewers when looking at those who watch the show live or almost live (5.7 million viewers versus 6.7 million). Among 18- to 49-year-olds in live-plus-same-day ratings, Lindsay's Bachelorette has drawn a 1.6 compared to Fletcher's 1.9. The Bachelorette's ratings are always lower than those for The Bachelor, but this decline is striking considering that Viall's Bachelor season was the only show on network television to grow in the 18-to-49 demographic year over year.
Considering the usual racial makeup of show's audience, it may be that the ratings deck was stacked against Lindsay's Bachelorette from the start — and it probably doesn't help that one of its hours has been up against VH1's Love & Hip Hop: Atlanta series, which is a hit with black viewers. Like most unscripted shows on network television, The Bachelorette's audience is more than 80% white. Fletcher's audience was 86% white and only 7% black, according to Nielsen's live-plus-seven-day statistics (viewers who watch the show within a week). Viall's Bachelor season had the same breakdown by race, and ranked in the bottom 20 — across all primetime network programming, including scripted and sports — for its percentage of black viewers. The Bachelorette's audience this season is 80% white, 12% black, and 7% "other," which is a literal Nielsen category! (The ratings service breaks out white, black, and "other" viewers as separate categories, though it quantifies Asian-American and Latino viewers, too — but there can be overlap in those groups if a viewer, for example, identifies as both black and Latino.)
That the audience of The Bachelor and The Bachelorette is white by a large majority is typical for network reality shows, even ones with diverse casts. The Voice's audience is 82% white and 10% black in live-plus-seven-day ratings; Dancing With the Stars' viewership is 83% white and 10% black. Among network television's top unscripted network shows, only Jennifer Lopez's NBC series World of Dance, which is new this summer, seems to have made inroads among audiences of color, with a viewership that's 73% white, 15% black, and 12% "other" — Nielsen shows World of Dance's Latino audience (which it calls "Hispanic") at 11%. (Again, there can be overlap in the black and Hispanic Nielsen categories.)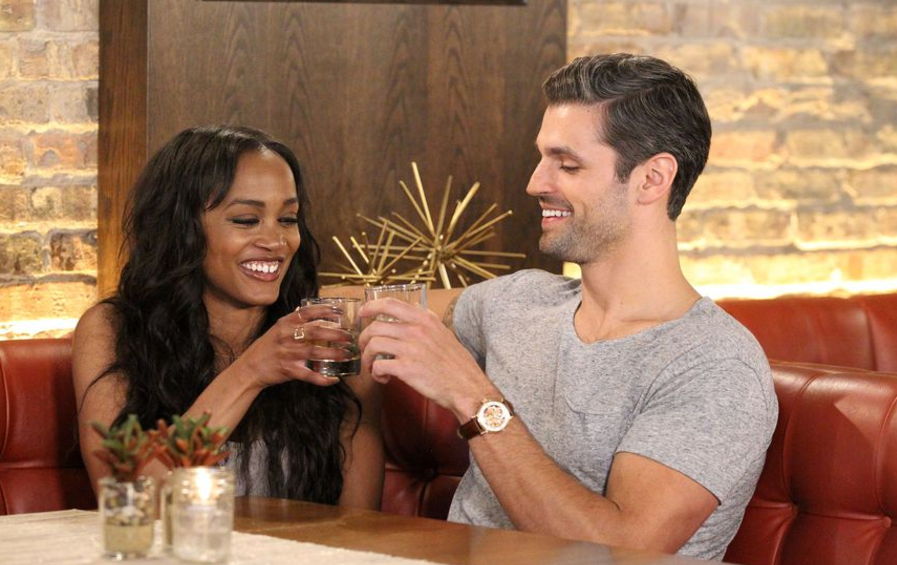 On network TV last season, there were only three shows, all of which were scripted, that had a majority black audience in live-plus-same-day ratings: Empire (67% black), Star (57% black), and Shots Fired (51% black). All of those shows were on Fox, which has had particular success with the soapy Lee Daniels creation Empire; Star is Daniels' also, though it draws much more modest ratings than Empire, which is still among the top shows on television in the 18-to-49 demographic. (Shots Fired was a limited series by Gina Prince-Bythewood, and also drew low ratings.)
In order to maintain its audience compared to last summer, The Bachelorette would have had to buck the dramatic erosion in ratings afflicting network television at large. It was long past time for the franchise — which is in its 13th season of The Bachelorette and will air its 22nd season of The Bachelor next year — to cast a black lead, and Lindsay's suitors began as a much more racially diverse group than the show has ever had.

Yet, as likable as Lindsay is, The Bachelorette, meant to be light summer entertainment, has been vexing to watch. She has had to face roadblocks a white woman would not have, seemingly orchestrated by the show itself. Most notably, Lee Garrett — a white singer-songwriter from Nashville, whose racist tweets surfaced early in the season — pitted himself against two black men in the house. In Garrett's deliberate trolling — he cackled throughout — he particularly focused on Kenny King, a black wrestler from Las Vegas, calling him "aggressive" many times and accusing him of "playing the race card." When Garrett and King were sent on a two-on-one date (which results in one contestant remaining on the show), Garrett was sent home. But it looked like a retrograde, cheap stunt — and a deliberate one, since Garrett said he had been recruited (and since the show asks applicants about social media in its preliminary application, while also conducting background checks on contestants that make it to the semifinals). A spokesperson for Warner Bros., the studio that produces the Bachelor franchise for ABC, would not comment about whether Garrett was cast on purpose.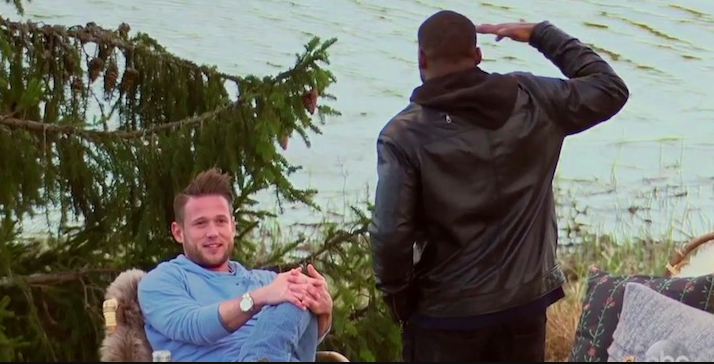 The ratings indicate the audience is rejecting these cynical machinations: The second of the two-part episode of the King-Garrett date — which was divided by a cliffhanger to create maximum drama, and aired on a Tuesday — drew a season low of 4.5 million viewers.
(It's been a tough summer for the Bachelor franchise at large, which included the temporary production shutdown of Bachelor in Paradise to investigate whether a sexual assault had occurred — an incident that also had racial undertones.)
For her part, Lindsay seems to be taking the possible setup in stride. A former Bachelor contestant, Leah Block, tweeted, "I'm sitting here watching @BacheloretteABC and my roommate sat down on the couch and said, 'What is this @loveandhiphop?' DEAD."
Lindsay saw the tweet, and delivered a decisive blow to Block.