During an appearance on Bravo's Watch What Happens Live on Wednesday, host Andy Cohen talked to Real Housewives of New Jersey star Teresa Giudice about the prospect of her husband, Joe, being deported to Italy.

In October, an immigration judge ordered that Joe Giudice be removed from the United States after he finishes his sentence in March 2019. In 2014, the Giudices pleaded guilty to four counts of fraud. Teresa served an 11-month sentence in 2015, and Joe began serving his sentence in March 2016.

At their sentencing in October 2014, the judge in the criminal trial said it was likely Joe would be deported. His family moved to the United States from Italy when he was a small child, and he never became a citizen.
Despite that judge's edict, and having been asked many times whether Joe would be deported since he is a convicted felon who isn't a citizen, Teresa told Cohen she was "shocked" at the immigration judge's ruling.
The Giudices have a right to appeal the decision. Teresa told Cohen, "They put the paperwork in — it's gonna take time." (The couple's lawyer did not immediately return a request for comment. Nor did the Board of Immigration Appeals confirm receipt of an appeal.)
Cohen then pointed out that Teresa knows Donald Trump, having been on Celebrity Apprentice in 2012. Has she reached out to him to request he pardon Joe, Cohen asked?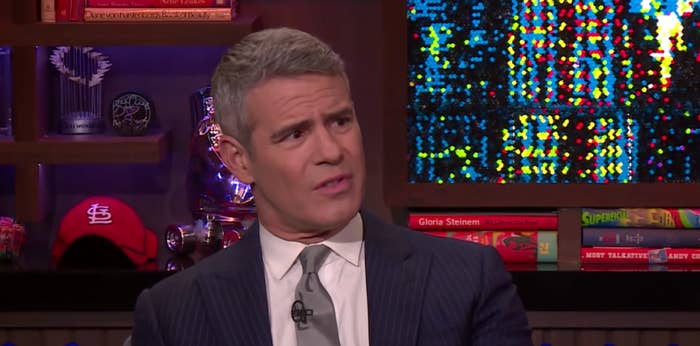 The question seemed to make Teresa uncomfortable. "Yeah, no, I haven't," she said. "But I would love to speak to him. If he wants to talk with me."

"You going to try to call him?" Cohen asked, looking confused.

"I haven't," Teresa said. "Um. But I said, if he wants to speak to me, I would love —"

Cohen then pointed out that the president is very busy. "I think it would take you reaching out to him," he said, one last time. "Are you going to try?"
Teresa continued to act wary. "I mean —" she said, stumbling. "We'll see what happens.
"OK," Cohen answered, giving up.
Later in the interview, Cohen asked her about the persistent rumors that she will divorce Joe. "To put it to bed for the millionth time, you're not getting divorced, you're sticking by him?"
"Yes," Teresa answered.