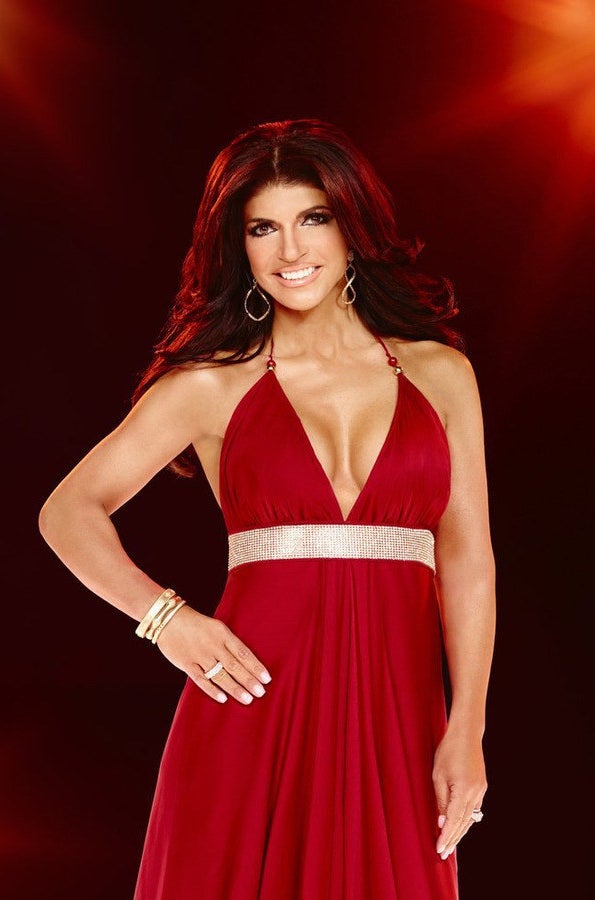 Teresa Giudice (left) from Season 6; (middle), Thursday morning heading into the Newark courtroom; (right) from Season 3.
In a recent episode of Bravo's The Real Housewives of New Jersey, one that was filmed in the winter of this year, Teresa Giudice stood in her opulent kitchen talking with her 13-year-old daughter, Gia. Teresa had just gotten off phone calls with two different fellow cast members, who had grilled her about gossip reports that she and her husband, Giuseppe "Joe" Giudice, had pleaded guilty to the multiple fraud and tax charges against them. She then faced Gia, who asked what was happening, and in a deflecting manner that viewers of the show recognize as typical, Teresa replied, "Mommy deals with everything."
But Gia — who, since The Real Housewives of New Jersey's 2009 premiere, has gone from being an entitled, fame-seeking child (the manifestation of her parents' skewed and, it turns out, criminal materialism) to being a sad-eyed teenager who told her father in another recent episode that she wants to be a criminal defense attorney — wouldn't be waved off by her mother. Those tabloid stories that said the Giudices were days away from a plea deal with prosecutors were true, and Gia knew it.
"Like, I obviously know what's going on," she said. "I'm old enough to comprehend and understand what's going on."
Teresa has been pretending on camera for years that the financial and marital realities of her life were not the plain — and bleak — truth. Her denial has been stunning. Facing her daughter this time, though, she looked stricken. "Things happen in life," she said. "And now Mommy and Daddy have to deal with it the best we know how. I just don't want you and your sisters, you know, to be affected by it."
Teresa got choked up; Gia's face collapsed; they both began to cry; and they embraced.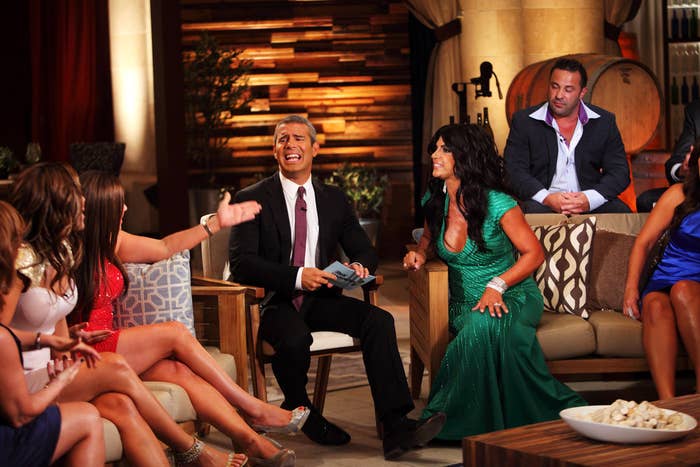 On Thursday, in real life in a Newark courthouse, Teresa Giudice, 42, was sentenced to 15 months in prison. During the all-day proceeding, she broke down in tears before Judge Esther Salas, saying she was sorry. Her letter to the court began, "I'm so scared, I'm really scared." As she cried, she went on to say, "I don't care about the TV show, I don't care about the material things, I only care about my daughters." She owes $414,588.90 in restitution, due immediately, and $8,000 to the court.
In order for the Giudice children to have a parent in the house, Teresa will serve her sentence first, and will have to surrender by Jan. 5. Then Joe will serve his sentence. That Teresa was sentenced to serve prison time at all proved to be a rejection of the Giudices' strategy that Joe would take all the blame, and Teresa, they hoped, would be sentenced to house arrest or probation. "For a moment, I thought about probation," said Judge Salas. "For a moment."
Joe, also 42, was sentenced to 41 months in prison, plus two years of supervised release afterward. He was sentenced to 12 additional months — which he will serve concurrently — for failure to file tax returns. He owes the same amount in restitution, also due right away, as well as $224,000 to the IRS, and $10,000 to the court. Because Joe was born in Italy and never became a citizen, he must cooperate with U.S. immigration on possible deportation proceedings that would begin after he has served his sentence. (The judge indicated that it is likely Joe will be deported.)
The early part of the hearing was taken up by Judge Salas scolding the Giudices and their attorneys for "glaring omissions and inconsistencies in the forms" they were supposed to fill out in order to be sentenced. The Giudices were meant to detail all of their assets and income, but had left off a number of items, including jewelry, construction equipment, and furniture. Nor had they listed Teresa's businesses, Skinny Italian, Milania Hair Care, and Fabulicious, all of which have been featured on the show. The couple looked impassive during this lecture and did not speak to each other. Joe's attorney asked for mercy because Joe's father recently died; as the attorney spoke, Joe began to cry. He later read a letter to the court in which he described himself as "humiliated" and "disgraced."
The Giudices were indicted in federal court in July of last year on numerous charges: bank fraud, mail and wire fraud, loan application fraud, and bankruptcy fraud. Joe was indicted with the additional counts of not filing tax returns from 2004 through 2008. The number of charges — 39 counts — meant they were facing more than 50 years in prison. They claimed they would be vindicated. In early March, they pleaded guilty. Joe is also awaiting trial on a criminal charge that, after having his driver's license taken away because of a DUI, he posed as his brother to get a new one. (His attorney did not respond to a request this week from BuzzFeed News asking for an update on the criminal charge.)
The events leading up to the Giudices' sentencing have unfolded on the sixth season of The Real Housewives of New Jersey, which will continue to chronicle the story. Bravo would not provide access to any talent or executives for this article and, shortly after the sentencing, the network declined to comment. However, a rep did tell BuzzFeed News that on Oct. 6 at 9 p.m., there will be a special Watch What Happens Live with host Andy Cohen sitting down with the Giudices for their first interview post-sentencing.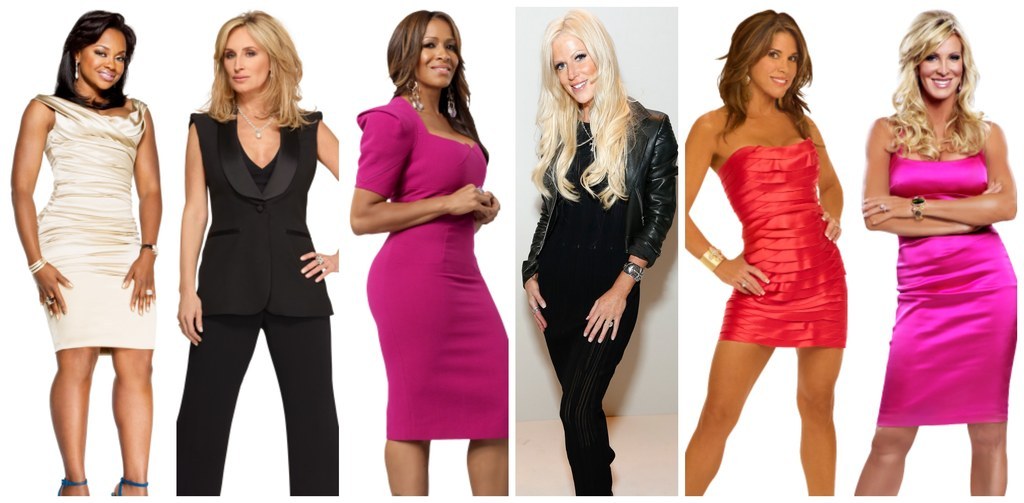 The first installment of The Real Housewives franchise premiered on Bravo in March 2006. Set in Orange County, specifically within a gated community called Coto de Caza, it was designed as a reality television version of ABC's Desperate Housewives, in the same way MTV had created Laguna Beach to be an unscripted O.C., but with real kids (if not real plots). From the start, The Real Housewives of Orange County was explicitly about wealth and its absurdities, reflecting not only how these rich women chose to look (injected, puffed up, implanted, stretched, pulled, dyed), and what cars and houses they bought (though there was plenty of McMansion-gawking) but how money affected their friendships and romantic relationships. In the show's first season, the whole cast lived within Coto except for Lauri, a divorced mother of three whose life seemed impossibly hard. It didn't take long, though, to realize that all of these women's lives were degrees of terrible, even if they were financially solvent.
And a lot of them were not solvent. Conceived during the late stages of the housing boom, and meant to be somewhat aspirational (or at least pornographically/laughably consumerist entertainment), The Real Housewives accidentally coincided with the implosion of the debt economy after its 2006 peak. As the markets (real estate in particular) began to crash, the franchise, which soon expanded to New York, Atlanta, and New Jersey (and eventually D.C., Beverly Hills, and Miami), became the inadvertent chronicler of the downfall of the artificially rich.
The Real Housewives certainly embraced its new mantle, and has shown a startling array — for hours, and over years — of women under varied economic pressures. (Often of their own creation, though sometimes not.) Sheree Whitfield of The Real Housewives of Atlanta struggled as she waited for a divorce settlement and child support payments; the teenage daughters of Lynne Curtin of Orange County were served an eviction notice for their family home on camera; New York City's Sonja Morgan has been in dramatic, ongoing bankruptcy for most of her time on the show; Michaele and Taraq Salahi, the zany White House party-crashers of D.C.'s single season, lived large, but also appeared to be running away from any close look at their hazy finances (their price range for a house, Michaele said on the show, was between $100,000 and $12 million); in the coming season of Atlanta, with parallels to the Teresa story, Phaedra Parks' husband, Apollo Nida, will face eight years of prison for identity theft and bank fraud (he reported for his sentence in early September).
And in the most terrifying, tragic arc the franchise has ever portrayed, Beverly Hills' Taylor Armstrong's then-estranged husband, Russell, committed suicide before its second season. After his death, it became clear that Russell, a venture capitalist, was in fact a grifter whose schemes were catching up to him. In the show's first season, Taylor described Russell as "richer than Texas," and they threw a $60,000 birthday party for their 4-year-old daughter; in Season 3, Taylor fought to keep her wedding ring in a lawsuit against her and (posthumously) Russell.
The bankruptcies, foreclosures, and short-sales the Real Housewives cast members have faced have become as innumerable as their broken marriages. Rich people have problems, of course. But strivers and strugglers have provided the franchise's unexpectedly emotional arcs.
Real Housewives has also created fortunes. It pays well to be a Housewife, first of all, with salaries in the hundreds of thousands of dollars for the longer-serving (meaning: popular) ladies. More prominently, Bethenny Frankel of New York turned her popularity into a mini-empire of books, beverages, for a time, a talk show — and, according to Us Weekly, a return to The Real Housewives. NeNe Leakes of Atlanta has found success in acting. A number of the women have gotten spin-offs, such as Kim Zolciak Biermann of Atlanta's family show Don't Be Tardy, and Caroline Manzo of New Jersey's new Manzo'd With Children, which premieres Sunday.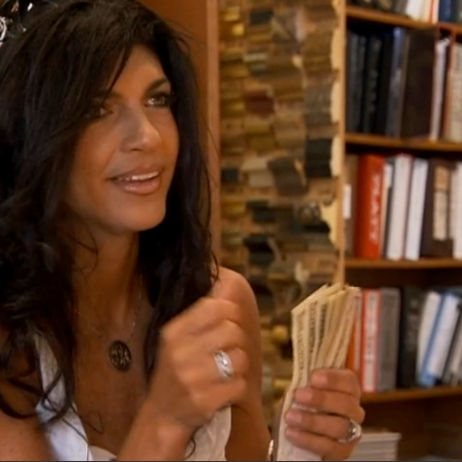 Paying with cash in the show's early episodes.
Teresa Giudice of The Real Housewives of New Jersey was one of the franchise's success stories. In its first season, she stole the show, and solidified her star status in the finale during a famous table-flipping fight as she screamed "Prostitution whore!" at a fellow cast member, Danielle Staub. A Housewives moment for the ages.
Before that episode, Teresa — a malapropistic, first generation Italian-American — ratcheted Real Housewives' display of conspicuous consumption to previously unexplored levels. During a shopping expedition in the series premiere on May 12, 2009, Teresa, whose family was soon moving into their built-from-scratch "dream house," paid (or seemingly paid) for $120,360 worth of furniture — in cash. The source for this money? "Joe is an entrepreneur and he has a construction business," she said. "He's very successful and he lets me spend the money."
The whole Giudice family was good television. In the beginning, Teresa had an upbeat demeanor, a Jersey-accented voice that could and often did escalate to a squeak, and a mane of black hair that encroached on her face. Her husband, Joe, was a steroidal stump ("Juicy Joe" is his nickname). They began the show with three daughters, and now, they have four. In her initial confessional interviews, she cheerfully said things like: "I didn't want to go house shopping because I shkeeve looking at other people's houses. I don't want to live in somebody else's house. That's gross." And: "My whole house has nothing but marble, granite, and onyx." As the show went on, Teresa tried to become a schemer — eventually against her sister-in-law, Melissa, who joined in Season 3 — but she was never good at it. Which was also great TV.
The Giudices declared bankruptcy in October 2009, soon after Season 1 aired. They had nearly $11 million in debts, which seemed bad enough. But four years later, the reality turned out to be even worse. As the July 29, 2013, indictment against them painstakingly detailed, they were funding their lives by fraudulently obtaining millions of dollars in loans from various banks from 2001 through 2008. They also hid income while in bankruptcy. No matter how well Teresa did once she was cast on New Jersey — and she has since put out three best-selling cookbooks, appeared on Celebrity Apprentice, and done several product deals — they had dug themselves into an inescapable, criminal hole.
Before the real estate crash, when a bank had to foreclose on a property the borrower couldn't maintain, the bank usually sold it at a profit. The values of houses were generally going up, so in the resulting loose credit environment, owners like the Giudices could keep pulling money out of their properties from different lenders. A mortgage loan here, a construction loan there, a home equity line of credit somewhere else. (Again and again.) And banks — still relying on outdated technology, not to mention ideas about the social contract — weren't seriously thinking yet about the possibility that someone might falsify documents for loans they would never be able to repay, which is what the Giudices did. There are people for hire who can illegally create fake tax returns, W-2s, pay stubs, and other paperwork needed for a loan application. Presumably, Joe and Teresa, who appear to be neither criminal masterminds nor Photoshop artists, hired those people to manufacture those documents. (The indictment does mention "others," in "the conspiracy," who helped "defraud the Lenders and to obtain money from the Lenders by means of materially false and fraudulent pretenses, representations, and promises." But according to a spokeswoman from the U.S. Attorney's Office in New Jersey, no one else has been charged in connection to this case.)
Even within this world of fraud, the Giudices' offenses stand out. Jim Marchese, the husband of current Real Housewives of New Jersey cast member Amber Marchese, is also the CEO of a mortgage company called Mortgage Now. In an interview with BuzzFeed News, Marchese said, "It's a rather brazen act to submit fraudulent documents to a bank. I mean, it's an indictable offense. So you wouldn't think a person would do it, because it's very easily provable."
On the topic of whether the Giudices ever could have paid for their over-the-top lives with the money they did actually have, Marchese said, "Would a bank have lent them the money? Absolutely not. They did not lend them the money to buy Versace plates, Gucci, and put marble floors in the house. What they lent them the money for was the idea that they had enough income that they could pay the money back, and make improvements to establish more collateral on their home."
(It is perhaps a foible of The Real Housewives aesthetics that during this season, Amber's first, Marchese has come off like a villainous jerk for saying things like, These people are under indictment. They may go to prison. I shouldn't hang out with them.)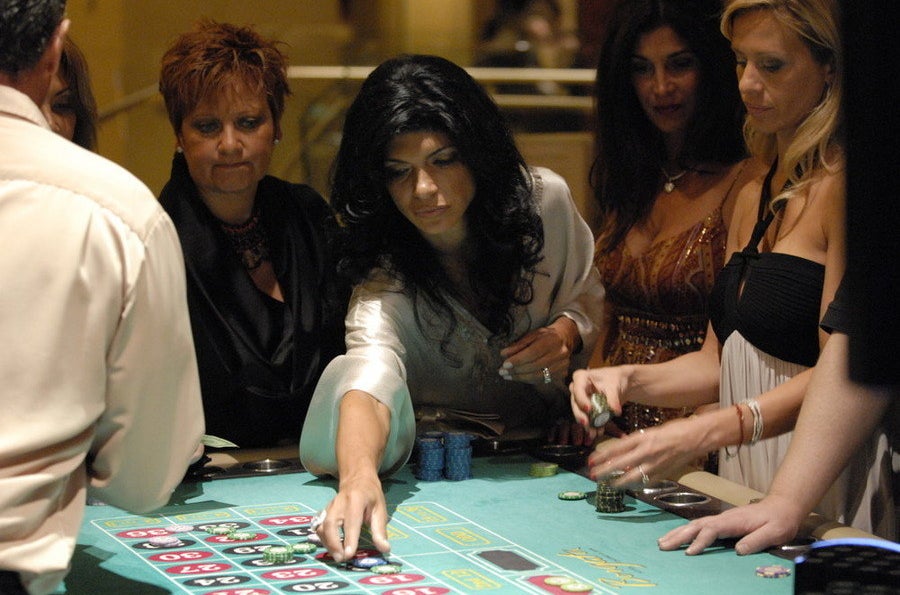 Gambling in Atlantic City during Season 1; with Joe in Season 6.
The ratings for Real Housewives — the franchise that has defined Bravo's identity, as well as its star-making power — have been falling of late. The exception is the phenomenally popular Real Housewives of Atlanta, led by the charismatic NeNe Leakes, which has grown in each one of its six seasons, and drew an average of 3.7 million viewers for premiere episodes during Season 6. (Bravo hasn't announced the seventh season's premiere date, but it's expected to be in November.) Other than Atlanta, though, the franchise's trajectory is down, both in total audience and among the 18- to 49-year-olds Bravo targets. Orange County, the flagship, which recently completed its ninth season, has eroded for three seasons in a row. Beverly Hills, which will return for Season 5 soon, also has fallen. Miami, a city and cast that's never caught on with Bravo viewers, hasn't been officially renewed (though there are rumors it is filming a fourth season). And New York dropped precipitously in its recent sixth season.
The Real Housewives of New Jersey has always been the second most popular show in the franchise, and in Seasons 2 through 4, the show had a consistent audience of 2.7 million for its premiere episodes. Season 5 fell to 2.3 million. This season, revolving around Teresa's fate, has fallen further: below 2 million viewers.
The overall downward trend for the franchise is one factor. But it's also true that this spectacle has been depressing as hell — somehow more depressing than watching Taylor Armstrong on Beverly Hills after Russell's death, which is saying something. Bravo and the show's producers, perhaps anticipating the sadness of watching Teresa and Joe (and their four kids) standing under a guillotine, brought in two new cast members besides Marchese: silly twins Nicole Napolitano and Teresa Aprea. The effect of their scenes of comic relief in contrast with the weight of the Giudice story has been unpleasant.
The episode in which Teresa and Gia had their moment was, in fact, when viewers ended up seeing Teresa and Joe walk into the Newark courthouse on March 4 to plead guilty. Teresa, a closed-off person who hates admitting weakness or mistakes, was contractually obligated to describe how it felt. "I know who Joe and I are — that we're good people," she said in her confessional interview about it. "And in my heart and in my soul, I will make sure this is right. Whatever right means."
Teresa Giudice, who has gone from being a bubbly joke with a bruiser side to a convicted felon, surely still doesn't know what right means. Maybe she would have in Season 7.
Emily Orley contributed to this story from Newark.