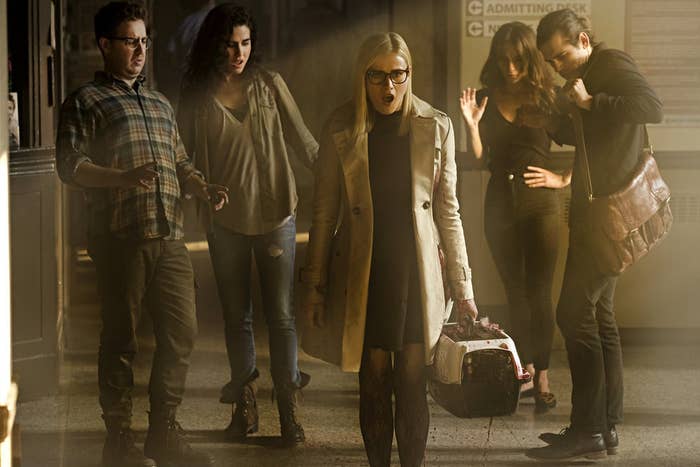 Syfy's fantasy series The Magicians, based on the books by Lev Grossman, tells the story of a group of twentysomething grad students who practice magic (or try to, at least — this season is about their quest to restore magic to the universe). While they study, they also rule over the magical land of Fillory, have sex, get into relationships, get drunk, try to avoid death, and sometimes fight bitterly over the right choices to make.
In other words, they are people who might use the word "fuck" a lot. And they always have — but until its third season, which premiered on Jan. 10, either the "f" or the "k" had to be, to use TV parlance, "dipped" (muted). Syfy is a basic cable channel, which means that unlike premium cable (HBO, Showtime, Starz), it is supported by advertising, and has a Standards and Practices division that decides what is acceptable to air on the channel.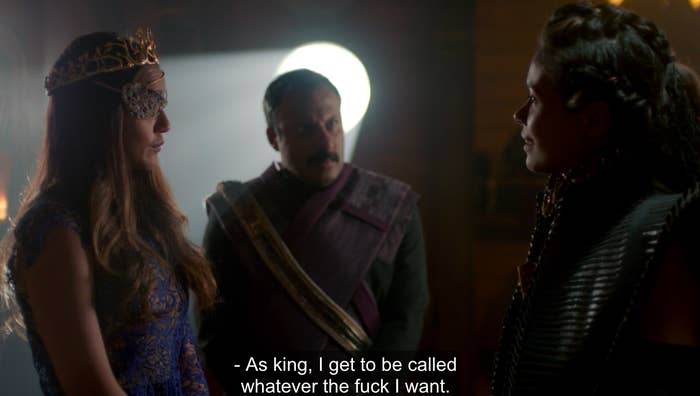 Basic cable is not subject to the guidelines of the Federal Communications Commission, so the channels' self-regulation is based on standard mores, and what advertisers are perceived to tolerate. So it makes sense that in a world in which President Trump uses the word "shithole" during a policy meeting, which was then followed by news divisions' decisions to repeat the obscenity, these standards are always evolving. But it was actually nearly 15 years ago — on July 4, 2003 — that Comedy Central aired what seems to be the first purposeful, uncensored "fuck" on basic cable, during the kickoff of its programming block "Secret Stash," which featured an unedited version of South Park: Bigger, Longer & Uncut. ("Secret Stash" aired Saturdays and Sundays at 1 a.m., and though it no longer exists, Comedy Central still airs uncensored programs — movies and stand-up — after midnight, rated TV-MA.)
Before the Season 3 premiere of The Magicians, its co-creator Sera Gamble had an announcement to make on Twitter. After teasing the news in a few tweets, Gamble got to the point.
Until last year, Syfy's policy — and the policy of USA, its corporate sibling — was that the word "fuck" had to be dipped (with one exception: an unmuted "fuck" in the Season 2 premiere of USA's Mr. Robot in July 2016). Syfy declined to put an executive on the phone to discuss the change in the internal rules, but a spokesperson said that when language — "fuck" specifically — is deemed important to the style or plot of a show, Syfy and USA now allow it. Any show with "fuck" airs with the TV-MA guideline, denoting that the program is meant for adult viewers.
Syfy's (now-canceled) Blood Drive, which ran over the summer, was the first show to feature an uncensored "fuck," followed by the recent (and newly renewed) Happy!, a comic book adaptation in which Christopher Meloni plays an alcoholic ex-cop. On USA, all of Season 3 of Mr. Robot aired with the new rules in place, letting the fucks fly. USA's recently canceled 1930s drama Damnation was also rated TV-MA.
TNT does not allow "fuck" in its shows, and AMC has of late aired a handful of undipped "fucks" (on Preacher and Fear the Walking Dead — all the Breaking Bad "fucks" were dipped). It is FX that has paved the way for the f-word on advertiser-supported cable channels. Its debut was in May 2014, in a Season 4 episode of Louie called "So Did the Fat Lady." The barrier was broken in a now-famous monologue that was hurled at Louis C.K.'s character by guest star Sarah Baker: "Have you ever dated a girl that was heavier than you? No, no, no, no, no — I didn't say, 'Have you ever fucked a fat girl, Louie?' I'm sure you have. Every guy has." (C.K., who during the reckoning admitted to sexual misconduct, argued strongly for its uncensored inclusion, and FX agreed.) Since then, it has been used to great effect on other FX shows — most memorably, perhaps, when Sarah Paulson's Marcia Clark muttered "Cochran — motherfucker!" on American Crime Story: The People v. O.J. Simpson.
The new rules for USA and Syfy mean that on USA's upcoming Unsolved: The Murders of Tupac and the Notorious B.I.G. (premiering Feb. 27), the rap battles can sound more genuine. And The Magicians has seemingly reveled in its "fucks" — there are six, by my count, in this Wednesday's episode, most of which are said by Penny (Arjun Gupta), in his (spoiler alert if you're not caught up) journey on the astral plane after his body died in the previous episode. Gamble told BuzzFeed News that she and co-creator John McNamara had argued all along for Syfy to make this change. "It's a conversation we never really stopped having with them — being able to talk like actual adults is part of the show."
Now that Syfy has agreed, they're thrilled. "We all just feel more like ourselves when we can use the word 'fuck.' It feels honest. And it's just a perfect word," wrote Gamble over Twitter DM. And, she added, "Maybe Trump will use it in public sometime and then even NPR will uncensor their fucks!"