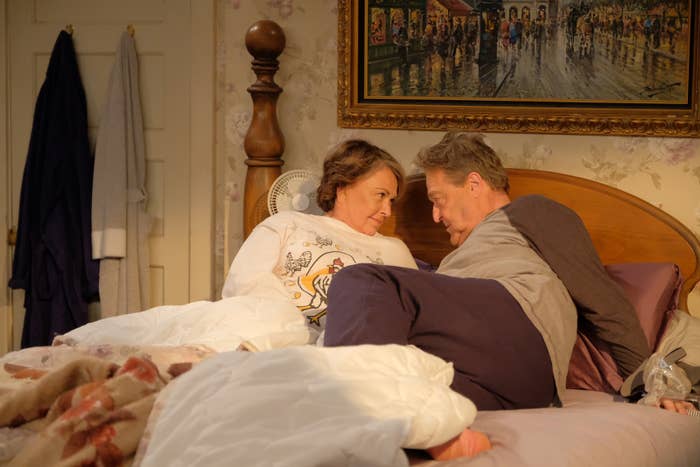 In a world of niche TV — where ratings are increasingly fractured and numbers are celebrated that would have meant a death for a show only a few years ago — the ratings for ABC's revival of Roseanne on Tuesday night are astronomical. In Nielsen's live-plus-same-day ratings, the premiere hour drew 18.2 million viewers and a 5.1 among 18-to-49-year-olds, the demographic advertisers seek.
Also impressive (and unheard of), its ratings grew from its premiere to the second episode, with the 8 p.m. showing bringing in 17.7 million (with a 4.9 in the demo) and the 8:30 showing getting an audience of 18.6 million (with a 5.3 in 18-to-49). Only the post-Super Bowl episode of This Is Us has drawn a bigger viewership and demographic audience this season, and that aired, duh, after the Super Bowl.
Roseanne's ratings are the highest for any comedy on any network since Sept. 2014.
Because of Roseanne's strength, ABC's entire Tuesday lineup benefited. Black-ish drew its biggest audience (8.7 million viewers) since its series premiere in Sept. 2014, and its highest demo rating (2.6) since Nov. 2014. Compare that with the show's ratings just last week: 3.9 million viewers and a 1.1 in the demo. (For completists, the series premiere of Splitting Up Together and an episode of For the People were also helped by the Roseanne halo effect, though certainly less for the Shondaland legal procedural: Splitting Up Together drew an audience of 7.2 million and a 2.2; For the People brought in 3.6 million and a 0.9.)
Though network television attempted this year to better reflect Trump's America, Roseanne is the only show that has directly engaged with how the election has divided families, as reflected in the characters of Roseanne and Jackie (Laurie Metcalf). Roseanne Barr, once far to the left politically, has evolved into a supporter of Donald Trump — and so has the character of Roseanne. "What's up, deplorable?" Jackie says to her sister, to whom she hasn't spoken since the election.
ABC has not yet ordered more episodes of Roseanne, though it surely will soon. The revival, 21 years after the show's (presumed) series finale, has a nine-episode season, and Barr — whose comedy created the show in 1988 — has said enthusiastically that she wants to do more. In another wild statistic, this week's premiere of Roseanne performed better than the 1997 finale, which occurred before the TV universe had split into a million little pieces. (It drew an audience of 16.6 million after an exhausting final season.)

TV pundits — both critics and viewers — may profess to be tired of revivals and reboots, but clearly there is an appetite for revived sitcoms. NBC's Will & Grace also premiered to big ratings, with 10 million viewers and a 3.0 in the 18-to-49 demographic in September. Now the show is averaging a respectable 1.6 in the demo and 5.7 million viewers for the season; in live-plus-seven-day Nielsen ratings, it grows to a 3.0 with an audience of 9.4 million. Those numbers are fairly huge during the end times for network television, and NBC has consequently renewed Will & Grace for two more seasons. It only makes sense that when a comedy was topical — as were Roseanne and Will & Grace — its fans would be interested in seeing what their favorite characters were thinking during this unusual time in US politics and culture. Television comedies have more often reflected current events better than dramas have.
Murphy Brown, for instance, ignited a culture war in 1992 after Vice President Dan Quayle circuitously blamed the show for the LA riots: "It doesn't help matters when prime-time TV has Murphy Brown — a character who supposedly epitomizes today's intelligent, highly paid, professional woman — mocking the importance of fathers by bearing a child alone and calling it just another 'lifestyle choice,'" Quayle said in a speech. So naturally, CBS has ordered a revival of Murphy Brown for the 2018–19 season.
In 2011, Barr told me that her post-Roseanne career had been hampered by the idea that she was never going to be able to achieve more success than she had on her self-titled sitcom: "For so long, too, I'd be like, 'I can't play that part, it's too Roseanne Conner. I don't want to be Roseanne Conner,'" she said. "And now, I'm like, 'Fuck it! Wait a minute — she's me.'"
It took 21 years for Barr to fuse those selves once again. But whether they love her or hate her, more than 18 million viewers watched it happen.