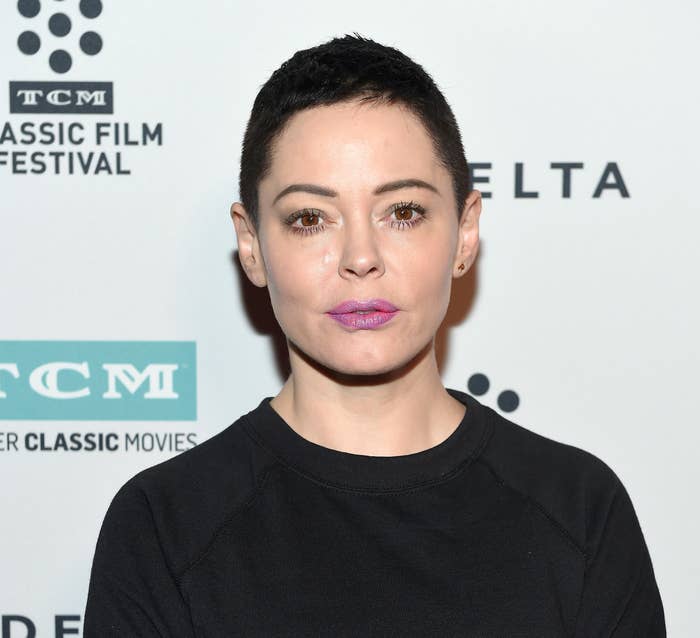 In a series of tweets directed at Amazon's Jeff Bezos, Rose McGowan has accused the company of "funding rapists, alleged pedos and sexual harassers." She wrote that she told the head of Amazon Studios, presumably Roy Price, that she told him "HW raped me." She claims Price said "it hadn't been proven."
Representatives for Amazon Studios and Amazon did not immediately respond to requests for comment. Harvey Weinstein's representative, Sallie Hofmeister, told BuzzFeed News, "Any allegations of non-consensual sex are unequivocally denied by Mr. Weinstein."
And Lisa Bloom, who until recently represented Price, told BuzzFeed News her "representation of Roy Price has concluded." Bloom had also been advising Weinstein before she quit on Saturday.
In the New York Times story last week exposing Weinstein for alleged sexual harassment spanning decades, the Times also reported that McGowan had settled with Weinstein for $100,000 "after an episode in a hotel room during the Sundance Film Festival" when she was 23.
In Ronan Farrow's New Yorker investigation of Weinstein, three women — two of whom were on the record, and one who was anonymous — alleged the studio mogul had raped them. Weinstein has consistently denied he has raped anyone.
McGowan has been on a tear on Twitter since the Times story posted a week ago, speaking out against Weinstein and those she perceives have colluded with him. She has started a petition demanding that The Weinstein Company board be dissolved. "Every man there has the blood of sorrow on their hands," she tweeted on Tuesday. She also called out Ben Affleck after he made his statement about Weinstein.
McGowan's target on Thursday was Amazon Studios. Earlier this year, McGowan was writing a script for Amazon about her childhood growing up in the Children of God cult. But Amazon Studios has made a number of television deals with The Weinstein Company, including the high-profile television series The Romanoffs by Matthew Weiner and David O. Russell's untitled series, the sum of which McGowan called a "Weinstein bailout" on Twitter, and said she tried to nullify her script deal with the company when she learned of the projects, only to be told her show "was dead." On Wednesday, a representative for Amazon said in a statement, "We are reviewing our options for the projects we have with The Weinstein Company."
According a story by Kim Masters in August, Amazon investigated Price for making "unwanted sexual remarks to Isa Hackett," a producer of The Man in the High Castle and the daughter of Philip K. Dick, upon whose novel the show is based. And in an interview with Hackett published Thursday, the producer told Masters she felt emboldened by the Weinstein revelations to come forward.

Despite McGowan's outspoken activism on Twitter — which even got her temporarily suspended from the service Wednesday night for including a screenshot that had a phone number in it — she has not explicitly named Weinstein as her rapist, and this, using his initials and association with The Weinstein Company, is the closest she's come.
In Farrow's New Yorker story, he wrote that one actor had been interviewed on the record, but later had to withdraw: "The legal angle is coming at me and I have no recourse," she told him. A HuffPost story Wednesday about why NBC News didn't run Farrow's story identified that person as McGowan.
In a 2015 profile of McGowan, BuzzFeed News asked her about Weinstein after she revealed she had been raped and had been "blacklisted" by someone powerful in the film industry. McGowan, without naming Weinstein, said in response: "There's a lot of people that don't deserve to be alive — put it that way. There's a lot of people who also get the face and body they deserve."
Here is McGowan's tweetstorm directed at Amazon.