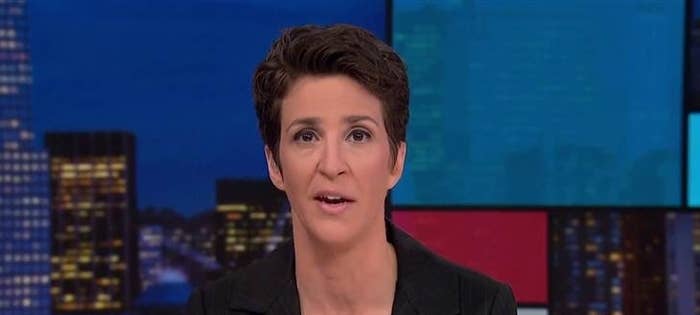 As special counsel Robert Mueller's investigation has unfolded, MSNBC's The Rachel Maddow Show — which has taken particular #Resistance interest in the investigation's fluctuations — has consistently been near the top of cable's weekly ratings charts.
But last week — during which Trump's former campaign chair Paul Manafort was found guilty on eight counts of financial crimes and Trump's former attorney Michael Cohen pleaded guilty to campaign finance violations on the same day — Maddow's ratings spiked 17% compared to the show's average.
Its 2018 audience up until last week averaged 2.8 million viewers nightly, 591,000 of whom are in the 25-to-54 demographic that news programming targets. Last week, however, Maddow drew 3.3 million viewers in Nielsen's live-plus-same-day ratings (viewers who watch a show live, or almost live), with 677,000 of those in the 25-to-54 demographic. The program easily beat its time-slot competition, the politically opposite Hannity on Fox News (3 million viewers, 565,000 in the demo) and CNN's Cuomo Prime Time (1.5 million, 501,000 in the demo), which it positively crushed.
Last week's strong ratings contributed to Maddow becoming the most-watched cable news program among 25-to-54-year-olds for the month of August.
Tuesday's ratings — the day the news went from bad to worse for Trump, with Manafort's guilty verdict and Cohen's plea deal occuring in the same hour — were especially strong for The Rachel Maddow Show, with an audience of 3.9 million and 881,000 in the demo. It was the No.1 show on all of cable that night, and was the sixth most-watched show on television, behind NBC's America's Got Talent; CBS's NCIS, NCIS: New Orleans, and Bull; and ABC's Bachelor in Paradise.
The program was also the second highest-rated Maddow in the show's 10-year history. (No. 1 was the much-mocked Trump tax return episode of March 2017.)
On Tuesday, MSNBC's The Last Word With Lawrence O'Donnell at 10 p.m. wasn't far behind, bringing in 3.3 million viewers and ranking eighth on all of television. In the dog days of summer for the networks, broadcasters' schedules are filled with reality competitions and reruns, but it's still huge for MSNBC that three episodes of Maddow (Tuesday's, Wednesday's, and Thursday's) and Tuesday's Last Word cracked network television's top 25 for the week.
A rising tide for MSNBC, and perhaps a lowering one for Trump, has buoyed the cable news channel across the board. Its weeknight primetime lineup was No. 1 for the first time in a year. And outside of primetime, The 11th Hour With Brian Williams had the show's best week ever (2.1 million viewers), and scored MSNBC's highest 11 p.m. ratings for a regularly scheduled program in its history. Deadline: White House at 4 p.m. ET also had its most-watched week (1.7 million viewers), as did The Beat With Ari Melber at 6 p.m. ET (also 1.7 million viewers).
And though Morning Joe lost to the president's favorite show, Fox & Friends, Joe Scarborough and Mika Brzezinski's early-morning program also had its most-watched week ever, with 1.3 million viewers tuning in to what Trump earlier in the month called "a dead show with very few people watching." That was the closest the show has gotten to Fox News in its 11 years on the air: Fox & Friends won in a squeaker, with an audience of 1.4 million.