Protesters Chanting "We Believe The Women" Disrupted Bill Cosby's Show
Video has emerged of protesters in Hamilton, Ontario being thrown out of Cosby's stand-up show on Friday night.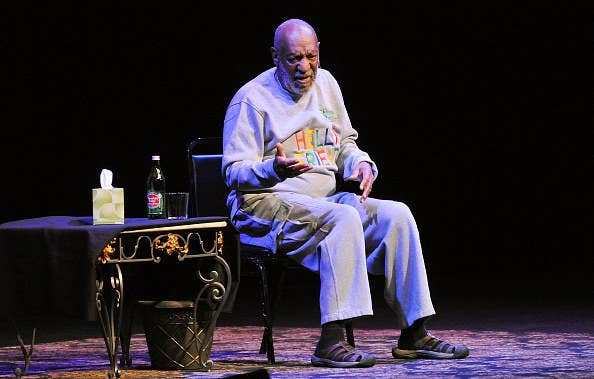 During Cosby's comedy show on Friday night in Hamilton, Ontario, a Canadian reporter captured illicit video of protesters disrupting his stand-up.
On Friday, as seen and heard in above video, protesters in the theater began chanting, "We believe the women!" Cosby sounded calm as it happened, and, according to two journalists live-tweeting the event, security quickly ushered the protesters out.
According to the reports, and as heard in the video, a man also yelled, "Arrogant piece of shit! Rapist!" He was soon escorted out at Cosby's request as well.
Cosby supporters were also vociferous, yelling, "We love you, Bill!" as the protesters were lead out of the theater.
The rest of the show went on without incident. Cosby's publicist did not immediately respond to a request to comment.
Richard Warnica, a reporter for the National Post, took this photograph of one of the protesters.
Cosby's show Thursday night also made news after Cosby said to a woman in the audience who was standing up to get a drink that she should "be careful drinking around me." It was an attempt at a joke about the pattern that has emerged in the allegations against him: that, according to the accusers, he has given them alcohol and drugs in order to sexually assault them.
Kim also pointed out on his Twitter feed that the theater was only half full, and took this photograph.