Brian Williams Off The Air As NBC Investigates False Helicopter Story
On Saturday, Williams emailed colleagues to inform them he would be going off the air temporarily. NBC announced the following day that Williams would be canceling a scheduled appearance for Thursday on David Letterman's Late Show, and now another wartime anecdote from the anchor — this time involving how close he was to rocket fire in Israel — is being called into question.
Another wartime story from Brian Williams is coming under scrutiny.
Williams has given conflicting accounts of how close he was to rocket fire while reporting on the Israel-Hezbollah conflict in 2006, multiple media outlets reported Monday.
In his own blog on the incident, Williams wrote that he was traveling in a helicopter 1,500 feet above northern Israel. Then, he wrote, he noticed activity below him.
"From a distance of six miles, I witnessed a rocket launch," he said. "A rising trail of smoke, then a second rocket launch, an orange flash and more smoke — as a rocket heads off toward Israel."
Williams added that the pilot of the helicopter told him that those on the ground below him had just seen rocket fire.
"They're having some shelling right now," the pilot said, according to Williams. "They landed about 30 seconds ago."
Williams repeated the claim that he was about 1,500 feet above the rocket fire in an appearance on The Daily Show a few weeks later.
However, his story changed by 2007. In an interview with a student journalist at Fairfield University in Connecticut, Williams claimed that he was much closer to the action.
"I've been very, very lucky the way my life has turned out," Williams said. "I've been very lucky to have survived a few things that I've been involved in. At a reception a few minutes ago I was remembering something that I tend to forget, the war with Hezbollah and Israel a few years back, where there were Katyusha rockets passing just beneath the helicopter I was riding in."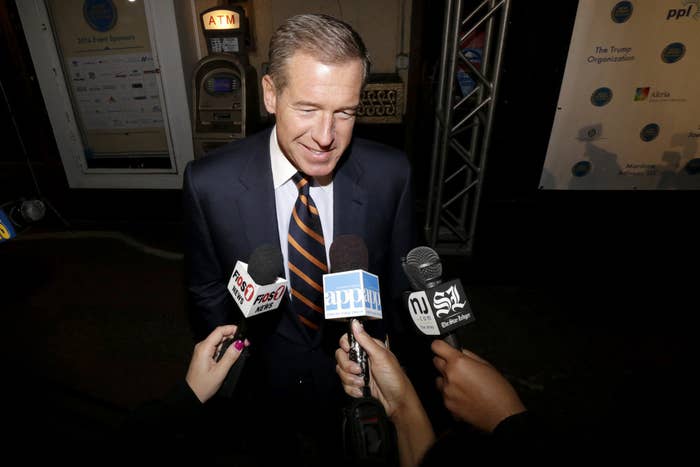 NBC News anchor Brian Williams is canceling an appearance on David Letterman's Late Show that was scheduled for Thursday.
NBC announced the news of the cancelled appearance on Sunday, a day after the anchor said he would be stepping aside from his position at Nightly News, while an investigation by the network into Williams is ongoing.
The investigation started after Williams admitted a story he had told several times about being in a helicopter while it was attacked in Iraq was not true. He had told an elaborate version of the story in 2013 as a guest on Letterman's show.
NBC Nightly News anchor Brian Williams informed colleagues on Saturday that he would be voluntarily going off air for several days, as his network investigates the circumstances around his false claim that his helicopter was forced to land after being shot at during the Iraq war in 2003.
"In the midst of a career spent covering and consuming news, it has become painfully apparent to me that I am presently too much a part of the news, due to my actions," Williams wrote in an email to NBC News staffers.
"As Managing Editor of NBC Nightly News, I have decided to take myself off of my daily broadcast for the next several days, and Lester Holt has kindly agreed to sit in for me to allow us to adequately deal with this issue," he wrote. "Upon my return, I will continue my career-long effort to be worthy of the trust of those who place their trust in us."
NBC News has launched an internal investigation into the false claims Brian Williams made and has since apologized for, an NBC source confirmed to BuzzFeed News.
The investigation was first reported by the New York Daily News.
The investigation into Williams, who for more than a decade was a trusted voice and anchor of NBC Nightly News, will be led by Richard Esposito, the senior executive producer at NBC Investigations.
The New York Post also reported that NBC News set up a "truth squad" – a team of reporters and producers – to investigate Williams' claims, including some of his statements about his experiences covering Hurricane Katrina.
In a staff memo obtained by BuzzFeed News, Deborah Turness, president of NBC News, said executives were "working on what the best next steps are."
This has been a difficult few days for all of us at NBC News.

Yesterday, Brian and I spoke to the Nightly News team. And this morning at the Editorial Exchange, we both addressed the wider group. Brian apologized once again, and specifically expressed how sorry he is for the impact this has had on all of you and on this proud organization.

As you would expect, we have a team dedicated to gathering the facts to help us make sense of all that has transpired. We're working on what the best next steps are – and when we have something to communicate we will of course share it with you.

Since joining NBC News, I've seen great strength and resilience. We are a close-knit family, and your response this week has made that even clearer.

As a relentless news agenda marches on, thank you again for continuing to do what we do best – bring the most important stories of the day to our audience.

Deborah
About a week ago, Williams intended to honor a veteran who he said rescued him when a helicopter he was riding in was forced down by enemy fire in Iraq in 2003.
The story appeared on NBC's Facebook page, where commenters said he was not in the helicopter that was shot down. Williams apologized during his broadcast Wednesday night, citing a faulty memory.
"I was instead in a following aircraft," Williams said in an on-air apology. "We all landed after the ground fire incident and spent two harrowing nights in a sandstorm in the Iraq desert."
A man who says he was the pilot of Williams' flight wrote a piece in the New York Post on Thursday saying their aircraft was part of a completely separate mission and that they landed well after the helicopter that was shot down. Two other men who say they were there have also come forward to contradict Williams' story.
But there was a fourth man, whose account seemed to back up some of Williams' recollection: Richard Krell told CNN he piloted the helicopter Williams was riding in and that it had been one of three in a formation that came under "small arms fire." But Krell is now saying he also might be suffering from a faulty memory on this incident.
Williams said he saw a body floating in the French Quarter, which remained largely dry during the storm, according to the New Orleans Advocate.
"When you look out of your hotel window in the French Quarter and watch a man float by face down, when you see bodies that you last saw in Banda Aceh, Indonesia, and swore to yourself that you would never see in your country," Williams said during an interview in 2006.
As the Advocate reported:
Dr. Brobson Lutz, a former city health director who manned an EMS trailer that was set up in the 900 block of Dumaine Street, a block from his house in the French Quarter, said he was a fan of Williams but dubious of his claims.

"We were never wet. It was never wet," he remarked of the conditions in the city's most historic neighborhood.
A vast majority of the French Quarter was not flooded, according to a New Orleans Times-Picayune study and the Federal Emergency Management Administration.
The French Quarter is largely in a "green" zone, with zero flooding, on this FEMA map, though it appears there was some flooding on the neighborhood's edges: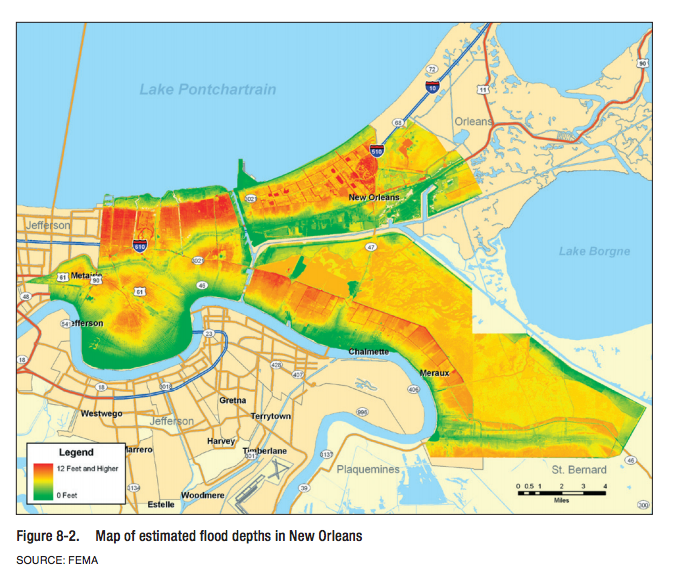 Williams also said in an interview at Columbia University that he suffered a bout of dysentery while there. But Dr. Lutz said he doesn't "recall a single, solitary case of gastroenteritis during Katrina or in the whole month afterward."
The Advocate reported that a spokesperson from the Louisiana Department of Health and Hospitals said dysentery is not one of the reportable diseases, but that it was possible that contaminated water could transmit the disease.