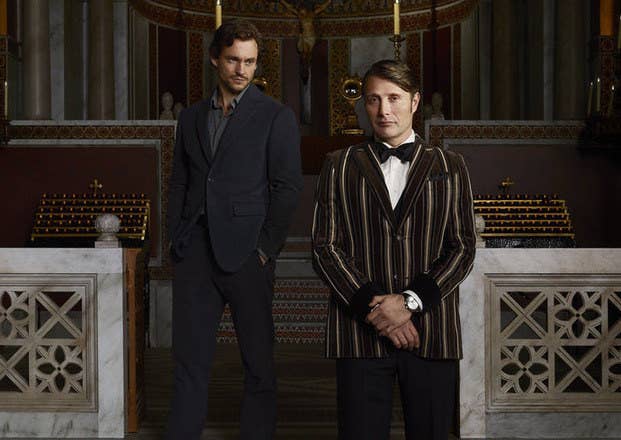 Currently in its third season on NBC, the critically praised, little-watched Hannibal has been canceled.
Though the show has never been a mass hit, NBC has renewed it twice before because Hannibal has been inexpensive to license (because of international sales and a VOD deal). It has also drawn a fanatically devoted cult audience. Nonetheless, airing as a summer offering, Season 3 has hit series lows. Thursday's episode drew 1.8 million viewers and a .5 in the 18-to-49 demographic. Season 3 is 13 episodes, and a spokesperson for NBC confirmed that the show will air in full throughout the summer.
Hannibal, created by Bryan Fuller, stars Hugh Dancy as Will Graham and Mads Mikkelsen as Hannibal Lecter. Critics have complimented its aesthetics and thoughtful approach to violence throughout its run.
A statement from Fuller praised NBC, and also left the door open for the show to try to find another home. "NBC has allowed us to craft a television series that no other broadcast network would have dared, and kept us on the air for three seasons despite Cancellation Bear Chow ratings and images that would have shredded the eyeballs of lesser Standards & Practices enforcers. Jen Salke and her team have been fantastic partners and creatively supportive beyond measure. Hannibal is finishing his last course at NBC's table this summer, but a hungry cannibal can always dine again. And personally, I look forward to my next meal with NBC."
When reached by BuzzFeed News by email, Fuller said, "I would love to see the show continue. The plan for Season 4 was perhaps my favorite season arc yet." At Comic-Con last year, Fuller said his fourth-season plan was to introduce Clarice Starling (of Silence of the Lambs fame) as a character.
Hannibal's executive producer Martha De Laurentiis confirmed to BuzzFeed News that the show's producers will try to revive it elsewhere.
"NBC has been a wonderful home for three seasons of Hannibal, and we still have 10 mind-blowing episodes taking Hannibal and Will into uncharted terrain," wrote De Laurentiis. "We believe that after they air, audiences' hunger for the fourth chapter of this saga will be incredible, and are presently exploring other distribution options with our creative team and our partners at Gaumont Television."