In a contentious interview Megyn Kelly did with Elle that was published on Monday, she was asked whether her "prosecutorial" interviewing skills would mesh well with morning television. Kelly answered: "I am not one-dimensional. I can do many things."
I picture her saying those words in her flat alto, with the authoritative, slightly hostile style with which Kelly delivered shibboleths on her nightly Fox News show, The Kelly File — not in any of the quirky voices viewers of her new NBC morning show, Megyn Kelly Today, are getting to know after this week of episodes: the Valley Girl, the Whisper, the Blaccent, the Baby, the Purposely Deep to Be Funny. Sometimes Kelly's vocal inflections are accompanied by an awkward hand gesture: On Thursday's show, the Whisper got air quotes around the word "surprise!" for a promise of something coming after the commercial break. I watched the whole thing, and don't actually know what the surprise was, except that in the next segment, a camera man stepped in front of Kelly's interview with soccer star Carli Lloyd and said "shit!" on the air. That probably wasn't it, though.
NBC is paying Kelly $18 million for what seems to be a debacle. (NBCUniversal is an investor in BuzzFeed.) Yes, it's a marathon, not a sprint, but it's safe to say we're not supposed to be hate-watching this. We're meant to be watching Kelly show us her softer side in order to fall in love with her charms, causing Megyn Kelly Today to overtake ABC's formidable Live With Kelly and Ryan in the ratings. So far, none of those things has happened (and Kelly and Ryan continues to win handily in the ratings despite Today's huge push, though it is early days).
The strategy for Kelly's summer news show, Sunday Night With Megyn Kelly, appeared to be to try to get her interviews with high-profile newsmakers (Vladimir Putin, Alex Jones) along with softer profiles (J.D. Vance, Maria Menounos) and traditional news magazine stories, sometimes by other reporters (a new treatment for alcoholism, sexual harassment in the tech industry). The question of whether it was watchable on the whole — and it was totally fine — was overshadowed by her inept interview with Putin, and by the mere fact that the show booked Alex Jones to get attention. The magazine format does suit Kelly better, ill-chosen bookings aside. But as a test balloon, Sunday Night was a failure, and perhaps a harbinger: The ratings were pitiful.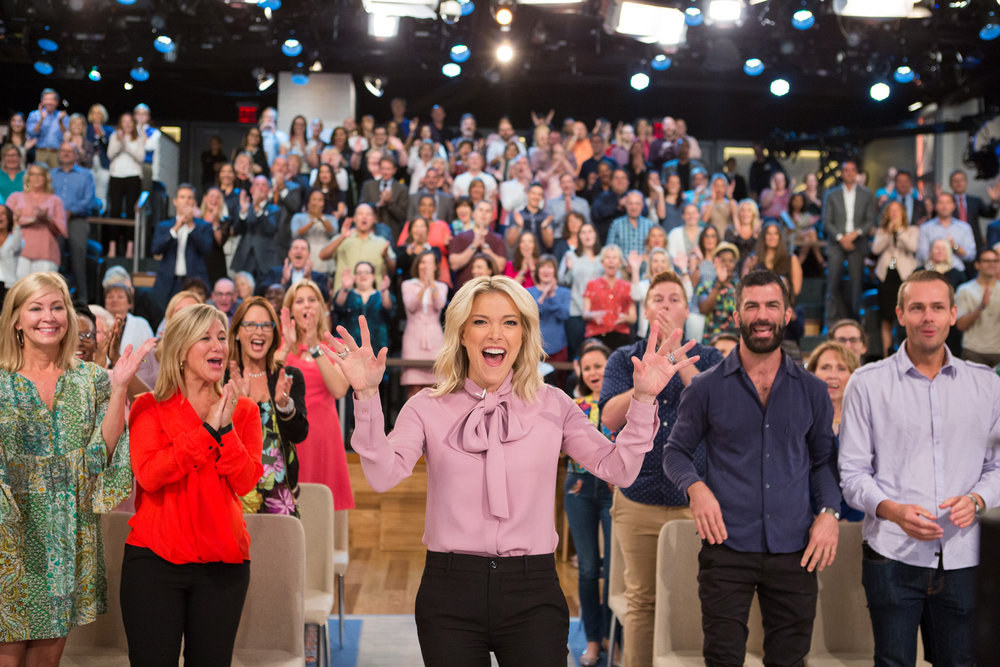 So it makes sense to run screaming from the mistakes of Sunday Night for Megyn Kelly Today. But here, the plan seems to be getting no famous guests who are not on NBC shows (except for Robert Redford and Jane Fonda, which we'll get to later). So far, the show has been an infomercial for NBC's Will & Grace, This Is Us, Saturday Night Live, and most extraordinarily of all, Law & Order True Crime: The Menendez Murders. To promote The Menendez Murders, Kelly did a phone interview with Lyle Menendez, which aired over Wednesday's and Thursday's episodes, and caused acute cognitive dissonance, at least for me.
First, she began her opening bit in nearly the exact same way both days:
Wednesday's opening:
Every day here, we want to kick things off with some of the stories that caught our eye to help you start our morning. So here's what you need to know today: Law & Order True Crime: The Menendez Murders — who remembers that story? Right! It premiered last night on NBC, it's a Dick Wolf project, you know, Law & Order, DUN-DUN [she did the show's signature clang]. Did you watch it?
Thursday's opening:
Every day, we want to kick things off here at Megyn Kelly Today with some of the stories that have caught our eye to help you start your day. You need some cocktail party fodder, you need some dinner party discussion. Here's what you need to know today: Law & Order True Crime: The Menendez Murders. It premiered right here on NBC on Tuesday night. Everyone's talking about it. Did you see it?
This is just bad producing, weak booking, and a bizarre reading of this particular moment in America. Also, I would defy you to find someone who was as obsessed with the Menendez murders as I was, and yes, I was one of the people who watched The Menendez Murders and found it to be trashy fun (though it's not an out-of-the-gate smash: it did only OK). And I could not care less about this Lyle Menendez interview. She called it a "fascinating conversation" and claimed to have caught him in a "flip-flop" over whether he had told his mother that his father was abusing him or not — literally, who cares! She also asked whether he looked into his parents' eyes when he and Eric shot them, as well as, "This may seem like an odd question, but is there any joy in your life?" All this over the unappealing visuals of Kelly on the phone in a generic office, interspersed with Lyle's prison mugshot and the text of what he's saying next to it.
Another problem: The talking points that begin the program end up being whiplash-inducing, tonally. After announcing the Lyle interview on Wednesday, she said: "We have the O.J. Simpson stuff, and now they're doing the Menendez stuff, and people are getting back into these cases. Just to hear it directly from him, on what it was like. They claimed the boys were abused; the prosecutors said complete nonsense. We'll get into all of it. OK! A lighter note: Wedding invitations!" (I am certainly ready for that cocktail party now, that's for sure.)
These days, live television thrives on viral moments, and Megyn Kelly Today has already had two. But not ones that show Kelly in a good light. The first was on the Monday premiere, when she said to a Will & Grace fan, "Is it true that you became a lawyer, and you became gay, because of Will?" And then after bestowing him with a trip to Los Angeles to see the show taped: "I don't know about the lawyer thing, but I think the Will & Grace thing and the gay thing is going to work out for you." Kelly got a lot of shit for it, and later Debra Messing wrote on Instagram in response to a disappointed fan: "Honestly I didn't know it was MK until that morning. The itinerary just said Today show appearance. Regret going on. Dismayed by her comments."
Which makes one ponder: Are they having to trick talent to go on the show? If they're not yet, they may soon have to. When not promoting NBC shows (question for the This Is Us cast: "Why do we love it so?"), she is out of her depth with actual celebrities, such as Fonda and Redford, who provided Viral Moment No. 2. It started innocuously, with Kelly gushing about how well Fonda has aged. Then she segued into her question: "You admit you've had work done, which is to your credit. You look amazing." Perhaps catching the look on Fonda's face, Kelly began to stumble, but nevertheless, she persisted: "Why did you say, I read that you said, you felt you're not proud to admit you've had work done. Why not?" After a miserable pause, Fonda shut her down: "We really want to talk about that now?"
It was actually pretty mean of Fonda, as it was a few minutes later when Redford refused to answer what other actors he'd like to work with: "I'd have to think about that, and I don't think we have time—" "Good!" Fonda exclaimed, continuing a bit about how she was jealous of Redford's other costars. Kelly, it seems, is not practiced in promotional interviews — Fonda and Redford were there only for their Netflix movie Our Souls at Night — and there's no room for unplanned questions. But she is learning the very hard way.
Does some of the disdain for Kelly come from her Fox News past haunting her? Are any of these people thinking of when she said, "For all you kids watching at home, Santa just is white"; or her "racist demagoguery," in Jamelle Bouie's words; or, in the case of Fonda, resuscitating the image of "Hanoi Jane," just to stoke the Fox News base? I do wonder. Because even if the left projected feminist hero status on Kelly after she was the object of Trump's ire and for arguably being the final nail in Roger Ailes' coffin, she is still largely a cypher.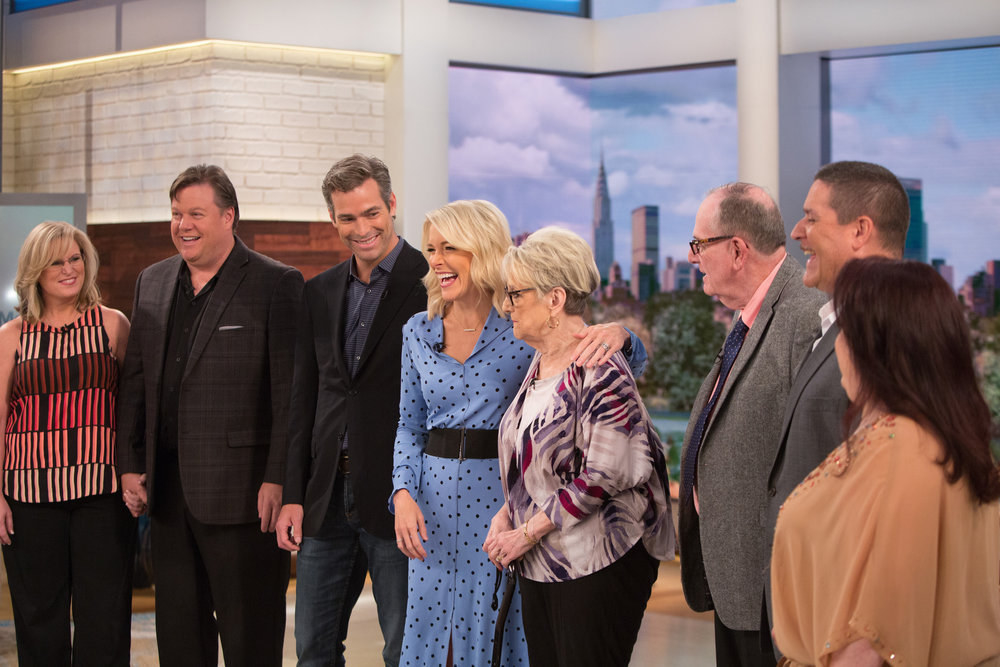 Even, it seems, to herself. Because contrary to what she thinks, it appears she cannot do many things. Kelly has had to explain to the audience that she's a real human being (never a good sign!), with segments about her family and her life as a child (awkward!), and in her "Settle for More" segments, which have a pro-social bent. She explains why it's called "Settle for More" each time, and she's going to have to keep doing it, because the phrase does not appear to apply to the content. Yet "Settle for More" seems to be where Kelly's heart is, or to echo a word she uses frequently, where she finds "joy." So far, the pieces have told the stories of a nun in Chicago who tries to help people avoid (and cope with) gang violence, four black female police chiefs from North Carolina, and nurses in an Orlando hospital who take care of drug-addicted (usually opioid-addicted) babies.
The segment on the black police chiefs felt especially ironic, given Kelly's Fox News past: "Do you know what 'the talk' is?" she said to the women, asking them how they've spoken to their kids about racism. When one mentioned how she's followed in stores by clerks who think she's a thief, Kelly asked, "Have you ever wanted to turn around to the person following you and say, 'You don't have to worry about anything getting stolen in this store today, because I am the chief of police and I will keep you safe?'" This, from a journalist who pointedly asked on Fox News, "do black lives matter, or do all lives matter?" The police chief looked steadily at Kelly, and said, "Megyn, you don't know how many times I have wanted to say that."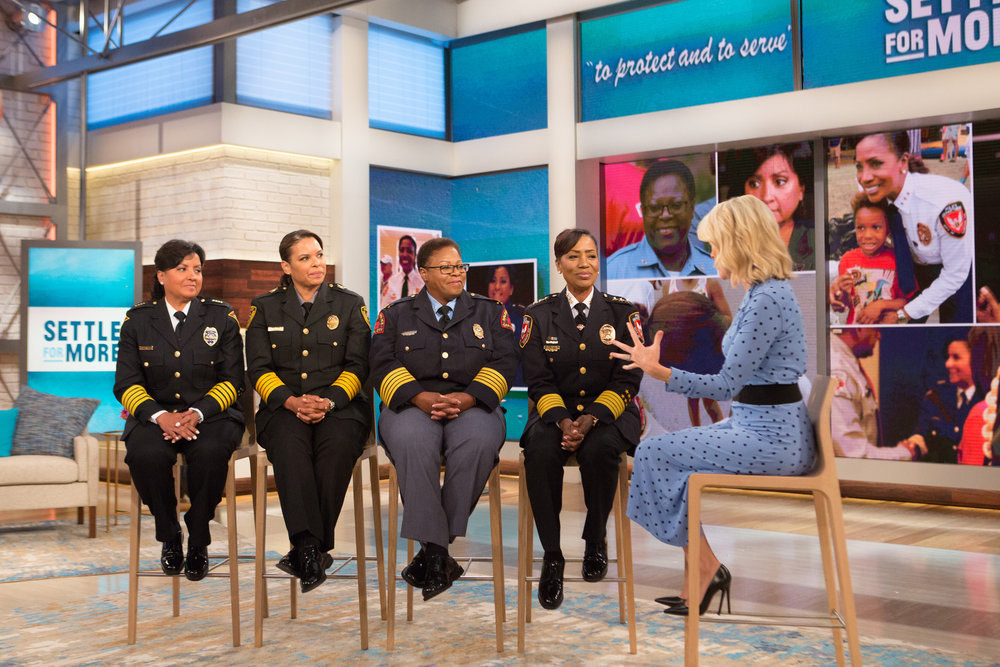 Oh, the baggage Kelly has! It's impossible not to think about it.
Now, all of this is compounded by the fact that she's in a seemingly small minority of people who don't want to talk about politics. In her opening remarks in the premiere, she said: "The truth is, I am kinda done with politics for now. You know why! We all feel it; it's everywhere. And it's gotten so dark and it's just over." And on Wednesday's episode, she said: "I've had it up to here with politics being everywhere. It's not like we're never going to cover politics on this show — we're going to cover politics. But must every show everywhere be the Trump show?" The Valley Girl voice appeared for a moment: "Everywhere. With all due respect to the president, everything we do now is TrumpTrumpTrumpTrumpTrumpTrumpTrump. So we're trying to launch a program" — Kelly spread her arms wide — "more broad. And not just mire itself in the negativity of dark political arts."
Yes, things are mired and negative and dark, and everything is indeed "the Trump show" — on that, perhaps we can all agree. But as far as being "over," Kelly is failing to recognize that it has been less than a year since an election that empowered some people, and terrified others. And continues to. For a journalist to say in 2017 that she's over politics speaks to privilege that is immeasurable. Just this morning, Kelly deliberately cut Julia Louis-Dreyfus's mention of "insurance" through her union out of the actor's statement that she has breast cancer, otherwise reading it in full. For the show, from a practical standpoint, in place of politics, Kelly is left with the previously mentioned dud interviews, "Settle for More," and excruciatingly boring segments about electronics-sniffing dogs that work for law enforcement. In other words, there's not much. As for politics, none of this is over. For most Americans, we've only just begun.
CORRECTION
Kelly did read the line "Let's fight all cancers and make universal health care a reality" from Julia Louis-Dreyfus's announcement that she has breast cancer. An earlier version of this article misstated what she omitted.