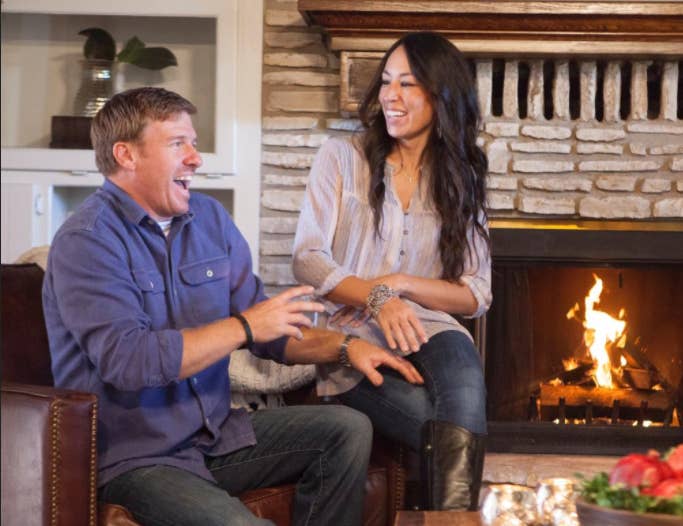 An HGTV spokesperson said the network doesn't discriminate against the LGBT community after a BuzzFeed News report on Fixer Upper hosts Chip and Joanna Gaines' pastor, who has been vocal against same-sex marriage and in favor of converting LGBT people into being straight.
HGTV and a Gaines spokesperson hadn't responded to repeated inquiries about the popular home design show before Tuesday's story, which many Christian activists took as an attack on the Gaineses' faith. The story raised the question, which neither answered, of whether LGBT couples could be included on Fixer Upper. Other popular HGTV series, like House Hunters and Property Brothers, have featured LGBT couples.
"We don't discriminate against members of the LGBT community in any of our shows. HGTV is proud to have a crystal clear, consistent record of including people from all walks of life in its series," a spokesperson wrote in an email.
When pressed about same-sex couples being welcome on Fixer Upper in particular, the representative for HGTV highlighted the phrase "in any of our shows." The series, which just launched its fourth season, has yet to do so.
The Gaineses' pastor, Jimmy Seibert, has spoken out against homosexuality and has called on public figures to be firm in their stances against it. "Business leaders, you will have to be clear about who you are," he said in a sermon after same-sex marriage was legalized by the Supreme Court.
The BuzzFeed News report sparked a firestorm of criticism from Christians who argued that people who oppose same-sex marriage and LGBT rights are persecuted by the media. A Lutheran pastor published a piece in The Federalist under the headline, "BuzzFeed Wants To Destroy Chip And Joanna Gaines For Being Christian And Wildly Popular." The Washington Post published an opinion piece calling it a "non-story." And Megyn Kelly's show The Kelly File featured a discussion of the story, with Fox News' Dana Perino concluding it had "backfired" on BuzzFeed.
There have not been calls to "destroy" the Gaineses, who have yet to respond directly.
On Thursday, Chip Gaines tweeted in apparent response to the report on his pastor: "Be on your guard; stand firm in the faith; be courageous; be strong. DO EVERYTHING IN LOVE. U know… even as all hell 'appears' to be breaking loose. All I have to do is look at my 4 precious babies sleeping, or kiss Jo good morning… and at least at that moment, at my house, all is right with the world!"
UPDATE
The Gainses' pastor, Jimmy Seibert, has responded in an interview with Family Research Council president Tony Perkins. You can listen to it here.
UPDATE
Seemingly in response to BuzzFeed News' report about the beliefs of their pastor, Jimmy Seibert, Chip Gaines wrote a New Year's message on the Magnolia Market blog that he titled "New Year's Revelation." In the post, which was a call for Americans to come together over differences, Gaines wrote that 2016 "has been tough." He continued, "In my lifetime, I can't recall humanity being more divided."
Gaines did not explicitly weigh in on same-sex marriage, but wrote: "It's not about what color your skin is, how much money you have in the bank, your political affiliation, sexual orientation, gender, nationality, or faith. That's all fascinating, but it cannot add or take away from the reality that we're already pulling for you. We are not about to get in the nasty business of throwing stones at each other, don't ask us to cause we won't play that way."
You can read the full post here.