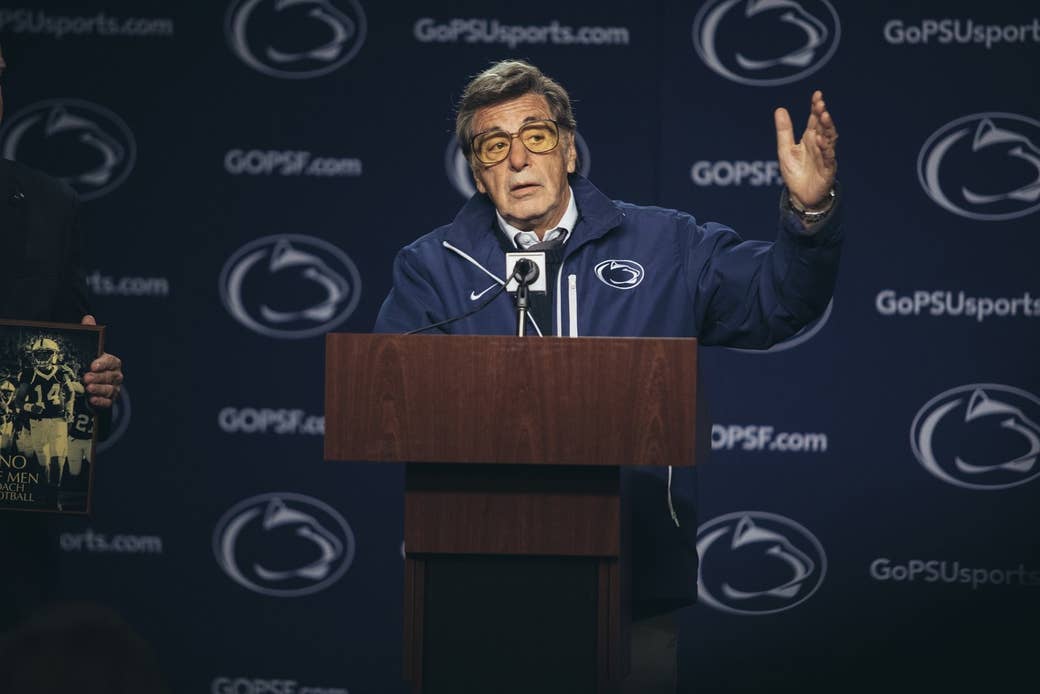 There's a scene toward the end of Paterno in which a character named Michael Gillum (Jim Santangeli), the psychologist for Aaron Fisher — better known as "Victim No. 1" in the Jerry Sandusky case — is describing the hell his teenage patient has gone through since Aaron first reported that Sandusky had raped him. "This took three years of waiting, of a scared boy telling a horror story," he says to reporter Sara Ganim (Riley Keough), detailing the anguish Aaron has experienced, resulting in multiple suicide attempts. Ganim then asks what he thinks about "the Paterno situation," alluding to the firing of the beloved Penn State football coach that had caused violent student riots the night before.
"I honestly don't know why anybody's talking about Joe Paterno," Gillum says, sounding close to rage. "Somebody six months from retirement failed to see the big picture and didn't vigorously protect children? Of course you goddamn fire him. It's spectacularly unworthy of conversation, I'm sorry. A crime against children happened. Why the heck is anyone talking about Joe Paterno?"
Here's why: Paterno — which stars Al Pacino, is directed by Barry Levinson, and premieres on HBO on April 7 — builds a compelling case to implicate the adult bystanders who enabled Sandusky's crimes against children, which included other Penn State officials. Through flashbacks and Paterno's stubborn and naive conversations with his family — during which it becomes clear he did not do nearly enough to stop Sandusky, his former defensive coordinator — the film makes a powerful point about community responsibility. In 2018, it's impossible to view Paterno without drawing parallels to the months-long national reckoning on sexual harassment, abuse, and assault precipitated by the exposés about Harvey Weinstein in the New York Times and the New Yorker in early October.
Debora Cahn, the final writer on the film (she is credited with John C. Richards), told BuzzFeed News: "If you look at #MeToo, it's like, 'Well, everyone knew about Harvey.' That dynamic of We all knew, but nobody said — that was the thing that was interesting to me." The resonant timing for Paterno is accidental; HBO had first wanted to do a Paterno movie with Pacino in 2012 and began actively moving forward in 2014. But what was on Cahn's mind was Donald Trump's "locker room talk" excuse for his Access Hollywood live-mic sexual assault confession, since many of Sandusky's crimes took place in the locker room showers of Penn State's Nittany Lions football team. "The parallel there was overwhelming," Cahn said.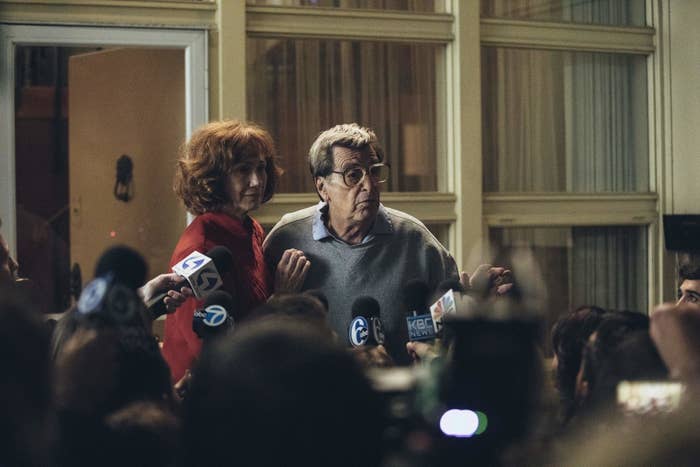 As a character, though, Sandusky (Jim Johnson) barely appears, and when he does, he's almost a specter. "I don't think there's a lot of moral ambiguity in Sandusky," which is why Cahn — who has written for The West Wing, Grey's Anatomy, and Homeland — featured him "as little as humanly possible" in the screenplay. It's Paterno's inadequacies the movie delves into — as well as the gathering media storm (kicked off by Ganim, a consultant on Paterno who won a Pulitzer Prize for her coverage of Sandusky in the Patriot-News) around him that will end his career. Cahn pointed to Paterno's previously impeccable reputation as an educator, and, to use the words of the school's fight song, a "molder of men." He was reverently called "Saint Joe," and "JoePa." "And I don't think it was a line of bullshit, I think it was real," she said. "So how does that guy get it wrong?"
"It's not so interesting to me to talk about bad people," Cahn continued. "I want to talk about good people who make terrible, terrible mistakes."
Sandusky was charged on Nov. 4, 2011, and on Nov. 9, Paterno — a deified figure not only at Penn State, but in all of sports — was fired. Cahn said that week in Paterno's life was a "vertiginous fall," and whereas other writers who had taken a crack at the script had told the story over longer periods of time, she felt that concentrated period "was enough." "This man's life went from the very highest high to the lowest low," Cahn said. Later that month, Paterno found out he had lung cancer; two months after that, on Jan. 22, 2012, he died.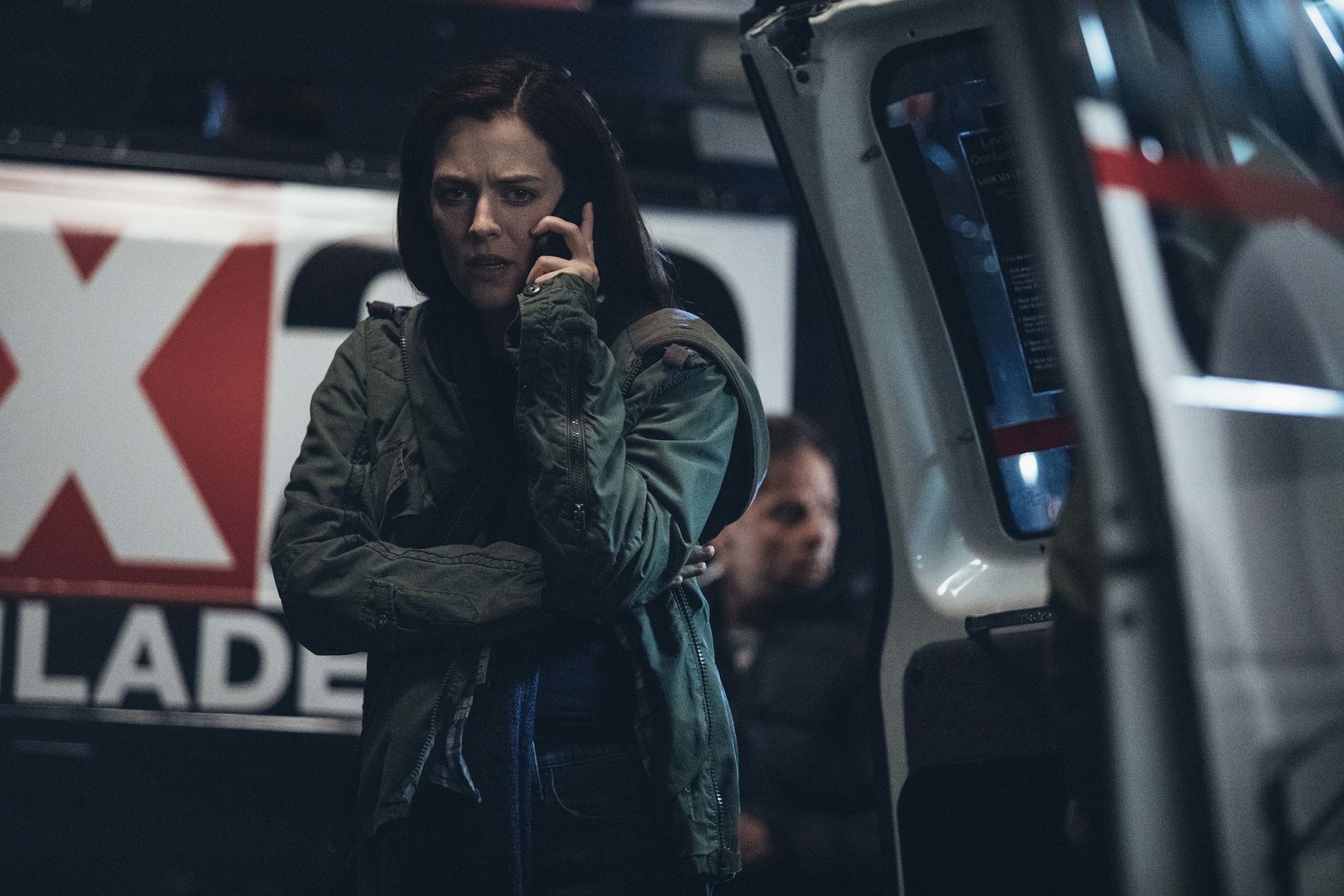 The Sandusky crimes had unprecedented fallout: Penn State's athletic director, Tim Curley, and one of its senior vice presidents, Gary Schultz, were both charged at the same time as Sandusky for failing to report him — and both served jail time. Graham Spanier, the university's president who resigned in disgrace the day Paterno was fired, was convicted in 2017 of child endangerment, and was sentenced, but has been appealing the conviction. In Paterno, we see these men whispering in hallways together and strategizing on the phone, all to avoid responsibility and scandal. Among other resources, Cahn relied on court records, conversations with Ganim, books about the case by many of its key players (including Paterno's son Jay); the 2014 documentary Happy Valley, and the damning 2012 report by former FBI director Louis Freeh that was commissioned by Penn State's board of trustees. "We took the research piece and the vetting piece very seriously, and I wanted to make it clear that when we were suggesting culpability, we were doing so based on hard evidence," Cahn said.
Paterno is propulsively directed by Levinson, who executes large-scale scenes — the game in which Paterno celebrated his record-breaking 409th career win, and the student riots that followed the coach's ouster — and subtle ones, like the hazy memories of an 84-year-old man trying to recontextualize events he had paid little heed to at the time (and may have barely understood), but now knows have doomed him. Cahn thinks Paterno had a "singular focus" on football and education, but a "real lack of familiarity with the nuance of human interaction and emotion and human sexuality" that led to his tragic missteps in not reporting Sandusky to child welfare services and the police. Paterno captures that moment when the people who covered up for Sandusky are exposed as complicit: It was an important watershed. "I think there are points in history where all of our standards change. We're obviously in the middle of one," said Cahn, who hopes Paterno is instructive beyond these characters. "My concern is not Joe Paterno or Jerry Sandusky; my concern is: What's my role in things that happen in my community? What if I get it wrong?"