Ashley Fires, a porn actor since 2002, said she's been telling her story about James Deen for years, but only after his ex-girlfriend Stoya accused Deen of sexual assault over the weekend did anyone want to listen.
As first reported by The Daily Beast, Fires alleges that Deen sexually attacked her in the communal bathroom at the San Francisco headquarters of Kink, a BDSM porn company, in 2012 (or possibly 2013). Kink operates out of the San Francisco Armory in the city's Mission District, and is unique in that it is not only a production studio, but a place where its performers sometimes stay while they film.
Fires told BuzzFeed News on Monday that Deen "blindsided" her after she got out of the communal shower at Kink. She alleges that Deen came up behind her while she was still naked, and pushed her into the sink, bending her over. "I felt that he had an erect penis," Fires said. She turned around, she said, and he put his arms around her. "When I see that it's him, I'm, like, 'James, no. What are you doing? Stop it! No, no, no, no, no!' He held me for a second. I said, 'No, James!'" When she wriggled free, Fires said, Deen told her that if she changed her mind, she should come to his room.
Deen's publicist did not return a request to comment on the specifics of Fires' accusations.
On Sunday, the day after Stoya tweeted that Deen raped her, he posted the following to his Twitter account: "There have been some egregious claims made against me on social media. I want to assure my friends, fans and colleagues that these allegations are both false and defamatory."
After Deen's tweets on Sunday, porn actor Tori Lux told BuzzFeed News that in a separate incident on a porn set in 2011, Deen hit her in the face and sexually assaulted her.
On Monday, Kink told BuzzFeed News that it would "cease all ties" with Deen. A spokesperson for the company wrote in an email that they hadn't known about Fires' story, but are now "looking to see if anyone knew about it at the time."
Fires said that she did not tell anyone at Kink then, and would not have known how. "Is there a complaint form you fill out?" she asked rhetorically. "Is there a human resources department? How do you even go about making a complaint? I don't know."
But after the alleged encounter, Fires said, she told directors, producers, and agents that she would not work with Deen — that he was the one person on her "no list." When she got paired with him anyway, she would decline. She would not want to go into detail, she recalled, and would say instead: "He felt way too entitled to my body. We were not even working together, we were not even on set, and the way that he behaved toward me and my body is why I won't work with him."
Fires said it so often, she said, that Deen approached her a year later at an event and asked her to stop telling people she wouldn't work with him. She said Stoya was with him at the time. "I was baffled that she would support such a jerk, because she seemed like a beautiful, intelligent woman," Fires said. "But people identify with their abusers all the time." (BuzzFeed News emailed Stoya, whose automatic reply says she is not available through any communication channels through Dec. 17.)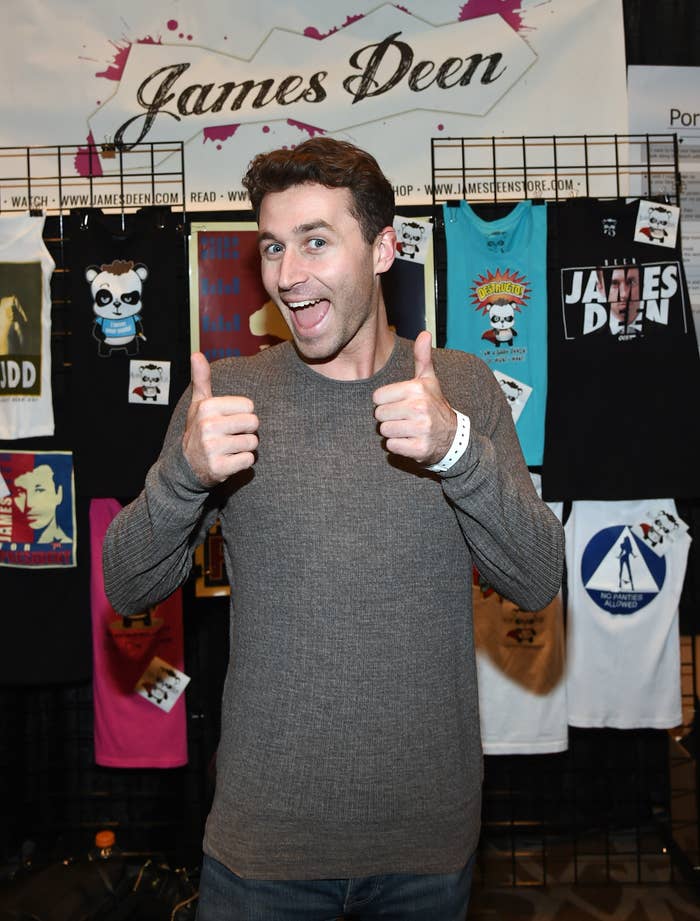 Deen's mainstream fame has been rare for a straight male porn star. In April 2012, Good magazine declared Deen to be "what women want." Crediting his average looks (he is 5'8"), with repeated references to Deen's Jewishness ("He cracks Jew jokes"), Good also noted the youth of his fandom. "For his teenage fans, James Deen is a window to a world of sexual expression that had previously been no-girls-allowed."
The mythology of Deen's work being aligned with female pleasure was born, and as a result, he began being thought of as a feminist, no matter how many times he said he wasn't. No number of rape scenes he filmed, nor rape jokes he tweeted would disabuse this general conception. It appears to be a fallacy that bothered Stoya, who tweeted, "That thing where you log in to the internet for a second and see people idolizing the guy who raped you as a feminist. That thing sucks."
For her part, Fires said she watched Deen's ascent with "absolute disgust."
She said she'd had a crazy day since telling her story, but is glad she has said something publicly. She said she has heard from other women who are considering coming forward. "I hope it encourages other women to speak up," she said. "And that's what I'm telling people who text me — there's strength in numbers. And if you have an experience, please share it. It's hard, yeah, it's hard. But what exactly are you afraid of?"
Because, Fires said, "I never want another woman to feel that way again."