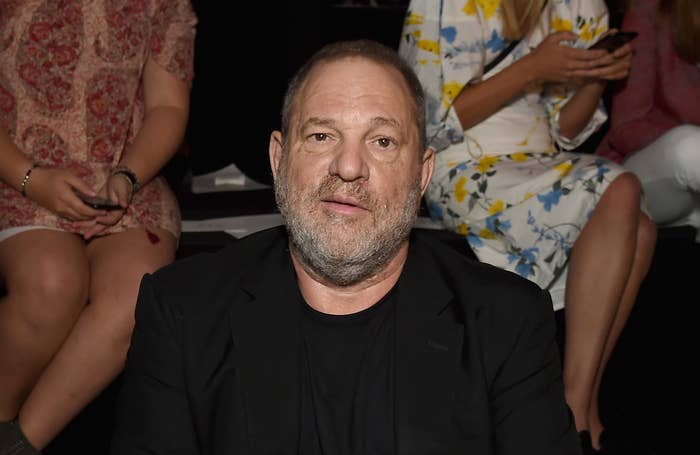 Film executive Harvey Weinstein has been fired from The Weinstein Company, the board officially announced on Sunday. The news comes in the wake of the New York Times' blockbuster story on Thursday alleging decades of sexual harassment on Weinstein's part.
"In light of new information about misconduct by Harvey Weinstein that has emerged in the past few days, the directors of The Weinstein Company have determined, and have informed Harvey Weinstein, that his employment with The Weinstein Company is terminated, effective immediately," the company said in a statement Sunday.

The move follows the board's announcement Friday that Weinstein would take a leave of absence, and that the company had hired an outside attorney — John Kiernan of Debevoise & Plimpton LLP — to conduct an investigation into the allegations. "We take extremely seriously the accusations published in today's New York Times about our Company's co-chairman Harvey Weinstein," Friday's statement read in part. "It is essential to our Company's culture that all women who work for it or have any dealings with it or any of our executives are treated with respect and have no experience of harassment or discrimination."

The board had framed Weinstein's leave on Friday as an endorsement of his own decision: that he would go voluntarily to get therapy and reflect on his past behavior, as he said in his statement the day prior. "I've brought on therapists and I plan to take a leave of absence from my company and to deal with this issue head on," Weinstein wrote in his meandering statement. In it, he also said he would channel his anger toward the NRA and misquoted Jay-Z.
On Friday, the Weinstein board stated: "We strongly endorse Harvey Weinstein's already-announced decision to take an indefinite leave of absence from the Company, commencing today. As Harvey has said, it is important for him to get professional help for the problems he has acknowledged. Next steps will depend on Harvey's therapeutic progress, the outcome of the Board's independent investigation, and Harvey's own personal decisions."
The Weinstein Company will be run by Bob Weinstein, its cofounder and CEO, and David Glasser, its president and COO. A New York Times story Friday evening reported that three board members — Marc Lasry, Dirk Ziff, and Tim Sarnoff — resigned on Friday, and that a fourth, Paul Tudor Jones, did not sign a statement released by four other members and, according to the Times, resigned on Saturday.
The New York Times chronicled 30 years of accusations against Weinstein, with many former employees and actor Ashley Judd going on the record about his alleged inappropriate behavior. Charles Harder, one of Weinstein's lawyers, told BuzzFeed News Thursday that Weinstein is going to sue the New York Times for unspecified damages. The lawsuit has yet to be filed.
A source told BuzzFeed News that another investigative story about Weinstein — this one in the New Yorker by Ronan Farrow — has yet to be published, though it has been fact-checked, indicating it will be posted soon.
UPDATE
In the wake of a New Yorker story in which three women accused Weinstein of rape, The Weinstein Company released the following statement: "The Weinstein Company's Board of Representatives — Bob Weinstein, Lance Maerov, Richard Koenigsberg and Tarak Ben Ammar — are shocked and dismayed by the recently emerged allegations of extreme sexual misconduct and sexual assault by Harvey Weinstein. These alleged actions are antithetical to human decency. These allegations come as an utter surprise to the Board. Any suggestion that the Board had knowledge of this conduct is false.
We are committed to assisting with our full energies in all criminal or other investigations of these alleged acts, while pursuing justice for the victims and a full and independent investigation of our own."
This story has been updated with the news of Weinstein's termination, as well as the report that three board members resigned from the company.
UPDATE
At a Weinstein Company board meeting to ratify Harvey Weinstein's termination, Weinstein simultaneously resigned from the board, a source confirmed to BuzzFeed News.