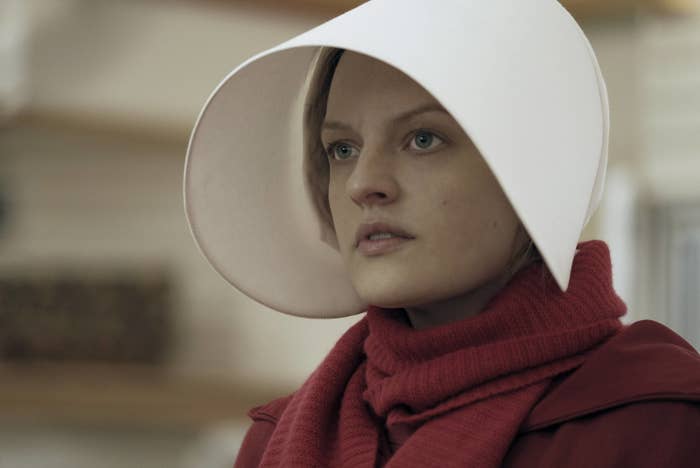 Blessed be the fruit: The Handmaid's Tale, one of several favorites in the Emmys' highly competitive best drama category, took home the top honor on Sunday night — and now Hulu is the first streaming service ever to win an Emmy in a best series category.

Before this year, Hulu had received two Emmy nominations: one for writing on its election special Triumph, and another for visual effects for its limited series 11.22.63.

In July, The Handmaid's Tale received 13 Emmy nominations, and at Sunday's ceremony, the show dominated. In addition to Outstanding Drama Series, the show won Outstanding Lead Actress in a Drama Series (Elisabeth Moss), Outstanding Supporting Actress (Ann Dowd), Outstanding Directing for a Drama Series (Reed Morano), and Outstanding Writing for a Drama Series (Bruce Miller). At the Creative Arts Emmys last weekend, The Handmaid's Tale won for production design and cinematography. And Alexis Bledel — who will be a series regular in the show's second season — won Outstanding Guest Actress in a Drama Series, bringing the show's final tally to eight wins.
The Handmaid's Tale sweep for Hulu was a shocking turn of events for a relatively new player in the Emmys and in quality scripted content.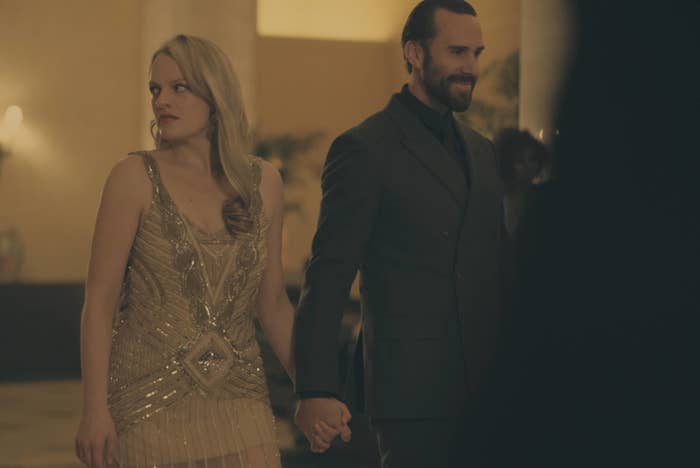 The dystopian drama premiered on Hulu in April, and was seen as incredibly timely in this political climate, despite being based on Margaret Atwood's 1985 novel. The story of June (Moss), renamed Offred by the show's oppressive society of Gilead, reflected many Americans' current anxieties about eroding rights (of women, of minority groups), a looming threat of war, religious intolerance, and environmental threats.
None of the show's winners delivered political speeches Sunday night, but The Handmaid's Tale creator, Bruce Miller, closed the show by saying, "Go home, get to work, we have a lot of things to fight for."
In the Emmys press room, executive producer Warren Littlefield said, "Our partners at Hulu are fearless. They took a very controversial book and said they wanted to do it. Each and every day they encourage us to go for it, and that kind of support for all of us as artists is exceptional."
Hulu's rival streaming service, Netflix, has been in the Emmys game since 2013, after the inaugural season of House of Cards, when it first began its full-court press into original content. That year, Netflix got 14 nominations, breaking into the major categories immediately, with nominations for Outstanding Drama Series, Outstanding Lead Actor in a Drama Series (for Kevin Spacey), and Outstanding Lead Actress in a Drama Series (Robin Wright). Jason Bateman was also nominated that year for Outstanding Lead Actor in a Comedy Series for the Arrested Development reboot. Even the horror thriller Hemlock Grove got two nominations (for its main title theme and visual effects). Netflix has increased its nominations total every year since, drawing 91 in 2017 (second only to HBO's 111), and has spent millions to do so, launching campaigns this year for all of its shows. Netflix famously has had a $6 billion budget for original content in 2017.
Yet Netflix has not been able to break through in the Outstanding Drama Series or Outstanding Comedy Series categories, despite having two strong contenders this year, with The Crown and Stranger Things. Along with The Handmaid's Tale and NBC's This Is Us, those four series were thought to be the main contenders in the drama category.
As the Emmys reflect, television's delivery system stayed the same for its entire existence — and then it changed quickly. The first non-network show to win an Emmy in a best series category was in 2001 when HBO's Sex and the City won Outstanding Comedy Series. Next was The Sopranos (also HBO, obviously) in 2004 for Outstanding Drama Series. The Sopranos won again in 2007, which was then followed by Mad Men's four-year run in that category — the AMC drama was the first basic cable show to win an Emmy in a best series category. After that, Showtime's Homeland won in 2012, and then AMC's Breaking Bad then won twice, in 2013 and 2014. Since Breaking Bad's two wins, and since ABC's Modern Family ended its five-season streak in Outstanding Comedy Series in 2015, HBO has swept both series categories, with Veep and Game of Thrones winning last year and the year before.
Whether Hulu's win will open the floodgates for streaming services to command the Emmys as they do original television content remains to be seen. (Amazon is a player here as well.) After all, next year, Game of Thrones will once again be eligible for Outstanding Drama Series.
Susan Cheng contributed to this report.