Despite episode leaks, HBO being hacked, continued piracy, and the existence of accurate spoilers on the internet, Season 7 of Game of Thrones, which concludes its seven-episode run on Sunday, has seen the show's highest ratings ever.
Game of Thrones' ratings have grown every year, going steadily up from an average of 9.3 million viewers per episode in Season 1 to Season 6's monstrous 25.7 million average. If that seems tough to beat, the combination of the show's linear broadcasts on the HBO channels, DVR replays, on-demand viewing, and streaming viewership on HBO Go and HBO Now has Season 7 episodes drawing an average audience of 29.3 million. Compared to last season's ratings through the same number of episodes, that's an improvement of 34%.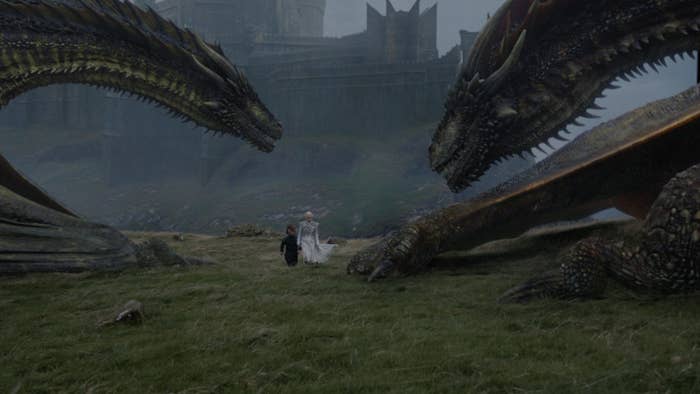 That audience makes Game of Thrones the No. 1 scripted show on television — and it's a number that will grow as more people binge this season. Game of Thrones has been the most-watched HBO series in history for a while now, with The Sopranos being the premium channel's second most popular. But one remarkable thing is that despite how much television viewing has changed since The Sopranos was on the air from 1999 to 2007, many Game of Thrones viewers still feel the urgency to watch the show live on Sunday nights. Understandably so, with all the dragons and death! But still, given the massive shifts in TV viewing habits, it's almost stunning that a show in its seventh season in summer 2017 would still be breaking its records in same-day viewing. For the curious, the most-watched episode of the season was its fifth, with an audience of 10.7 million live-plus-same-day viewers watching Dany and Drogon fry the Tarlys, Sam interrupting Gilly when she's trying to tell him crucial information, the return of Gendry, and Jon Snow's suicide squad go into the wintry abyss in search of a wight. (Prediction: Sunday's finale will break that record, despite being up against MTV's potentially Taylor Swift–heavy Video Music Awards. Update: This prediction was correct! See update at the bottom.)
After Sunday's finale, Game of Thrones will exist for only six more episodes for its even-shorter eighth season. Which is why HBO is developing four potential spinoffs — whichever one is greenlit will be a success if it draws even a fraction of the ratings of its predecessor. But assuming Game of Thrones' numbers go up even more in its final season next year, the record that probably won't ever be duplicated is the percentage of HBO subscribers who watch it: With its 29.3 million viewers, nearly all US subscribers — more than 90% — are watching the show. From here on out, all other shows will have to bend the knee.
UPDATE
The season finale of Game of Thrones drew 12.1 million live-plus-same-day viewers, a series high. Adding the first repeat on HBO and the immediate streaming numbers, the tally for Sunday night was 16.5 million viewers. And the average gross audience total per episode is now 30.6 million (and climbing).