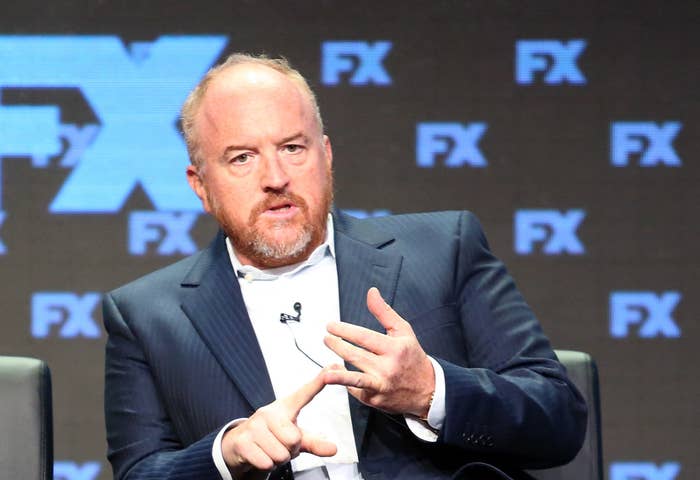 FX announced Friday that it would no longer work with Louis C.K. and is ending its producing deal with the comedian, who on Thursday was the subject of a New York Times story detailing how he had masturbated in front of women.
C.K. admitted earlier in the day that the stories were true.
Here is FX's statement in full:
Today, FX Networks and FX Productions are ending our association with Louis C.K. We are cancelling the overall deal between FX Productions and his production company, Pig Newton. He will no longer serve as executive producer or receive compensation on any of the four shows we were producing with him – Better Things, Baskets, One Mississippi and The Cops.


Louis has now confirmed the truth of the reports relating to the five women victimized by his misconduct, which we were unaware of previously. As far as we know, his behavior over the past 8 years on all five series he has produced for FX Networks and/or FX Productions has been professional. However, now is not the time for him to make television shows. Now is the time for him to honestly address the women who have come forth to speak about their painful experiences, a process which he began today with his public statement.


FX Networks and FX Productions remain committed to doing everything we can to ensure that all people work in an environment that is safe, respectful and fair, and we will continue our review of all of these productions to ensure that was and is the case.
The stories about C.K. — specifically about him masturbating in front of unwilling women — have long been in the ether, but he has always denied them, as recently as two months ago to the New York Times. "I'm not going to answer to that stuff, because they're rumors," he said while promoting the Toronto International Film Festival premiere of I Love You, Daddy, his movie that engages with the topic of sexual misconduct. The Orchard, a small distributor, bought I Love You, Daddy for $5 million, but on Friday canceled its release.

FX has been the outlet most closely associated with C.K.'s work. It broadcast all five seasons of the Emmy-nominated Louie, and more recently has aired the acclaimed Better Things and Baskets, both of which were co-created by C.K. According to the company's statement, those shows — as well as FX Productions' One Mississippi (for Amazon) and The Cops (for TBS) — will continue without C.K. getting a credit or compensation. (Though TBS announced simultaneously that "production on The Cops has been suspended until further review.")
Pamela Adlon, a frequent collaborator of C.K.'s and the co-creator and star of Better Things, had defended him as recently as a September interview with Fast Company. "All I can tell you is that he is the best, most generous, collaborative, brilliant writer in the world," she said then. "And you can ask anybody who works with him that he's just the best guy. That's all I have to say."
Late Friday afternoon, Adlon issued a statement through FX: "Hi. I'm here. I have to say something. It's so important. My family and I are devastated and in shock after the admission of abhorrent behavior by my friend and partner, Louis C.K. I feel deep sorrow and empathy for the women who have come forward. I am asking for privacy at this time for myself and my family. I am processing and grieving and hope to say more as soon as I am able."
Earlier in the day C.K. issued a statement through his publicist Lewis Kay. "These stories are true," it read in part. He also said he was "remorseful," but that he "had never showed a woman my dick without asking first." He wrote of how these women had admired him, and that he had abused that power, and that he regrets bringing "negative attention" to FX, The Orchard, and his powerful manager, Dave Becky of 3 Arts Entertainment. In the Times story, Becky appeared to have been angry at two of C.K.'s accusers, the comedy duo Dana Min Goodman and Julia Wolov, and that they suffered repercussions. Becky told the Times, "I never threatened anyone."
Friday saw a cascade of people and businesses shunning C.K. According to Variety, he has been fired from the sequel to The Secret Life of Pets, scheduled for June 2019. Becky and 3 Arts have also cut ties with C.K. And APA, the agency that represented his comedy tours, dropped him as well.
Shortly after FX made its announcement, Lewis Kay, C.K.'s longtime publicist dropped him as well.
Update: This story has been updated with the Secret Life of Pets and APA firings.
Update: This story was updated with a statement from Pamela Adlon.