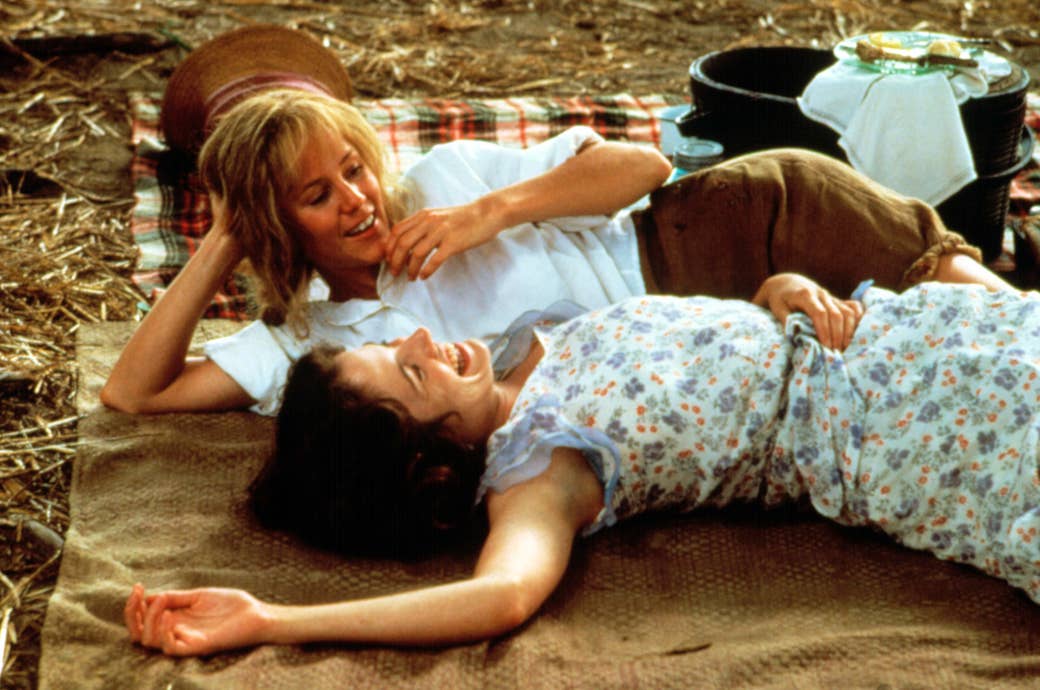 Whenever I talk to younger queer people about how little LGBT representation there was in movies and on TV when I was a closeted teenager in the '80s, I end up yelling. I yell because I want them to understand what it was like, and I yell because I get mad all over again. We so rarely saw ourselves onscreen! Lesbians were particularly invisible. What did exist for us either illustrated self-hatred (Personal Best, 1982), or was bowdlerized (The Color Purple, 1985), or existed entirely in subtext. To offer one pathetic example, I remember rushing to see the 1987 thriller Black Widow because I'd heard that the characters played by Debra Winger and Theresa Russell had a sexualized (and totally unfulfilled) dynamic.

Oh, and then there was 1983's The Hunger, in which Susan Sarandon and Catherine Deneuve actually do have an explicit sex scene. Yes, it was hashtag-problematic that Deneuve plays a vampire who lures (the formerly straight) Sarandon into her murderous lifestyle — just one more film in the toxic tradition of depicting LGBT people as killers (see also: Rope, Cruising, Dressed to Kill, and zillions more). But The Hunger was stylish, fun, and hot — and without the benefit of the internet to warn me, I saw it with my mother. (Do watch the sex scene, and know that I have talked about this psychosexual disaster in therapy.)
Against this bleak landscape, where I felt my best hope was not to be horrified, Fried Green Tomatoes felt like a perfect movie to me.
It came out just after Christmas in 1991, and I went to see it right away. I had read the book on which it was based — Fannie Flagg's 1987 novel Fried Green Tomatoes at the Whistle Stop Cafe — and loved it. Given that one of the two main plots in the book was about a lesbian couple, I was very curious about how a mainstream movie — directed by Risky Business producer Jon Avnet, released by Universal — would handle it. I was years away from being an entertainment journalist, so I didn't understand much about the business of Hollywood. But I was an expert in shitty portrayals of lesbians in pop culture.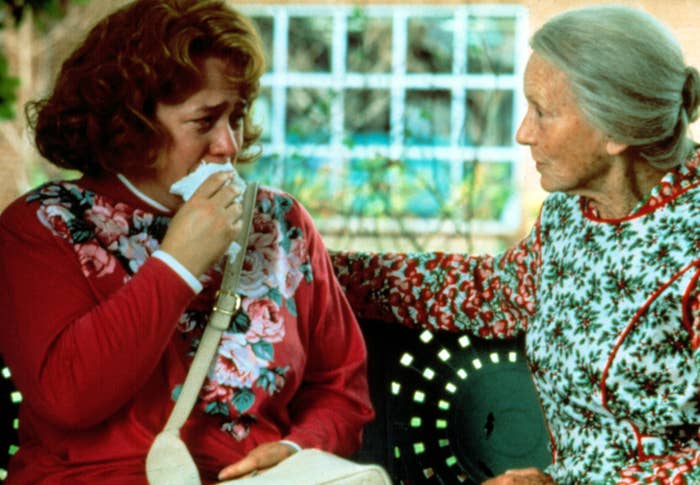 The story is set in two different time periods. In the present, Evelyn Couch, a depressed Alabama housewife played by Kathy Bates, becomes friends with the vibrant, eightysomething Ninny Threadgoode (Jessica Tandy). They meet during Evelyn's visits to her husband's hostile aunt at the assisted living facility where Ninny lives (temporarily, Ninny tells Evelyn). Ninny starts talking to Evelyn about her memories of Whistle Stop, Alabama — a smidge of a town that existed only because the trains stopped there. At first, Evelyn is a reluctant audience, indulging Ninny only out of the Southern politeness that generally imprisons her. But she soon becomes enthralled, and then she becomes inspired — and changes her life.
The story Ninny tells Evelyn is about Depression-era Whistle Stop. There, Idgie Threadgoode (Mary Stuart Masterson) and Ruth Jamison (Mary-Louise Parker), who was Idgie's eventual…well, this is the issue, really, because the movie is hazy on the point. But I am not hazy on it, so let's call Ruth what she is — Idgie's eventual wife. In the movie, they meet when Idgie is a child and Ruth is dating Idgie's brother, Buddy (Chris O'Donnell). After Buddy is killed by a train, Idgie — already a tomboy, and somewhat feral — goes totally wild and lives in the woods. Some years later, Idgie's mother asks Ruth to spend the summer with the family to help Idgie, who is incorrigible. The two women fall in love. But Ruth is obligated to marry Frank Bennett (Nick Searcy) so she and her mother will have a place to live. Ruth is reluctant to marry Frank, but she doesn't know the half of it: He is a hideous abuser, but she can't escape him because it would leave them homeless. As soon as her mother dies, Ruth sends Idgie her mom's obituary, along with a passage from the Bible's Book of Ruth: "...whither thou goest, I will go; and where thou lodgest, I will lodge: thy people shall be my people, and thy God my God." (I am crying as I type this sentence.)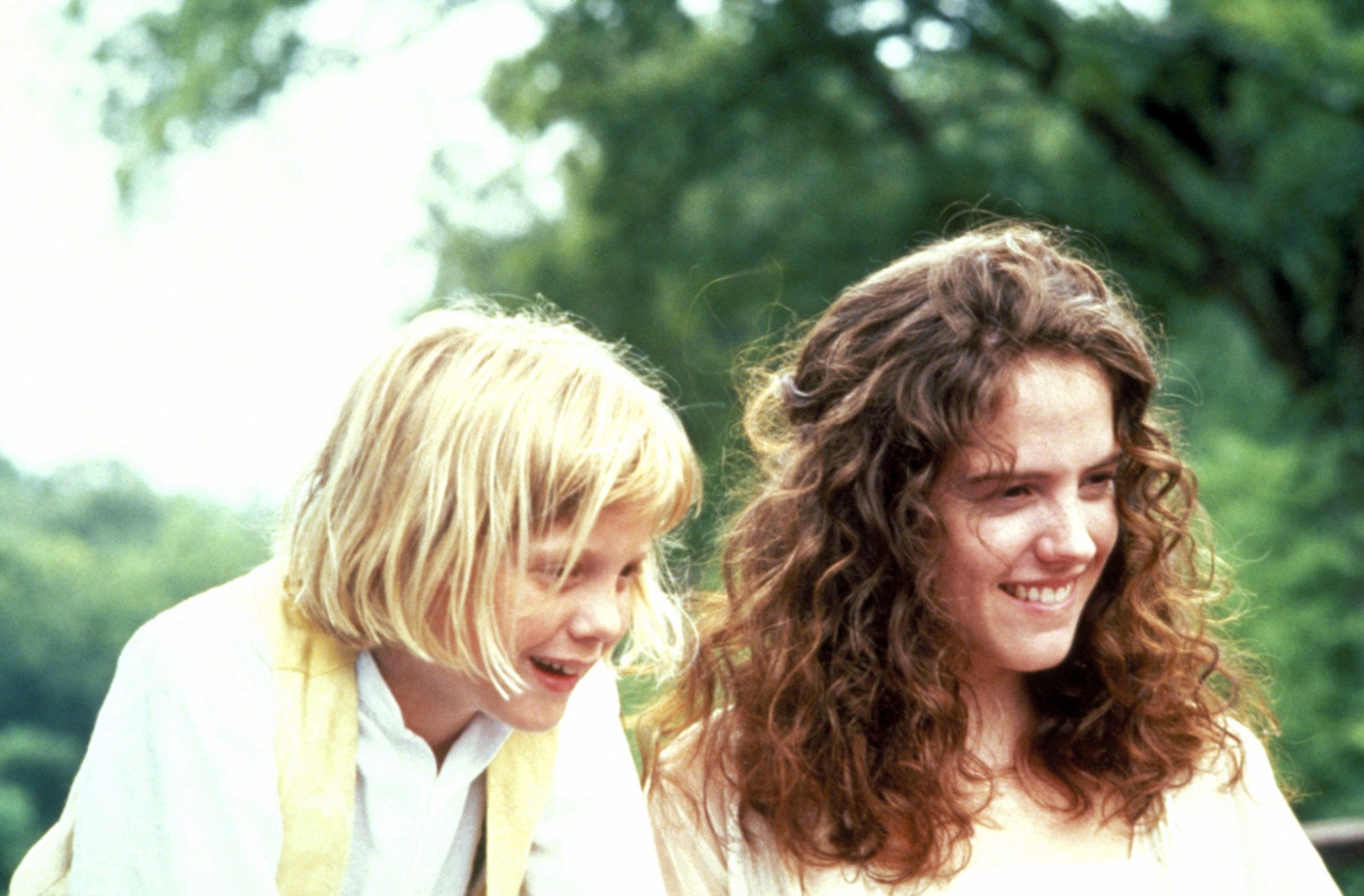 Fried Green Tomatoes felt like the answer to a wish. I saw it four times in the theater, something I haven't done since. My girlfriend at the time got freaked out about my love of it — so was I, frankly! I was 22, and had been out since my first year of college. I was embarking on my post-college life, which felt full of possibility. Yet even in my happy state, Fried Green Tomatoes made me feel a yearning that I had never felt before.
I wanted what Idgie and Ruth had. When Idgie goes to rescue Ruth from the villainous Frank, Ruth tells Idgie she's pregnant. Ruth has the baby — whom they name Buddy — and then they open the café. Until, uh, Idgie is charged with Frank's murder (she didn't do it), and Ruth dies of cancer years later, it's pretty idyllic. Back in late 1991 and early 1992, AIDS was the sole political issue on LGBT activists' minds — the idea of same-sex marriage felt like an impossibility. AIDS was an international catastrophe, the economy was in recession — things were dark. This optimistic movie about love felt good.
I wasn't alone in my Fried Green Tomatoes fandom. It was a sleeper hit, playing in theaters from Dec. 27, 1991, through June of the next year. It went on to make more than $82 million domestically (that's more than $181 million adjusted for ticket price inflation). Tandy and Bates had both just won Oscars in consecutive years (for Driving Miss Daisy and Misery, respectively), and their unlikely movie stardom fueled Fried Green Tomatoes' larger girl-power message. Perhaps trying to piggyback on the success of Thelma & Louise — a huge hit (and cultural phenomenon) from earlier in the year — it was marketed as a story of friendship.
Yes, Evelyn and Ninny are friends; Ruth and Idgie, however, eye-fuck each other. In scene after scene, Masterson and Parker make it clear that Idgie and Ruth are in love — just by how they look at each other. Avnet never makes their flirtation and obvious lust for each other sordid or designed to titillate male audience members. In that, he actually errs too far on the side of caution. There's a scene when they're swimming in a lake in their underwear, and Ruth kisses Idgie on the cheek, and — come on, man, give us something! (In Avnet's director's commentary on the DVD, he is totally aware of their dynamic, repeatedly calling their story "romantic," calling the food fight scene a "love scene," and at one point saying — yikes — "look at Mary-Louise's reaction to Mary Stuart's testosterone-induced bravado.")
In 2018, Idgie and Ruth's love story is the stuff of dozens of YouTube tributes, and the relationship is blatant. In 1991, with George H.W. Bush in office and a disease killing gay men while the government stood by and watched, it felt like another example of shame-filled erasure to some. The movie was criticized for its reticence, with Avnet telling Entertainment Weekly to interpret the relationship "how you want to — I had no interest in going into the bedroom." Flagg was even more emphatic: "No, no, no," she said to the Chicago Sun-Times. "It's a story about love and friendship. The sexuality is unimportant." (I wanted to talk to Avnet and Flagg for this story, as well as Parker and Masterson, but none of them were available.)
Flagg's book never calls Ruth and Idgie lesbians — and Evelyn doesn't ask Ninny to label them, either — but it does make it a fact that they are a couple. In that sense, there are some key differences between the book and the movie (adapted by Flagg, Carol Sobieski, and Avnet, who didn't receive a credit). Ruth never dates Buddy in the book, for instance — she and Idgie meet only after Mama Threadgoode asks Ruth, a family friend, to come help her rescue Idgie, who has gone off to mourn Buddy by the River Club (and sometimes into the arms of Eva Bates, who is played in the movie by Grace Zabriskie, though her character in the film barely registers. "Eva didn't know about a lot of things, but she knew about love," writes Flagg, as Eva takes a bereft Idgie into her bed).
More importantly, Flagg's third-person omniscient narration explicitly spells out their love for each other. The scene in which Idgie goes into a swarm of bees and gets a honeycomb out for Ruth is crucial for them, and a signature scene that underscores their nascent relationship — it's pretty great in the movie, as well as in the book. But in the novel, while Ruth says, "You're an old bee charmer, Idgie Threadgoode, that's what you are," Idgie's head is in Ruth's lap, and they're holding hands. Idgie is then, Flagg writes, "as happy as anybody who is in love in the summertime can be."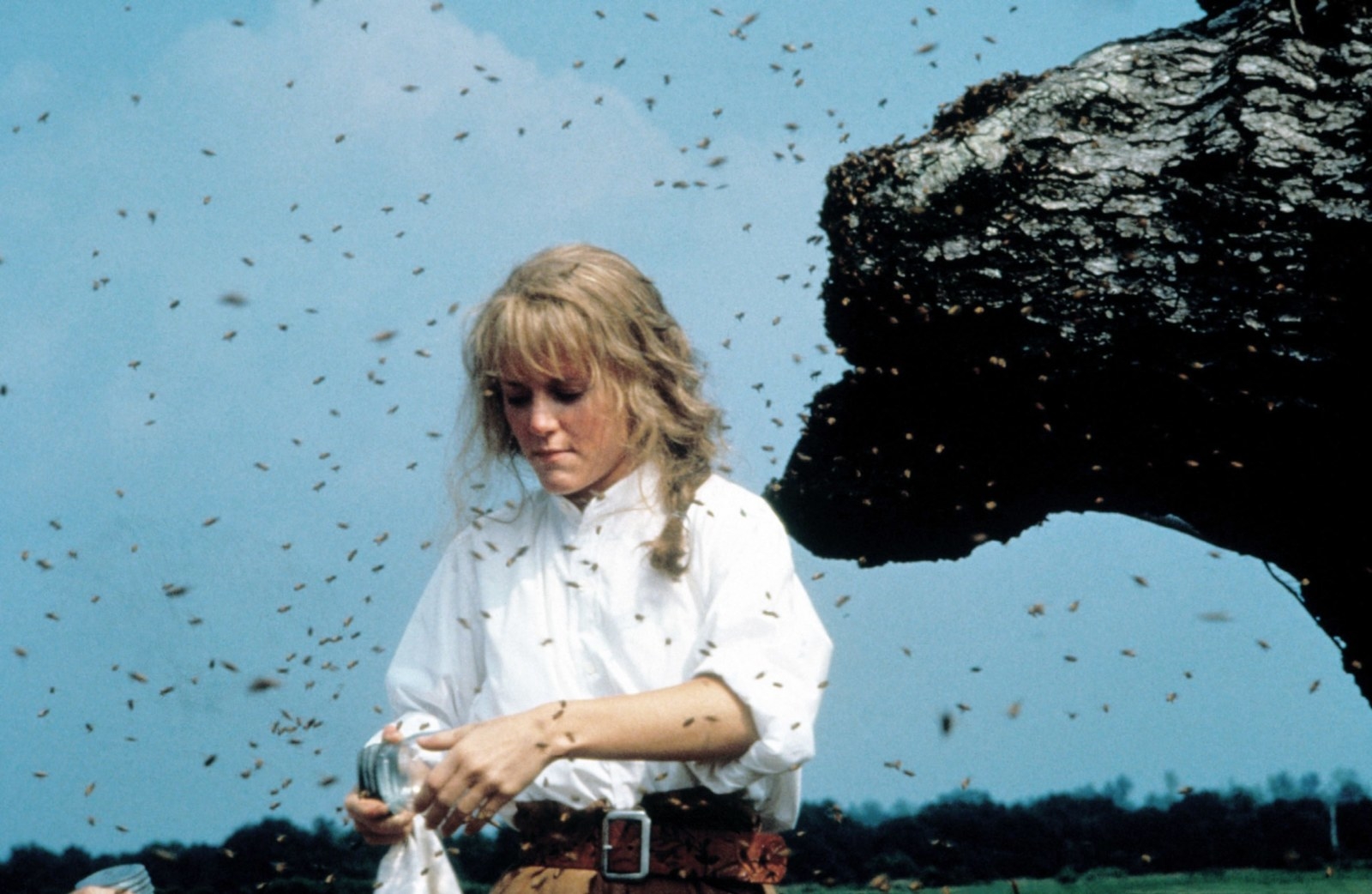 Later, when Ruth is miserable that she has to go marry Frank, she thinks to herself: "When Idgie had grinned at her and tried to hand her that jar of honey, all these feelings that she had been trying to hold back came flooding through her, and it was in that second in time that she knew she loved Idgie with all her heart."
So yes, in comparison to the book, the movie is, as Masterson once told me, "redacted." We were talking at the Sundance Film Festival in 2016, when she played the mom of a queer teenage son in an indie movie called As You Are. When I brought up Fried Green Tomatoes as a mainstream movie with a lesbian love story, she said some things had been cut that would have made the relationship more obvious. "It wasn't a love scene, but there were, like — clearly a love relationship type of a fight, of jealousy," she said. "There was some more sensual kind of stuff in there. We were clearly playing that."
I said that the relationship had to exist on their faces, since it wasn't in the text. "But then it was just about friendship," Masterson said, sounding frustrated. "I think at that time when it was released, if it had been labeled frankly that way, I think the fear maybe was that it would have alienated all the people — older, Southern women — who had those kinds of permanent, lifelong friendships. The aunts who lived together but never married would have been alienated from watching it and allowing themselves to love the characters. I think. I think they might have been afraid."
I've watched Fried Green Tomatoes several times in the past few weeks, reread the book for the first time in 30 years, and immersed myself in what was written about them at the time. Seeing the book and the film through the lens of everything that's come since is instructive: The world has changed, and so has representation. There are several black characters who are richly drawn in the novel but are cut entirely from the movie. There are things in the book that would never fly now for a character we're supposed to love, like Idgie saying the n-word. In the movie, the two lead black characters, Big George (Stan Shaw) and Sipsey (Cicely Tyson), are silent and saintly — today, their lack of depth would be unacceptable. (I was also infuriated anew at the movie ending's suggestion that Ninny could be Idgie, and horrified to hear Avnet say in the director's commentary that he had deliberately made that a question. It makes no sense. Hated it then, hate it now.)
When Fried Green Tomatoes came out, we were this close to LGBT representation changing forever — that change would come soon afterward. Television, beginning with The Real World in 1992, was soon to lead the way to a more inclusive future. Get me in a bar with some drinks and I will draw you a direct line between The Real World and the Supreme Court legalizing same-sex marriage. Obviously, everything is different now: If Fried Green Tomatoes were released in 2018, the filmmakers and the studio would certainly be less shy about showing that Idgie and Ruth are a couple. And I'm also positive that no one would think that two women who live together, share a business, raise a child together, and stare at each other with desire are just friends — and that alone feels like progress.
To watch it today is also to reflect back on my past self: who I was at the start of my adult life, years before I found my own soulmate, and long before we had kids. I still remember that inexplicable yearning. For the first time in my life, I was seeing a movie about — because this is what I saw in Fried Green Tomatoes — lesbians in their twenties: Straight people get this all the time! I had to imagine myself in a world totally different from early '90s New York City, but I was happy to do the work. The emotions it evinces in me are still palpable, and poignant — and it makes me love the movie again as a piece of art. ●