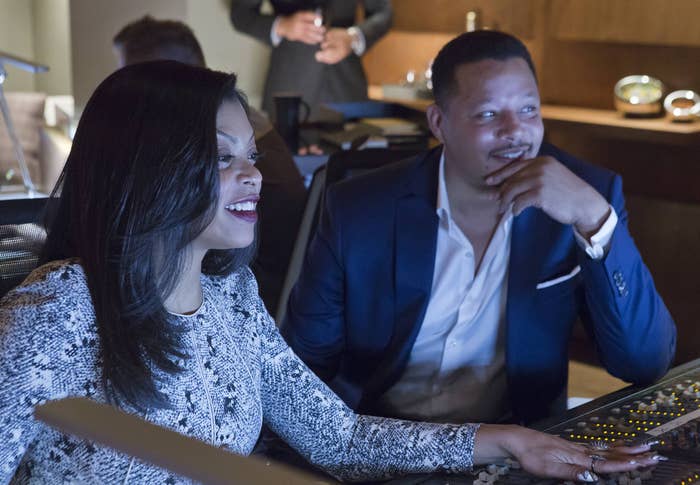 When it comes to ratings, Fox's Empire is on a trajectory that's unprecedented in broadcast television's recent history, which has mostly been marked by — to appropriate a phrase from Hakeem Lyon (Bryshere Y. Gray) — drip drops, if not just plain old slaughter. As of last week, it is the No. 1 show on network television in the 18 to 49 demographic advertisers seek. And once again, the show built on its ratings this week.
The Feb. 25 episode expanded the show's viewership for the seventh week in a row. In preliminary Nielsen numbers, it drew 13.9 million viewers and a 5.4 rating in the key 18 to 49 demo. When you compare that to the Jan. 7 premiere's already impressive audience of 9.9 million and 3.8 among those 18 to 49, it's clear the Fox drama has exploded. Since Nielsen began measuring total viewers as a data point in the early '90s, no new show has risen weekly like Empire has.
And the drama, led by Taraji P. Henson and Terrence Howard, is among very few shows in the past few years that begs to be watched live: In Live + Same Day 18 to 49 ratings — meaning, people who watch the show live or almost live — Wednesday's Empire was the most watched network drama since the September 2010 season premiere of Grey's Anatomy. Its live-tweeting statistics, naturally, have also skyrocketed. According to Fox, Wednesday's episode generated 714,742 "social comments" during the episode itself. Empire is now the most tweeted broadcast drama of the season, with an average 381,770 (second-place Scandal is averaging 355,012).
Television is in such flux these days. The biggest show among 18- to 49-year-olds isn't even on a network: AMC's The Walking Dead sneezes out huge ratings weekly (even opposite the Oscars Sunday night, it drew 13.4 million viewers and a 6.9 in the 18 to 49 demo — which, as you can see, are bigger than Empire's numbers). On broadcast television, the show that Empire recently leapfrogged for the No. 1 spot is the CBS comedy The Big Bang Theory, now in its eighth season. As opposed to Empire, which is burning bright out of the gate, Big Bang didn't become the most watched network show until its seventh season. But beyond those hits — and others, such as CBS's still-huge-in-total-audience NCIS, and popular demographic hits such as ABC's Scandal and Modern Family and NBC's The Voice — the field becomes more complicated and wilted. On the networks, shows that draw a 1.5 18 to 49 rating or higher are considered renewable hits; only a few years ago, a 1.5 was a disaster that resulted in immediate cancellation.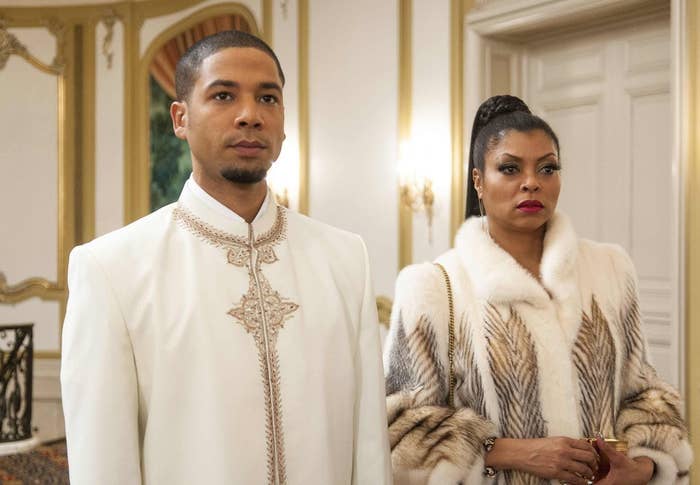 There are three more episodes left of Empire — the March 18 finale will be two hours — and it's the show that has redeemed Fox's annus horribilis. As a soap opera — and one that isn't as WTF and OMG as Shonda Rhimes' Scandal and How to Get Away With Murder, two other recent dramas that have brought people to their televisions and second screens to watch live — Fox's hope, one imagines, is that Empire will be a step toward rebuilding in its post-American Idol years, and one that can last as long as Lucious Lyon (Howard) draws breath. (Or beyond that, of course. Lucious has ALS on the show, and Howard has an erratic, violent past.)
For television as a whole, Empire is another example of the Scandal effect. Going into this season, having finally learned that black viewers watch television in droves and live, the networks inched toward programming accordingly. And to the surprise of no one who can do math, the strategy has worked: With Viola Davis at its center, How to Get Away With Murder has been a hit for ABC, and so has the network's family comedy Black-ish. Casts of color have also succeeded more modestly, but still notably, for ABC's Fresh Off the Boat (about an Asian-American family) and The CW's Jane the Virgin (for which its star Gina Rodriguez won a Golden Globe). Both shows will be back for sure next season. (ABC's Cristela, starring Cristela Alonzo, who inspired the show, is not a safe bet for a second season, however.)
Empire, meanwhile, with its Academy Award-nominated lead actors, musical elements, provocatively fluid sexuality, and soapy turns, is cutting across all audiences, with black, Latino, and white viewers all tuning in — even men are watching it. It's a monster.
Cookie can have the last word.