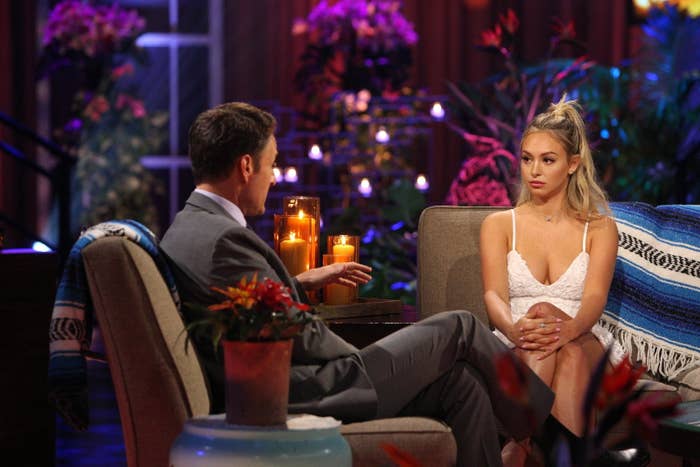 On Tuesday night, ABC interrupted the dating doings of Bachelor in Paradise to air host Chris Harrison's interview with Corinne Olympios, who, nearly three months ago, was at the center of a sexual incident on the first day of filming that turned into a major news event. Two Bachelor in Paradise producers submitted complaints to Warner Bros., the studio that produces the Bachelor franchise for ABC, about Olympios' sexual encounter with fellow contestant DeMario Jackson. As a result, production was shut down. Though the complaints never became public, the subsequent Warner Bros. investigation, which ended up determining that no impropriety had taken place, clearly focused on whether Olympios had been too inebriated to consent to sex.
Last Tuesday's episode of Bachelor in Paradise featured Harrison's talk with Jackson, but since Jackson had already spoken with E! News in late June, there was little new in the discussion. Olympios, however, has remained silent until now, other than issuing statements through her publicist, the first of which stoked media coverage when she referred to herself as a "victim" who had "little memory" of what had happened between her and Jackson.
When Bachelor in Paradise resumed filming, neither Olympios nor Jackson rejoined the cast, but both agreed to appear during the season to sit down with Harrison. (As far as whether either of them was financially compensated to do so, or was paid off in any way, a spokesperson for Warner Bros. declined to comment.) In the interview with Harrison, Olympios repeated that she didn't "remember much of" that first day of filming. She "definitely over-drank," and she said she had recently begun a new medication that does not mix with alcohol. When Harrison pointed out that she seemed like "normal Corinne," she agreed. "Yeah. Like, it can look like you're totally present and you're totally there, and your mind is just not anywhere near," she said. "I mean, it impairs your judgment." (Olympios did not name the medication.)
When Harrison asked Olympios how she felt about Jackson on Day 2 of production, she said things were fine. And then he asked — and this question was teased relentlessly while promoting the interview — as to whether she feels Jackson did anything wrong. No, Olympios said she doesn't. "I mean, there's no way for you guys to know that, like, she's, like, mentally checked out," she said, referring to herself in the third person. "Like, Corinne is not here right now. You know? Which is beyond scary, but, you know, just — it is what it is, I guess. I don't think it's anyone's fault."
Olympios did say that she had been angry with Jackson for going to the media first — presumably referring to the E! interview — before she had a chance to "gather my thoughts and collect myself." And why did she think he did that, Harrison asked. Her answer symbolizes the muddle of this interview: "I can't help but feel like maybe he felt like I thought that he did something to me," Olympios said.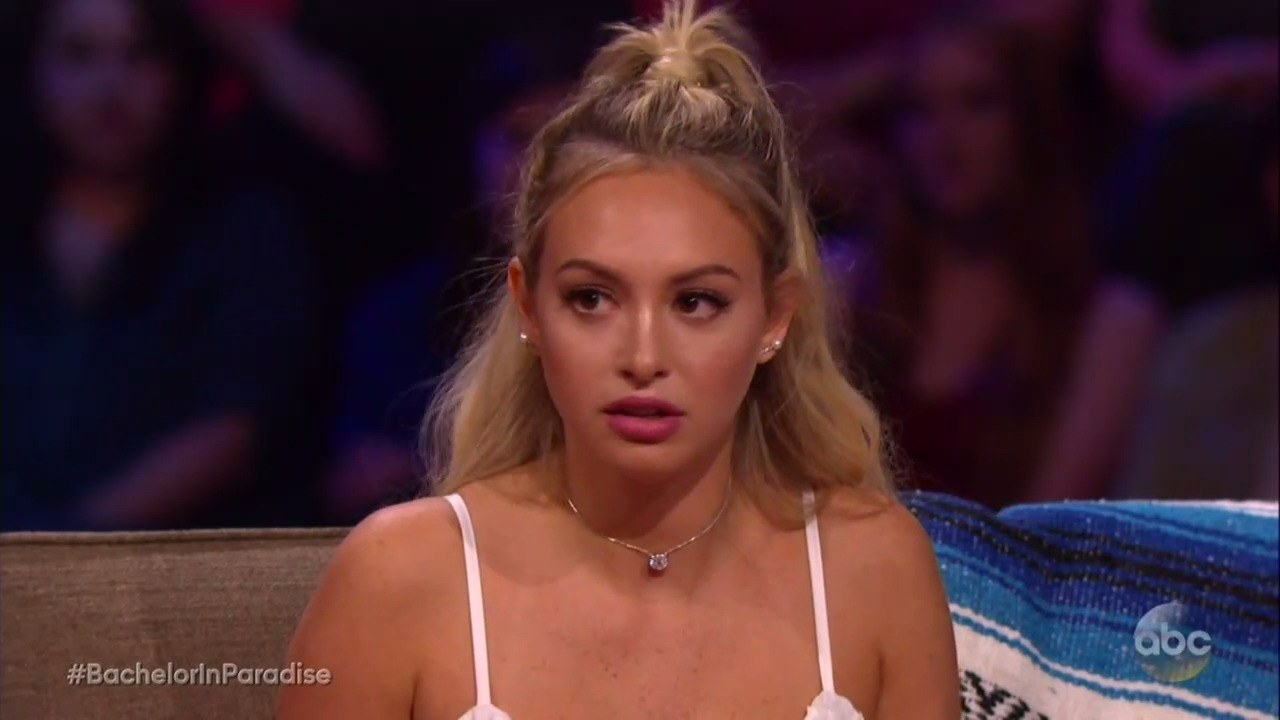 Harrison emphasized throughout the conversation that Jackson — who was vilified on The Bachelorette, and impugned further because of the allegations — had a terrible time of it. Olympios was shown a clip of Harrison's interview with Jackson in which he cried. "I mean, it was hard for me to go through something like that, too," she said. As for what she wants people to know, Olympios said, "I really just want people to know that I don't blame DeMario. I never pointed fingers at DeMario. I never said a bad word about DeMario." The interview closed with Harrison thanking her for her candor, and Olympios thanking "everybody that did support me."

Missing from the interview were any specifics about why the shutdown occurred, and how it was carried out by producers. Harrison also did not say that because of this incident between Olympios and Jackson, not only have the drinking rules on the show been changed, but so have the rules about medications. (According to TMZ, they now need to be dispensed by a nurse.) And though Harrison carried on a conversation about consent with the returning cast of Bachelor in Paradise in the Season 4 premiere, he didn't discuss the issue with Olympios, who had just told him she can't remember her sexual encounter with Jackson.
Olympios's interview was the final chapter of the Bachelor in Paradise scandal and it played out the same way it did on television — with exploitative teases, and a frustrating hollowness.