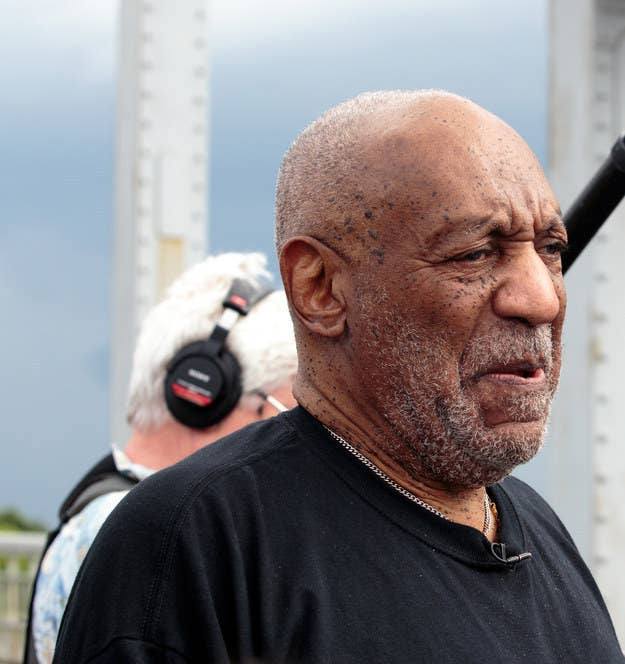 A lawyer for Bill Cosby blamed Andrea Constand and her lawyer, Dolores Troiani, on Thursday of violating their settlement agreement after she accused him of sexual abuse nearly a decade ago — and part of the evidence included four of Constand's tweets.
In a motion filed in federal court in Pennsylvania, Patrick J. O'Connor said the 2006 settlement agreement required both Constand and her lawyers to keep details of the litigation quiet, "including the requirement to keep depositions and other documents confidential."
"Far from using their 'best efforts' to ensure compliance with the confidentiality provisions, Plaintiff and her counsel appear to have made no effort whatsoever. Such a cavalier attitude to the confidentiality of Defendant's deposition is ... in direct violation of the confidentiality provisions to which she freely consented," O'Connor wrote.
The most "egregious" breach, he wrote, was the release of a full deposition by a court reporter service, obtained by the New York Times. "It appears that neither Plaintiff nor her counsel ever bothered to tell her court reporter to treat Defendant's deposition as confidential," O'Connor write.
The paper published portions of the deposition in which Cosby admitted under oath that he had given quaaludes to women he wanted to have sex with. The Times has declined to publish the full deposition and has no plans to do so, according to a statement provided to Philadelphia magazine on Thursday.
O'Connor said in court filings that Constand and Troiani have since engaged in a "campaign against him in the public eye."
Part of Constand's alleged breach, O'Connor wrote Thursday, were these four posts to her Twitter account:
These two tweets were from 2014:
Here's how Cosby's lawyers addressed that tweet in documents filed on Thursday:
Over the past year and a half, Plaintiff has violated the provision against commenting on any aspect of the litigation. For example, in February 2014, in response to an article about this case, Plaintiff tweeted: "I won't go away, there is a lot more I will say."
While these two are from July 6 of this year, posted after a judge ruled to unseal excerpts from the deposition at the request of the Associated Press:
Here's how Cosby's lawyer referenced those tweets in Thursday's filings:
On July 6, 2015, in response to the unsealing of certain documents filed with this Court, Plaintiff tweeted: "Yes!" and "Sir!" in quick succession.
That Cosby — who for years fashioned himself as a mentor and moralist — had settled a previous sexual abuse lawsuit was a hazy memory until the past year, when he stepped back into the public eye with a planned NBC comedy that was announced with fanfare.
Constand's accusations — and those of the 13 other women who had said they would testify to also allegedly being drugged and sexually assaulted by Cosby — slowly came back into the public consciousness as 2014 went on.
In mid-November, with more accusers coming forward, NBC canceled its project with Cosby, Netflix scrapped its comedy special with him, and the once-beloved comedian fell into near disgrace.
More recently, the partial deposition released to the AP on July 6, and then the full one described by the New York Times, detailed the comedian's use of quaaludes to seduce women into what he characterized as consensual sex — though more than three dozen women have now said it was rape.
O'Connor's motion filed on Tuesday is stalwart in its insistence that Cosby, who has never been charged with a crime, is innocent.
"Indeed, Quaaludes were a highly popular recreational drug in the 1970's, labeled in slang as 'disco biscuits,' and known for their capacity to increase sexual arousal," he writes. "There are countless tales of celebrities, music stars, and wealthy socialites in the 1970's willingly using Quaaludes for recreational purposes and during consensual sex. Yet, upon the unsealing of those excerpts, the media immediately pounced, inaccurately labeling the released testimony as Defendant's 'confession' of 'drugging' women and assaulting them."
The motion does not address his accusers' interpretations of their encounters with Cosby, which they said was not consensual.
O'Connor on Thursday asked for a different judge — one agreed upon in the settlement — to decide whether Constand and her lawyers breached the confidentiality provisions through the tweets or allowing the deposition to be released. The judge could rule that she was in violation of her settlement agreement with Cosby, which could carry penalties.
[Note: The "ORDER" on page 1 of the embedded document is a proposed order from Cosby's lawyers for the motion that follows — not an order from the judge.]