The "Bachelor In Paradise" Premiere Ended On A Cliffhanger And Some Viewers Are Pissed
The show teased the incident of alleged sexual misconduct that led to a suspension of production over its two-hour premiere — and will continue the story on Tuesday night.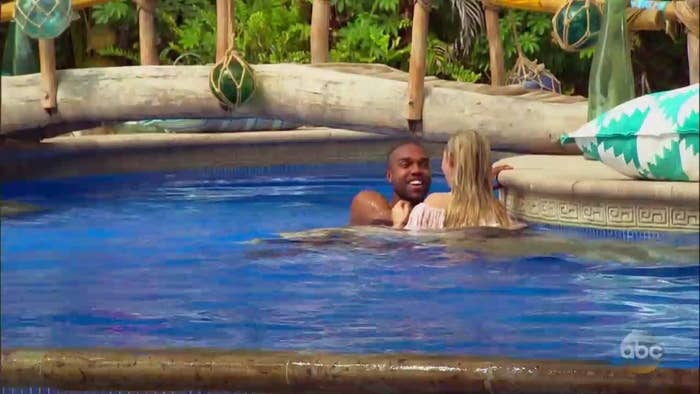 On June 11, Warner Bros., which produces the Bachelor franchise for ABC, suspended production on Season 4 of Bachelor in Paradise in order to investigate what the studio called "allegations of misconduct." It soon became clear — through leaks and reports — that the alleged incident was sexual, and that the focus was on cast members DeMario Jackson and Corinne Olympios.
Nine days later, Warner Bros. announced it had completed its investigation, and that it had found no evidence for "any charge of misconduct by a cast member." Production resumed soon after.
The premiere of Bachelor in Paradise wasted no time in its Monday premiere addressing the allegations of sexual assault that nearly scuttled the season. But the show then stretched the salacious events over two hours — and eventually two nights — alluding to and promoting the controversy before commercial breaks.

It ended on a cliffhanger, with producers approaching Olympios and Jackson, presumably to pull them away from filming. The crew was shown literally putting cameras down.
"Everyone's very confused right now," contestant Danielle Maltby says. "It's kind of like a chill fell over Paradise."

With a long shot pulling away from the Playa Escondida resort in Sayulita, Mexico, the show then teased Tuesday night's episode. "Tomorrow night on Bachelor in Paradise," intoned host Chris Harrison, "The Bachelors and Bachelorettes returned to Mexico." It shows them as a group, presumably discussing the shutdown: "Do you want to be here?" Harrison asks the cast.
At the top of the show, audio snippets reporting on the show's shutdown played over images of an empty beach. Harrison, the show's longtime host, then addressed the situation.

"As many of you already know, this was the season of Paradise that looked like it might not happen," Harrison told the audience. "After two days of shooting, we decided to suspend production. Yes, there was trouble in Paradise as accusations and allegations ran wild. It was an extraordinarily stressful and emotional time for our cast and all of our crew, including myself."
In the premiere, Jackson and Olympios were introduced as members of the cast, with both shown talking to Harrison about their hopes for the season. Olympios was welcomed as the life of the party; Jackson, on the other hand, was greeted warily, both by Harrison and by fellow cast members. (He was forced to leave Rachel Lindsay's Bachelorette season after a woman claiming to be his girlfriend confronted him on the show.)

Soon after, Olympios and Jackson were shown drinking and flirting with each other — and then making out in the pool. Another contestant, Alex Woytkiw, narrated the events as he watched Olympios — still clothed, but swimming — and Jackson. "She is fully dressed, in the pool right now with DeMario. This is so romantic," he said sarcastically. "It is approximately 4:30 in the afternoon right now."
According to a lengthy interview Jackson did with E! News in late June, Olympios was the instigator of their sexual encounter. He made sure the cameras were following him, he said: "Because when you're a man, mostly an African-American man, no matter where you're at, you always look for things that can help you out." He told E! that they got naked in the pool, and that Olympios had put her "lady parts" in his face. He also said that he had been unable to achieve an erection, saying he had "whiskey dick."
Two producers filed complaints about the alleged incident, questioning Olympios's ability to consent, causing the shutdown.
Despite its truncated production schedule, ABC will air a nine-episode season of Bachelor in Paradise. And Jackson and Olympios have both been invited to film the reunion episode, which Olympios said last month she would attend.

On the show, the footage of their escalating sexual encounter was not shown, which Warner Bros. had said would be the case when it cleared Jackson of wrongdoing. "Out of respect for the privacy interests of those involved, we do not intend to release the videotape of the incident," the studio wrote in its statement.
That doesn't mean viewers were happy about being dragged along for two hours.


At least one person had no idea what was happening, though. And given how the show danced around the details on Monday, she might never know!