There's A Fictionalized Character Based On Asia Argento In The New Kristen Stewart Movie
In Jeremiah Terminator LeRoy, which is premiering at the Toronto International Film Festival, Diane Kruger plays Eva Avelin, a charming manipulator. Warning: Spoilers ahead.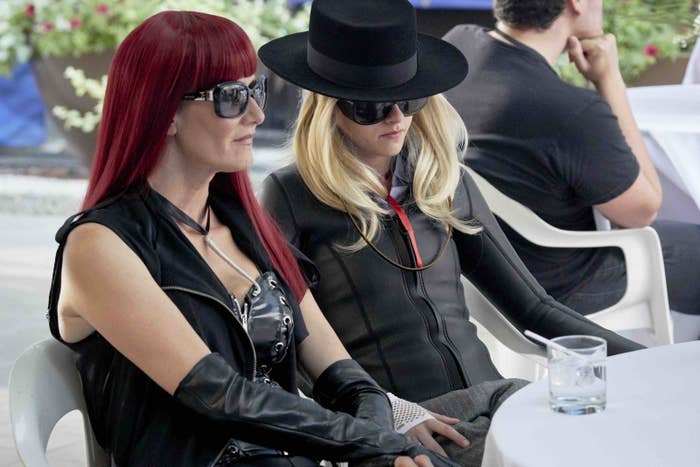 TORONTO — Jeremiah Terminator LeRoy, starring Kristen Stewart and Laura Dern, is about the most notorious literary hoax of this millennium. But when the movie premieres as the closing-night film of the Toronto International Film Festival this weekend, the most talked-about elements likely won't just be the story of how the person known as JT LeRoy fooled everyone, or Stewart and Dern's strong, nuanced performances, though they are both excellent. There will also be chatter about the character based on actor, director, and #MeToo activist Asia Argento.
In real life, Argento was unwittingly ensnared in the wild JT LeRoy literary swindle of the late '90s and early 2000s, including directing and starring in the 2004 movie The Heart Is Deceitful Above All Things, based on the LeRoy book. In that film, Argento cast a young actor named Jimmy Bennett to play her character's son —Jeremiah, the young version of JT LeRoy. On Aug. 19, the New York Times reported that Argento reached a settlement with Bennett after he had threatened to sue her, accusing her of sexually assaulting him when he was 17 years old and she was 37, in 2013. (Despite the settlement, Argento has denied the allegations.)
In Jeremiah Terminator LeRoy, Argento has been fictionalized into a character named Eva Avelin, and she is portrayed by Diane Kruger (Inglourious Basterds) as a flighty, charming manipulator.
The film's timing is bizarre but coincidental. It was in development for years and completed production in Aug. 2017. Since then, Argento accused Harvey Weinstein of rape in Ronan Farrow's New Yorker story, and then emerged as an outspoken leader of the #MeToo movement.
More recently, she was in the news after the suicide of her boyfriend Anthony Bourdain, followed by the Times story about her settlement with Bennett.
Jeremiah Terminator LeRoy is based on the true story of Laura Albert's elaborate JT LeRoy ruse — one that had entangled many unknowing celebrities in her deception, and in its exposure, riveted the book world. It exploded in Albert's face in the mid-2000s after several investigative stories were published, one in New York magazine in 2005, and another a few months later in the New York Times.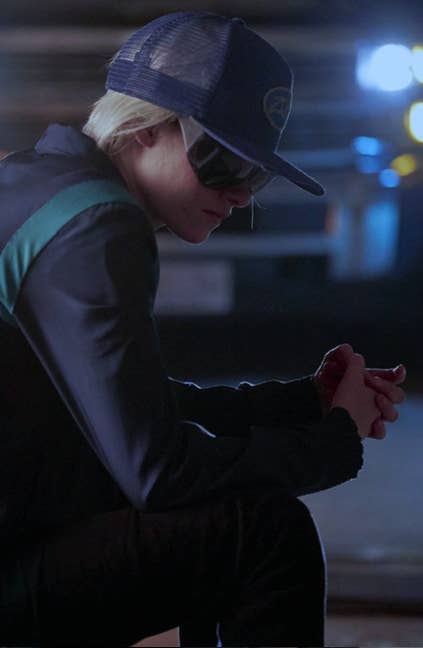 In the film (as in life), Albert (played by Dern), a frustrated phone sex operator, created the persona of JT LeRoy, a genderfluid teenager from the South. JT, whom she later called her "avatar," had been conscripted into sex work because his mother was a truck-stop prostitute. (Albert actually grew up in New York City.) Albert wrote fiction under JT's name, beginning with 1999's Sarah, which became a success largely because it was marketed as being sordidly and titillatingly autobiographical.
With JT's fame on the rise, Albert could no longer avoid public appearances for JT, and paid her sister-in-law, Savannah Knoop (played by Stewart), to play the part in public. Savannah wore a wig and sunglasses and barely spoke, which further propelled the mystery around JT. Albert's husband and Savannah's brother, Geoff (Jim Sturgess), was also in on the lie.
The movie — which was screened for press on Monday and was directed by Justin Kelly — is the story of Knoop's rise and fall as JT. It's based on her 2008 memoir Girl Boy Girl: How I Became JT LeRoy, and she cowrote the script with Kelly. It does not yet have a distributor.
The film introduces the Argento character, Eva, because she wants to direct and star in the adaptation of one of LeRoy's books. Laura and Eva talk on the phone, negotiating. Laura has something Eva wants — the rights to the book — and she's driving a hard bargain. (Spoilers below, and yes, the names and different personas are confusing, but that's because these people were lying.)
JT's French publisher flies Laura and Savannah to France, and Eva and Savannah (in JT drag) see each other in person. Eva flirts aggressively with Savannah — perhaps to convince her to allow her to make the movie — and they have sex.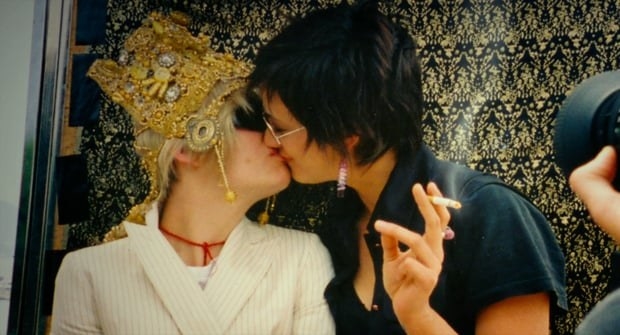 This relationship was also examined in the 2016 documentary Author: The JT LeRoy Story, in which Laura Albert expressed disbelief that Argento hadn't realized Knoop was a woman when they had sex. Jeremiah Terminator LeRoy (sort of) gets around that question by having Savannah bat Eva's hand away from her crotch.
Despite the fact that she's tricking Eva, Savannah falls hard for her. But when Savannah and Laura get home to San Francisco, Laura's phone relationship with Eva once again continues — and that relationship includes phone sex.
At another point in the movie, Savannah wants to go to the Cannes Film Festival to appear one last time as JT to support Eva's film. Savannah's boyfriend, Sean (Kelvin Harrison Jr.) can't believe it, and says to her, "She's into who she thinks JT is, not you!"
Savannah and Eva do see each other again, including in a climactic scene at Cannes in which Eva confronts Savannah over rumors she is playing the part of JT.
"JT's whoever you want him to be," Savannah says to Eva, who now knows the truth.
Recent events in Argento's life have revealed a messy quagmire. And Jeremiah Terminator LeRoy will again remind audiences that Bennett, her accuser, was cast by Argento to play a young JT LeRoy, her sexual partner. Bennett's accusations — and her unfortunate reaction to them — have made Argento a near-pariah in the #MeToo movement in the past month. And though it was not the intention of its filmmakers, this film — presenting her as a user who ends up getting used — will almost certainly further complicate Argento's already troubled persona.