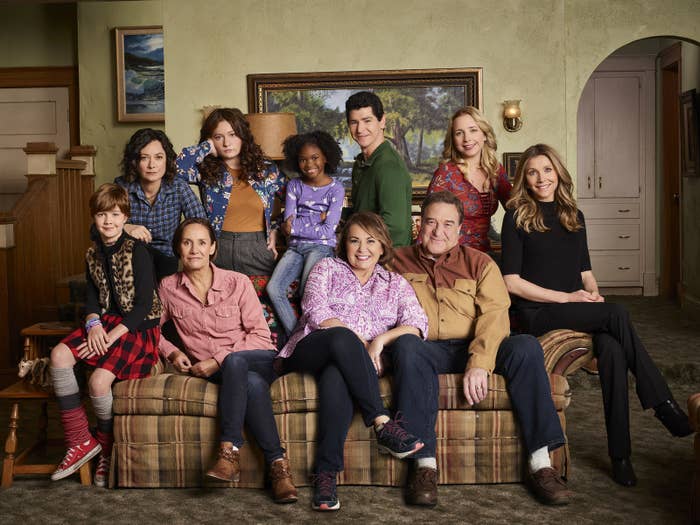 ABC on Tuesday made the decision to cancel its Roseanne revival after the star's racist tweet comparing former Obama adviser Valerie Jarrett to an ape.

ABC Entertainment President Channing Dungey called Barr's comment "abhorrent, repugnant, and inconsistent with our values."
"We have decided to cancel her show," said Dungey.
In a tweet posted on Tuesday morning, Barr said the black senior adviser to President Obama was the "baby" of Egypt's Muslim Brotherhood political party and Planet of the Apes.
The tweet came in response to a conspiracy-laden thread alleging Jarrett had helped cover up CIA spying.
After her racist remark drew criticism on Twitter, Barr defended her statement.
"It's a joke," she wrote in response to a CNN reporter.
"Muslims r NOT a race," she said in response to another user.
She later tweeted an apology to Jarrett. "I am truly sorry for making a bad joke about her politics and her looks. I should have known better. Forgive me-my joke was in bad taste," she wrote.
Late Tuesday night, Barr's publicist sent her statement, in which she apologized to Jarrett, ABC, the cast, the crew, and the show's audience.
Before the show was canceled, comedian Wanda Sykes, who had worked as a consulting producer on the show, had already announced she would not be returning after Barr's tweet. A source close to Sykes denied a report that she demanded that ABC cancel the show.

Roseanne's debut in March was the highest-rated comedy on any network in four years, with an audience of 18.4 million and a 5.2 rating in the advertiser-coveted 18-to-49 demographic. ABC quickly renewed it for a 13-episode second season. As the nine episodes aired, the show's ratings ebbed (10.6 million viewers and a 2.5 rating in the demo), but Roseanne still finished as the No. 1 show on television.
In her first comments after the Barr's tweet and the ensuing backlash, Jarrett told MSNBC, during a previously scheduled forum titled "Everyday Racism," that Disney's chairman called her and told her, before the company's public announcement, that ABC was canceling Roseanne.
"This should be a teaching moment," Jarrett told MSNBC. "I'm fine. I'm worried about all the people out there who don't have a circle of friends or followers who come right to their defense. The person who's walking down the street minding their own business and sees someone clutching their purse."
Barr was once known for her left-wing views, which played out on the show during its original run. The character of Roseanne Conner was a factory-organizing feminist, and the show represented the concerns of a Midwest, working-class family that rarely caught a break. Its anti-racist, pro-LGBT politics reflected Barr's worldview; in 2012, she ran for president on the Green Party ticket.
But on Twitter, Barr started to express another side of her beliefs. She began tweeting anti-Muslim, pro-Zionist views and retweeting far-right conspiracy theories, most infamously Pizzagate, which implicated Hillary Clinton and her campaign chair John Podesta in a child sex trafficking ring. She also revealed herself to be a Donald Trump supporter, to the surprise of some of her fans.
ABC announced the show's revival in May 2017 and said it would reflect US political divisions after Trump's election. Later in the year, Barr's adult children took control of her Twitter feed, deleted her past tweets, and changed her password, she said during a press conference in January. "It was my children [who] took my Twitter password away from me and, you know, which, which is kind of disturbing, because there's so much going on this week," she said at the time. "But I did not want it to overshadow the show, so I'm taking a little bit of a break."
Barr, however, regained control over her Twitter account before the show's premiere and recommenced giving a voice to pro-Trump views, particularly the fringe conspiracy theory known as "The Storm" or QAnon. In late March, she accused David Hogg, a survivor of the Parkland shooting, of giving a Nazi salute, for which she apologized.
But nearly anything goes on her Twitter feed, including anti–George Soros conspiracy theories (one of which caused Chelsea Clinton to clap back at her), pro–Julian Assange views, and continuous airings of QAnon grievances.
Comparing Jarrett to an ape proved to be the final straw for ABC. (It also should be noted that ABC does not own Roseanne, and therefore it makes money only from the ads it sells during the show, not from streaming or foreign sales.)
Disney's chair Bob Iger backed up Dungey's decision, adding to the statement, "There was only one thing to do here, and that was the right thing."
And Ben Sherwood, Disney/ABC's president, also seemed to support Dungey.
It was a stunning reversal for Barr, who had been prominently featured during ABC's upfront presentation to advertisers on May 15. Barr introduced Sherwood to the stage, making a joke that he "really writes most of my tweets."
ICM Partners, the talent agency which represented Barr, also dropped her on Tuesday, sending BuzzFeed News this statement.

Late Tuesday afternoon, Deadline reported (and BuzzFeed News confirmed) that Viacom's cable channels — TV Land, CMT, and Paramount Network — were pulling Roseanne reruns from their schedules.
Salvador Hernandez contributed to this report.