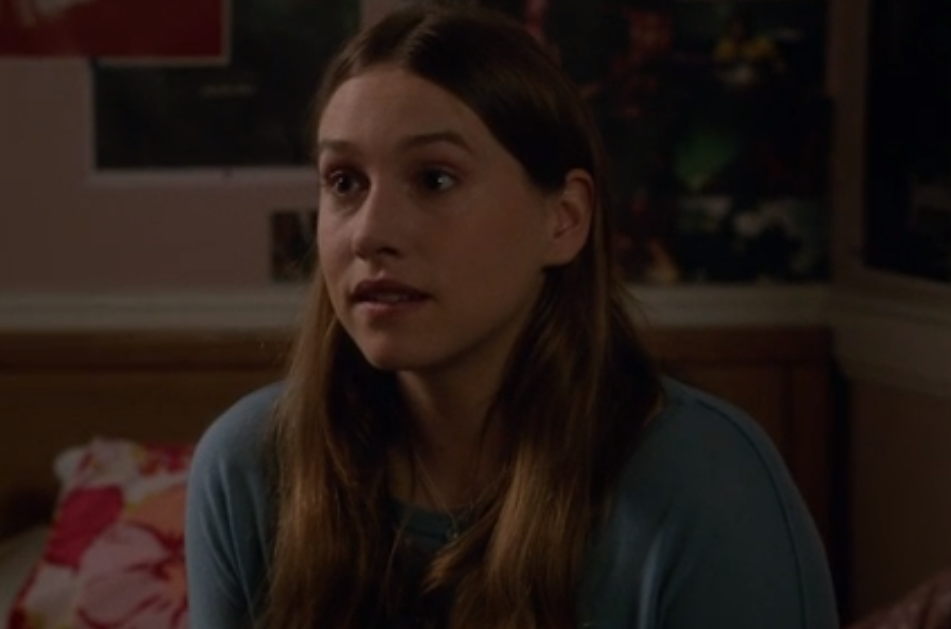 As it nears the end of its three-season run, The Newsroom is going out like it came in: squarely in the middle of the gender wars, with a frisson of writers room intrigue thrown into the mix.
The penultimate episode of the Aaron Sorkin drama, titled "Oh Shenandoah," aired Sunday, Dec. 7, on HBO and featured a campus rape plot. ACN news producer Don Keefer (Thomas Sadoski) tracks down a Princeton student, Mary (Sarah Sutherland), a rape victim, who has anonymously put up a website on which women who have been sexually assaulted can tell their stories. The two characters debate throughout the course of the episode: Mary wants people to believe her and other rape survivors, while Don wants "to ensure an innocent person [i.e. man] isn't destroyed."
The episode was written and filmed months ago, but it coincidentally aired the weekend after the disastrous blowup of Rolling Stone's University of Virginia rape investigation.
And if the campus rape storyline was infuriating to watch for some of The Newsroom's viewers, that sentiment was clearly shared by one of Season 3's staff writers, Alena Smith. She took to Twitter to tell of her experience with Sorkin and this particular plot, describing it as a "storyline where a rape victim gets interrogated by a random man." She also cited Emily Nussbaum, the New Yorker's television critic, who wrote, "On a show dedicated to fantasy journalism, Sorkin's stand-in doesn't lobby for more incisive coverage of sexual violence or for a responsible way to tell graphic stories without getting off on the horrible details or for innovative investigations that could pressure a corrupt, ass-covering system to do better. Instead, he argues that the idealistic thing to do is not to believe her story."
According to Smith, Sorkin kicked her out of the writers room (she compared herself to Hallie, a Newsroom character who earlier in the season got fired for sending a political tweet from the news show's account).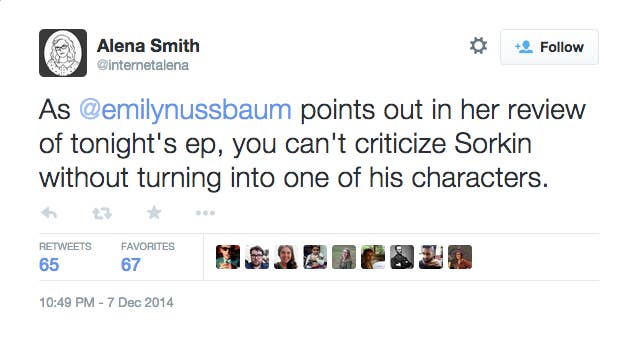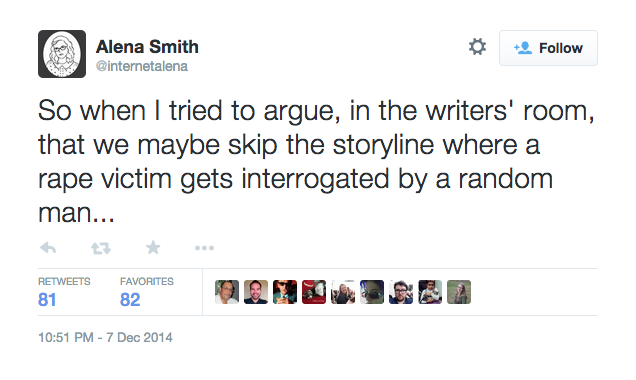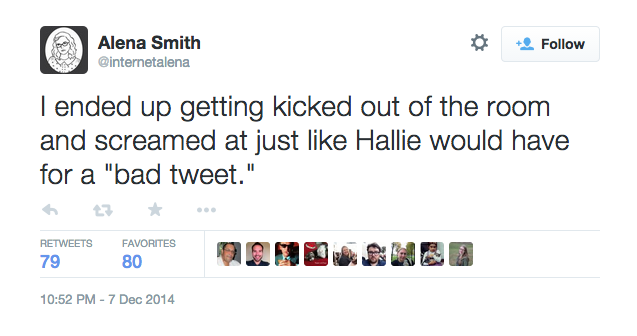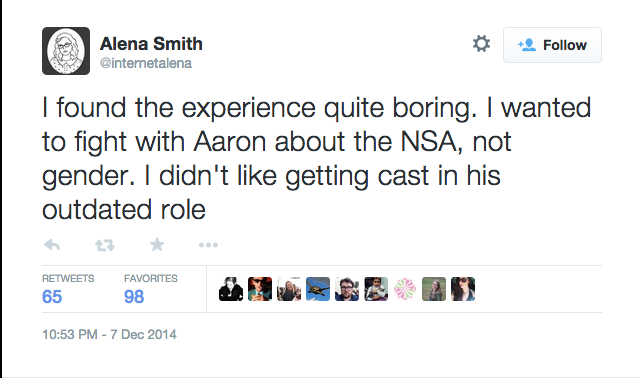 When reached for comment on Sunday night, and asked to elaborate on her experience, Smith told BuzzFeed News, "I love Aaron, and I learned an incredible amount working for him, but I felt this storyline was unacceptable."
On Monday, Sorkin sent a response to Mediaite about Smith's public criticism of his treatment of her and the episode's story.
"Let me take a moment to say that I understand that the story in last night's episode (305 — 'Oh Shenandoah') about Don trying to persuade a Princeton student named Mary (Sarah Sutherland) not to engage in a Crossfire-style segment on his show has catalyzed some passionate debate this morning. I'm happy to hear it.
It catalyzed some passionate debate in our writers room too. Arguments in the writers room at The Newsroom are not only common, they're encouraged. The staff's ability to argue with each other and with me about issues ranging from journalistic freedom vs. national security to whether or not Kat Dennings should come back and save the company is one of their greatest assets and something I look for during the hiring process. Ultimately I have to go into a room by myself and write the show but before I do I spend many days listening to, participating in and stoking these arguments. As with any show, I have to create a safe environment where people can disagree and no one fears having their voice drowned out or, worse, mocked.
Alena Smith, a staff writer who joined the show for the third season, had strong objections to the Princeton story and made those objections known to me and to the room. I heard Alena's objections and there was some healthy back and forth. After a while I needed to move on (there's a clock ticking) but Alena wasn't ready to do that yet. I gave her more time but then I really needed to move on. Alena still wouldn't let me do that so I excused her from the room.
The next day I wrote a new draft of the Princeton scenes — the draft you saw performed last night. Alena gave the new pages her enthusiastic support. So I was surprised to be told this morning that Alena had tweeted out her unhappiness with the story. But I was even more surprised that she had so casually violated the most important rule of working in a writers room which is confidentiality. It was a room in which people felt safe enough to discuss private and intimate details of their lives in the hope of bringing dimension to stories that were being pitched. That's what happens in writers rooms and while ours was the first one Alena ever worked in, the importance of privacy was made clear to everyone on our first day of work and was reinforced constantly. I'm saddened that she's broken that trust."
When asked whether she had further comment, Smith told BuzzFeed News: "Nope. No response."