Earlier last week, the captain of English football team West Ham United, Mark Noble, shared a selfie on Twitter of him with someone he said was a Chinese fan.
A Twitter user with the handle @KoreanHammer then replied to Noble's tweet, claiming that he was the fan and that he was South Korean and not Chinese.
The user behind @KoreanHammer, a 17-year-old named Baz Assemakis from Norfolk, United Kingdom, told BuzzFeed News that he decided to tweet at Noble because he "thought it would be funny."
"Then I changed my name to a stereotypical South Korean name and changed my profile to pretend to be the man," Assemakis said.
Assemakis said the tweet got no attention for about two days until West Ham Central, a big West Ham account, retweeted it.
However, around the same time, another Twitter user with the handle @LingWann_ quoted Noble's tweet with a copy of Assemakis' tweet. The quote tweet then went viral, gaining more than 89,000 retweets.
But people quickly discovered that both Assemakis and @LingWann_'s tweets were fake.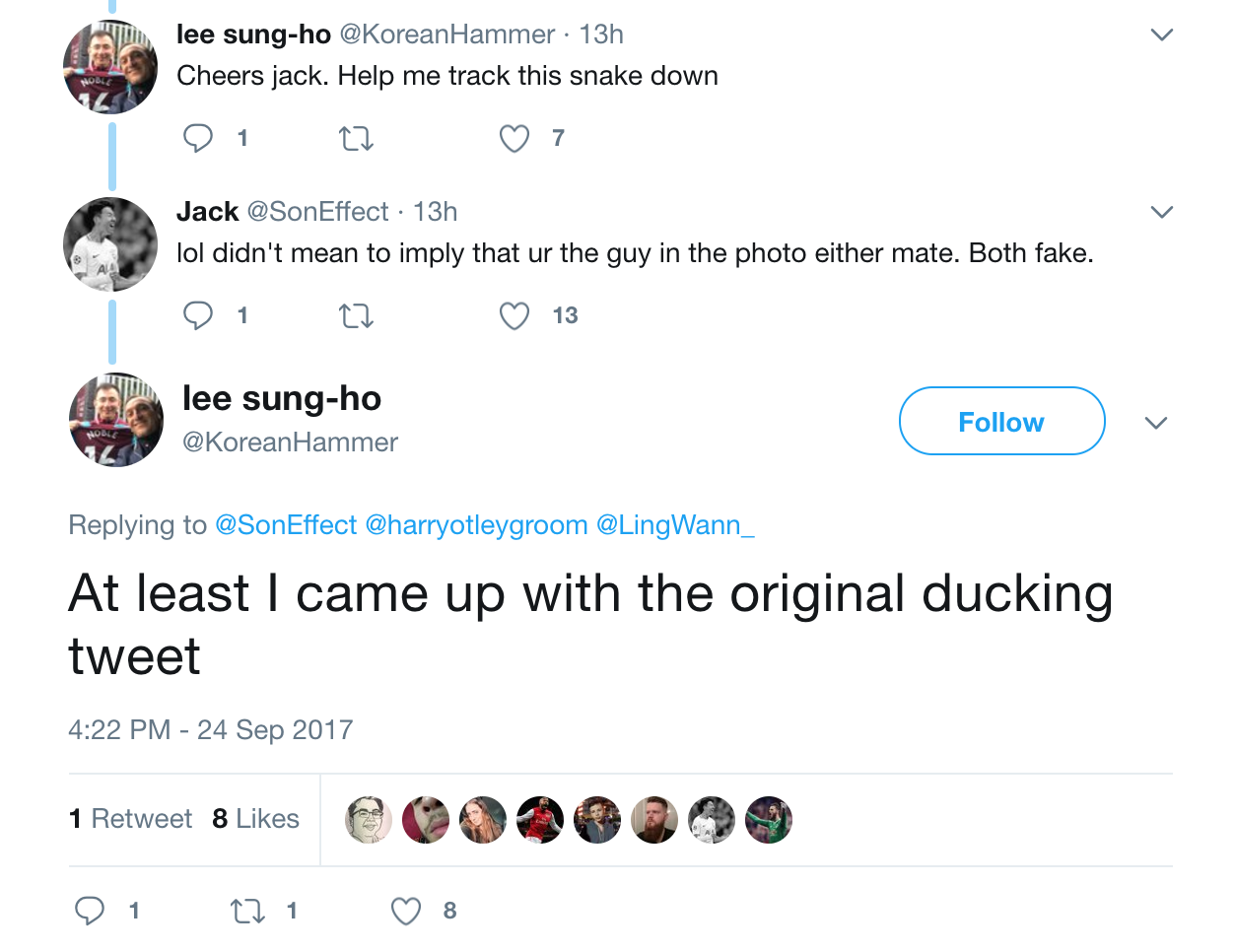 West Ham fans in China then found the fake tweets and posted about them on Weibo, China's biggest social media network, tagging the actual fan's Weibo account, @HammerStan.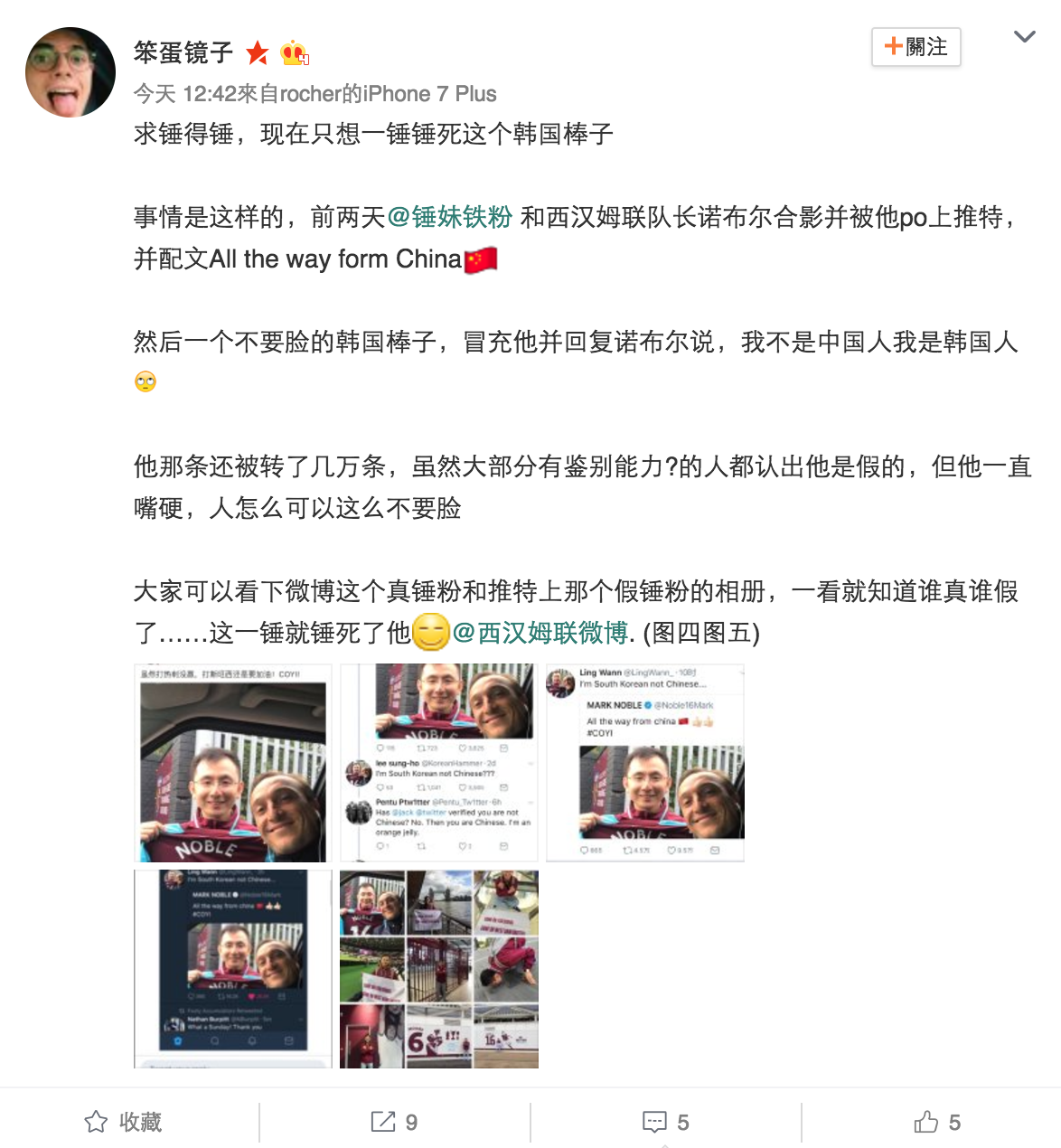 "All I want to do is hammer this Korean hammer to death.

So this is what happened. Two days ago @HammerStan took a selfie with West Ham United Captain Mark Noble and Noble posted it on Twitter with the caption 'All the way from China.'"

And then this shameless Korean hammer, pretending to be [@HammerStan] replied to Noble saying, "I'm South Korean not Chinese."

His tweet was retweeted tens of thousands of times. And although most people were saying it was fake, the guy kept pretending it was still real. How can someone be so shameless???

Just take a look at the photos on the Weibo of the true Hammer fan and the Twitter of the fake Hammer fan, and you know who's real and who's fake... Hammer him to death."
According to his Weibo account, @HammerStan is a 30-year-old man who lives in Shanghai, China.
The account features several photos of @HammerStan visiting sights in London and at a football stadium.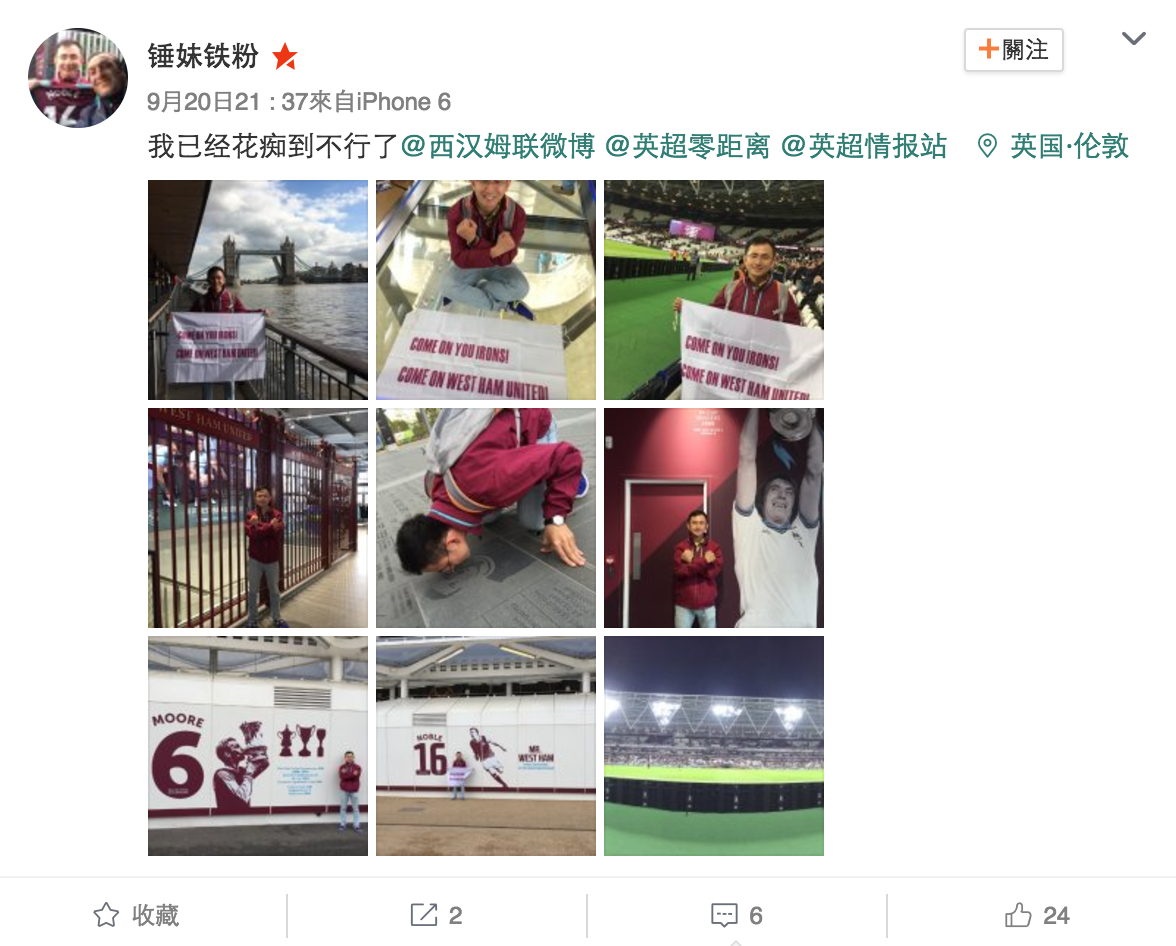 @HammerStan was also captured on a TV interview while he was in the UK. A Chinese West Ham Weibo fan account shared a screenshot of the video with the caption, "@HammerStan, a fan from our country, being interviewed by reporters before heading see the derby."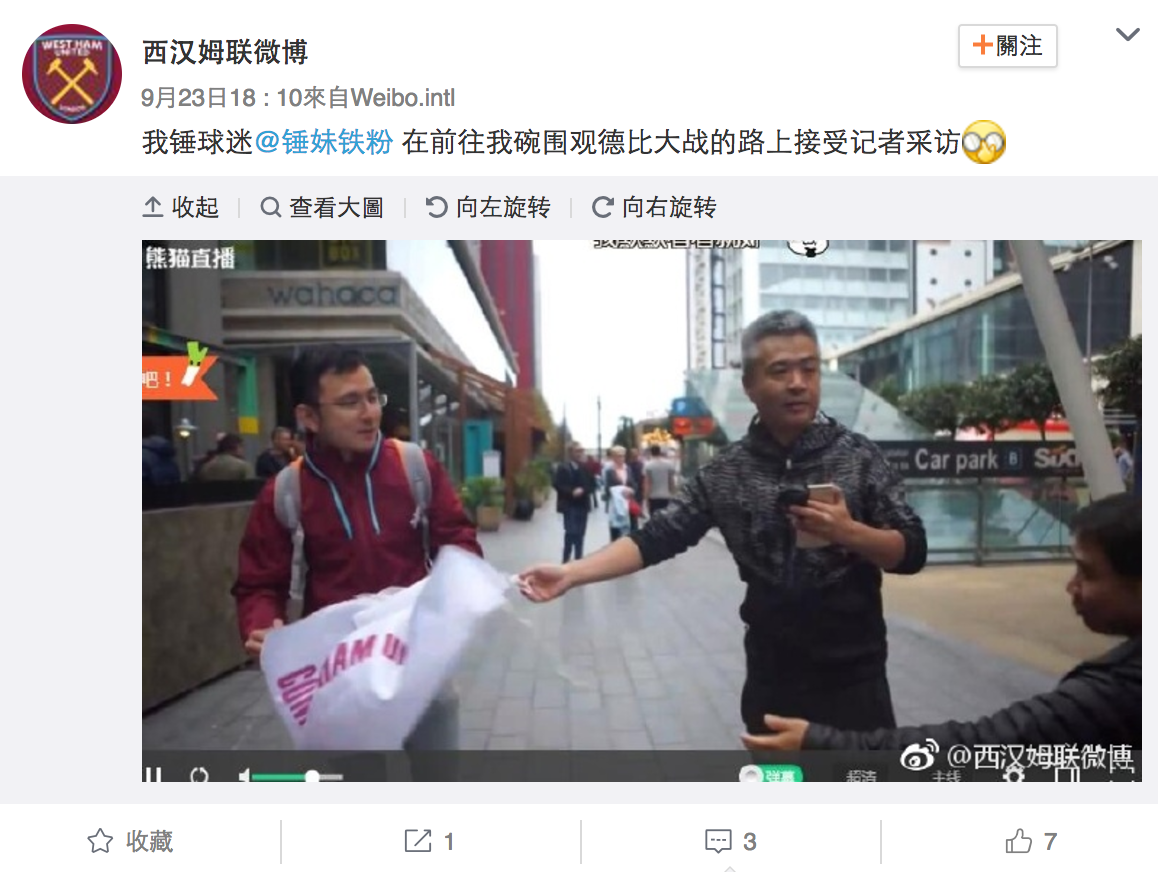 Chinese West Ham fans were furious that someone had stolen @HammerStan's identity and misled Noble.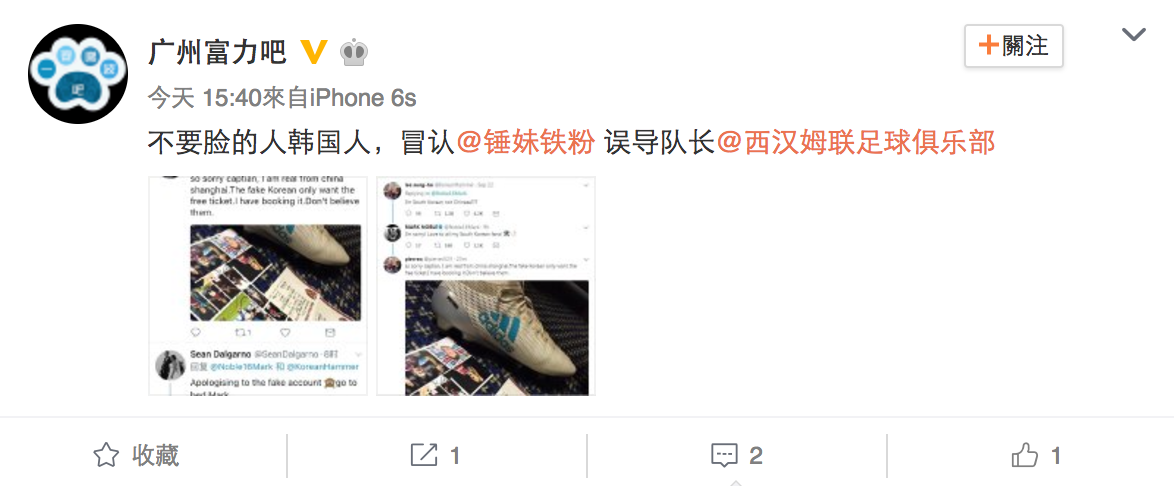 Several of them then used a VPN to access Twitter — which is blocked in China — in order to correct the trolls.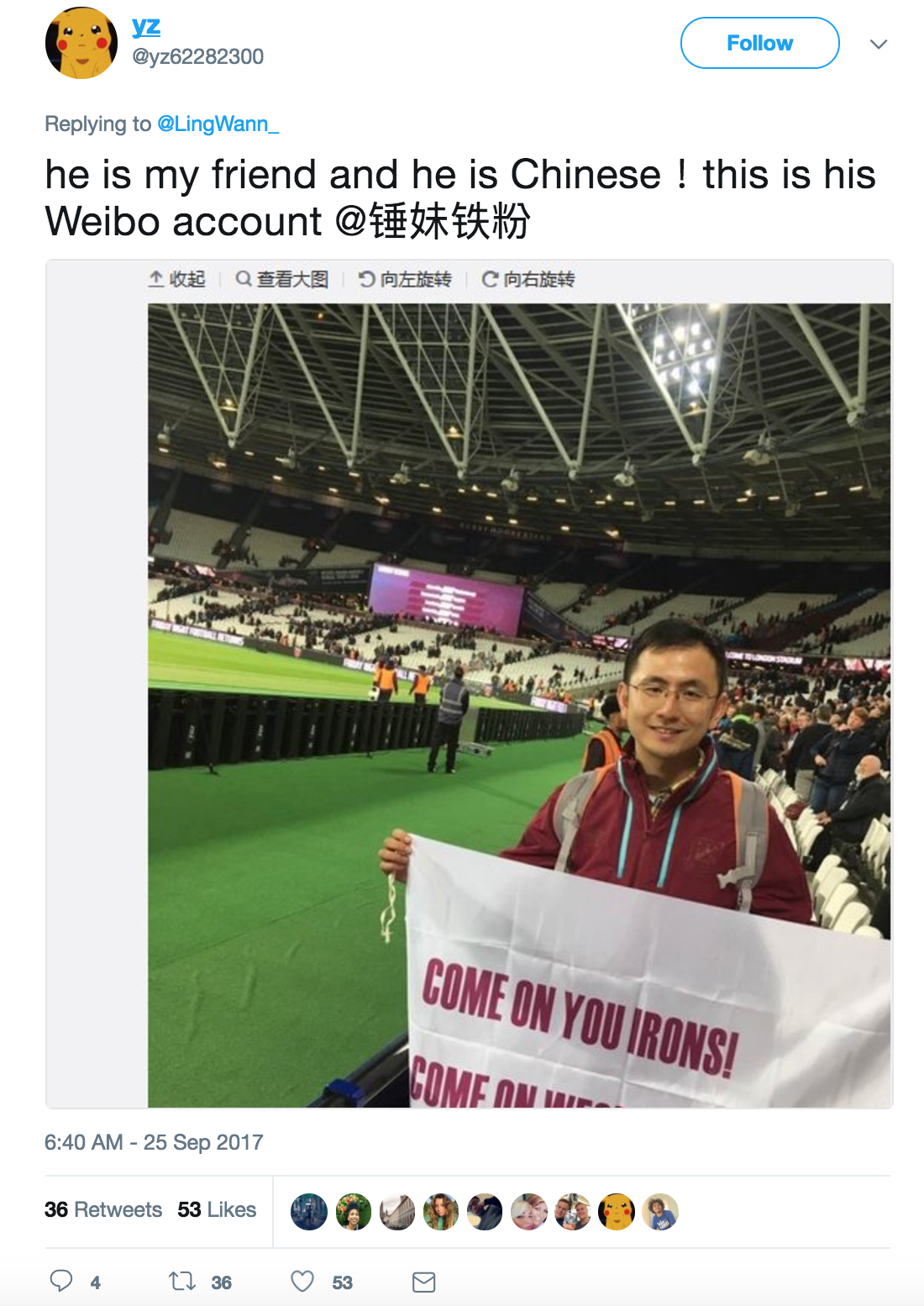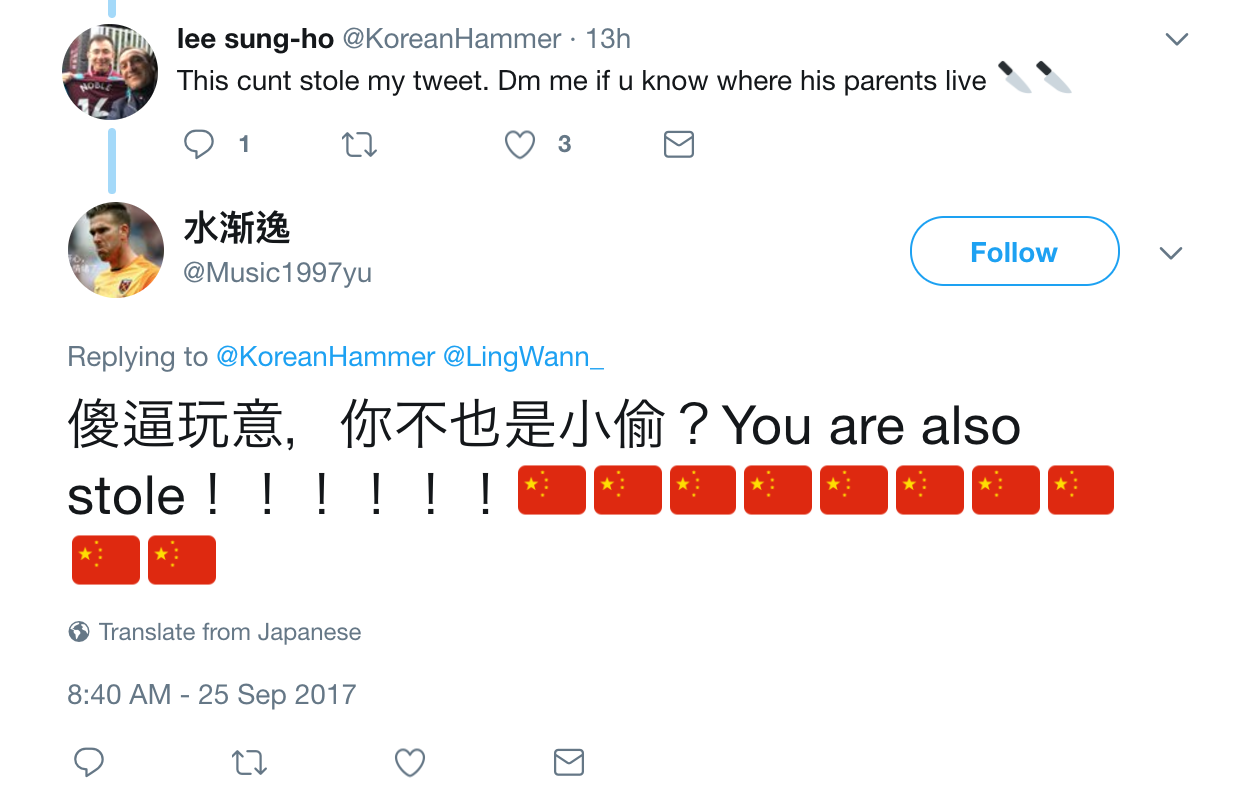 Amongst the replies to the thread appears to include @HammerStan himself — who was tweeting under the handle @Pierrex523 — and sharing photos of his Chinese passport and tickets to the match to prove his identity.
The @Pierrex523 account has also been sharing several photos of @HammerStan meeting West Ham members and travels in the UK.
And then, after all of this played out, Noble ended up replying to the wrong tweet with "I'm sorry! Love to all my South Korean fans!"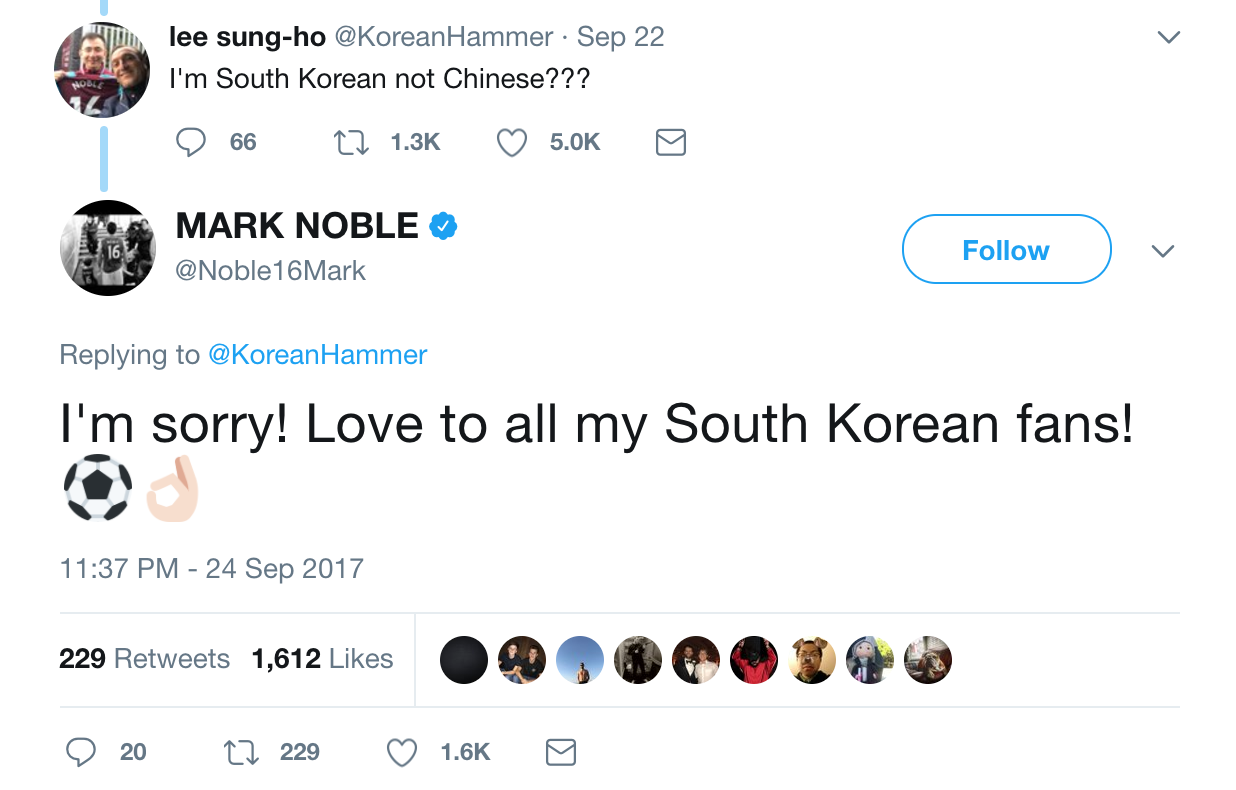 BuzzFeed News has also reached out to Noble's representatives for comment.
UPDATE
The user behind @LingWann_ later agreed to answer questions "since [BuzzFeed News] wanna lie in the article."
The user declined to give his name and age but gave his Twitter handle, which is @fsavfc.
@fsavfc told BuzzFeed News that he did it as a "harmless little joke" after his friend put Assemakis' tweet in a group chat.
"I didn't expect to get that many RTs or likes," he said. "I meant to no offense to Chinese, Korean or any other Asian."
He added that he has sent a DM to @HammerStan, saying that he would change the account if @HammerStan wanted him to.
"If I did cause offense, I apologize," he said.