In July, 26-year-old Chinese actress Xu Ting announced she had been diagnosed with lymphoma.
She shared her medical results on her official Weibo account, along with a lengthy post explaining her decision to forgo chemotherapy.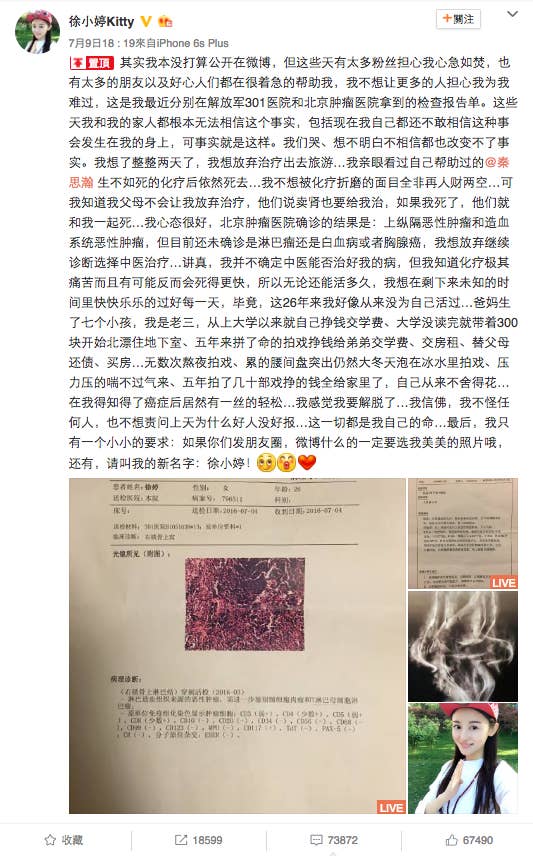 Xu wrote that she would instead receive traditional Chinese medical treatment as it would allow her to "enjoy every day" without the pain of chemotherapy, even though she was not sure whether it would cure her.
She also said finances and a friend who had died from cancer despite receiving chemotherapy were her reasons for her decision.
The photos were immediately controversial among her fans, with some being outraged by her decision.

People voiced their concern and support for Xu, but urged her to receive the "standard treatment" of chemotherapy.


Most urged her to receive chemotherapy first before seeking traditional Chinese medical treatment, because it takes longer for traditional Chinese medicine to take effect.


Throughout July, she continued to post regular updates on her Weibo of her outings with friends and family.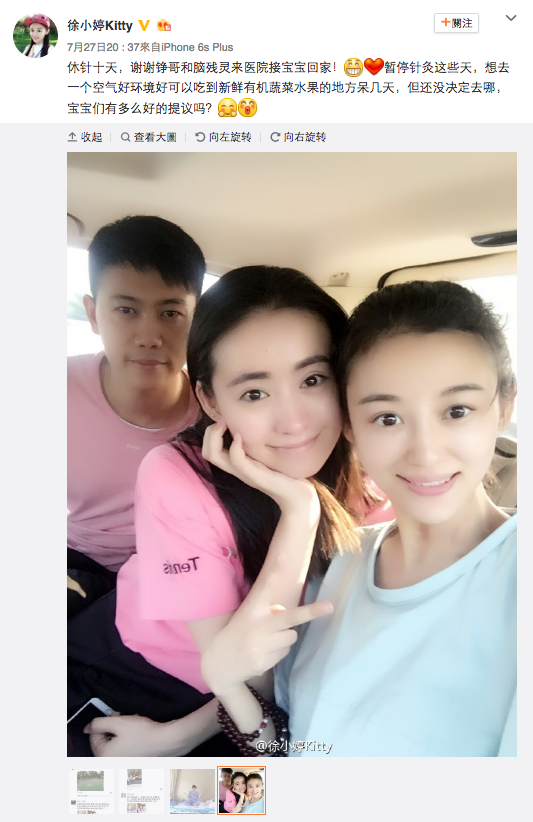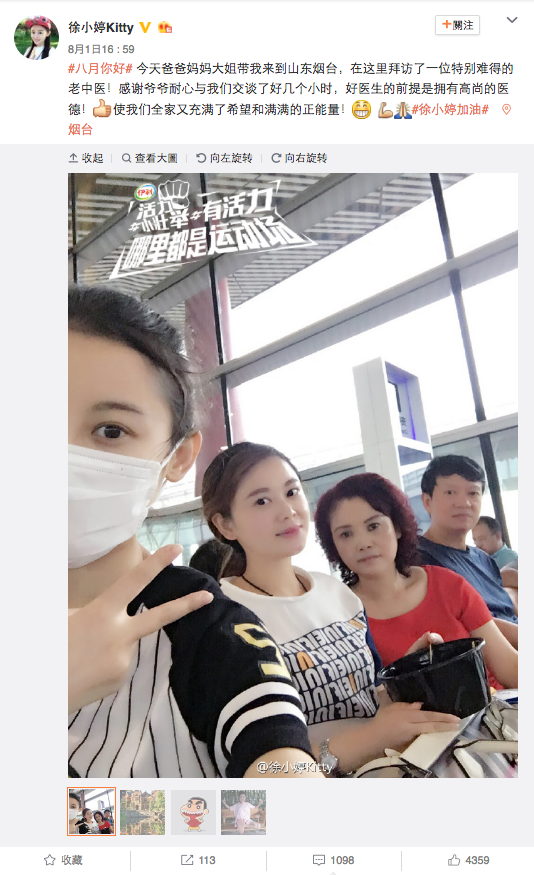 However, her health took a turn for the worse in August.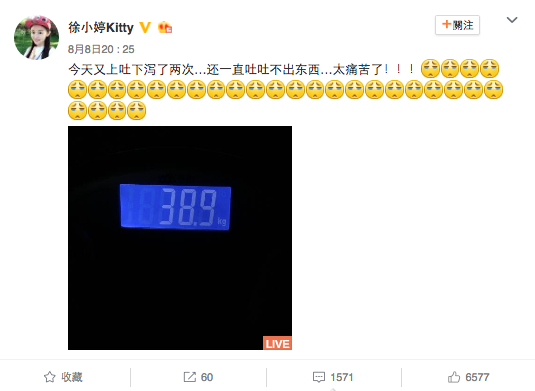 Xu's last post was on Aug. 18, when she was briefly hospitalized.
She died on Sept. 7. Her family posted the news to her Weibo account, along with the time and date for her farewell ceremony.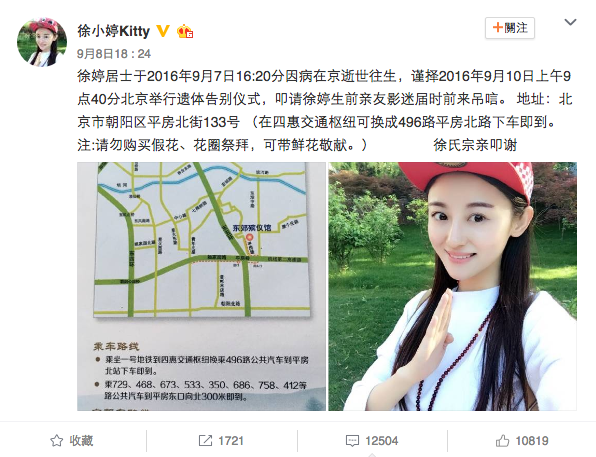 Xu's death has sparked numerous opinion pieces debating the effectiveness of traditional Chinese medicine.

Several opinion columns have been published in local papers and picked up by the People's Daily, with some calling traditional Chinese medicine a sham.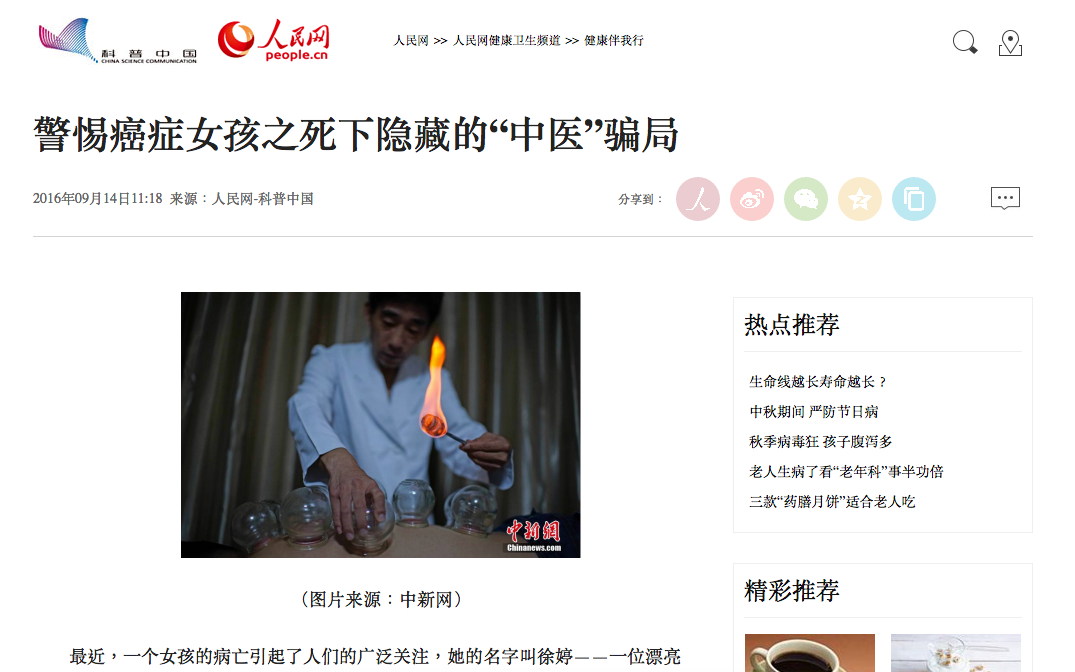 Several experts and academics have also voiced their opinions on the subject.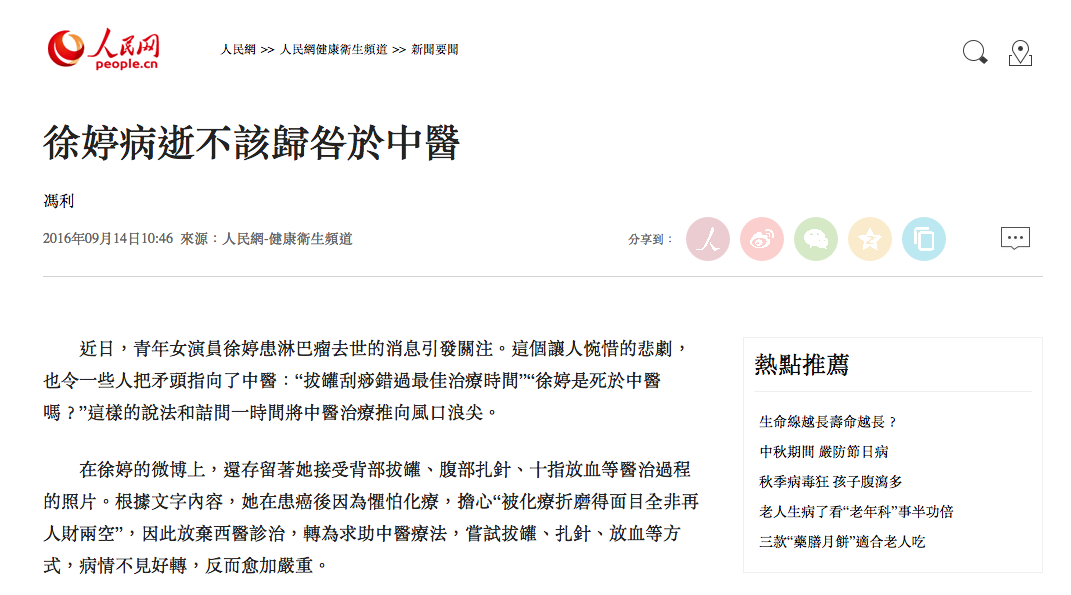 Most fans, however, just left their condolences.


Xu's entire post read:
Actually I hadn't intended on making the announcement on Weibo, but a lot of fans have been very worried about me and too many of my friends and kind strangers have helped me in these days. I don't want to make more people worried and sad for me, but these are the results of medical examinations from two separate hospitals. These days, my family and I can't believe this is the reality. Even now, I still can't believe this is happening to me, but this is the reality. We cry, but even if we don't want to understand or believe, it doesn't change the reality. I've thought about it for two whole days, and I want to give up treatment to go traveling. I've seen a friend who I personally have helped die even after going through with chemotherapy. I don't want to suffer through chemotherapy to come out unrecognizable, lifeless and without any money, but I know that my parents won't let me forgo treatment. They said they will do anything just to get me treatment, and that if I die, they die with me. My attitude towards this is quite good. My medical results are: mediastinal malignancies and hematopoietic malignancies, but they have not confirmed whether it is lymphoma, leukemia or breast cancer. I want to forgo continual treatment and go with traditional Chinese medical treatment, no kidding. I'm not sure if traditional Chinese medicine will cure me, but I know that chemotherapy will be painful and I may even die sooner. So regardless of how long I can live for, I want to enjoy everyday and live it to the fullest. I mean, I have never really lived for myself in these 26-years. My parents had seven children, and I am the third eldest. I've been paying off my own tuition as soon as I began university. Before I could finish university, I brought my 300 RMB and went to live in a basement in the outskirts of Beijing. I spent five years acting in movies just so I could pay tuition for my younger brother, pay my rent, help my parents pay off their debts, buy a house. Countless sleepless nights, standing in ice cold water filming even though I was so tired my intervertebral disc was bulging out, so stressed I could hardly breathe, I've given all the money I've made from the 10 or so movies I've made in the past five years to my family. I could never spend it on myself. When I found out I had cancer, I experienced a particular sense of relief. I felt like I was going to be free of it all. I believe in Buddha. I don't blame anyone, nor do I want to ask God why good people aren't rewarded for their goodness. This is my life. Finally, I have one last favor to ask of you: If you share this with your friends or on Weibo, you must use pretty photos of me. Also, please call me by my new name: Xu Xiao Ting!