A photo of an American Airlines employee wearing a "Black Lives Matter" pin on a flight has caused a lot of controversy this week after it was posted to the American Airlines Facebook page.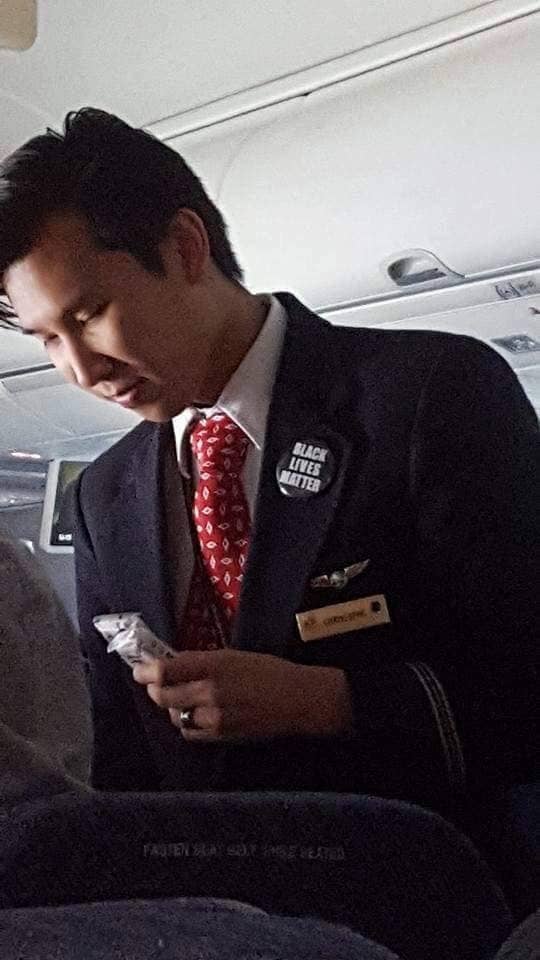 Maggie Dietrich shared the photo to the American Airlines Facebook page with the caption "Disgraceful" on Tuesday.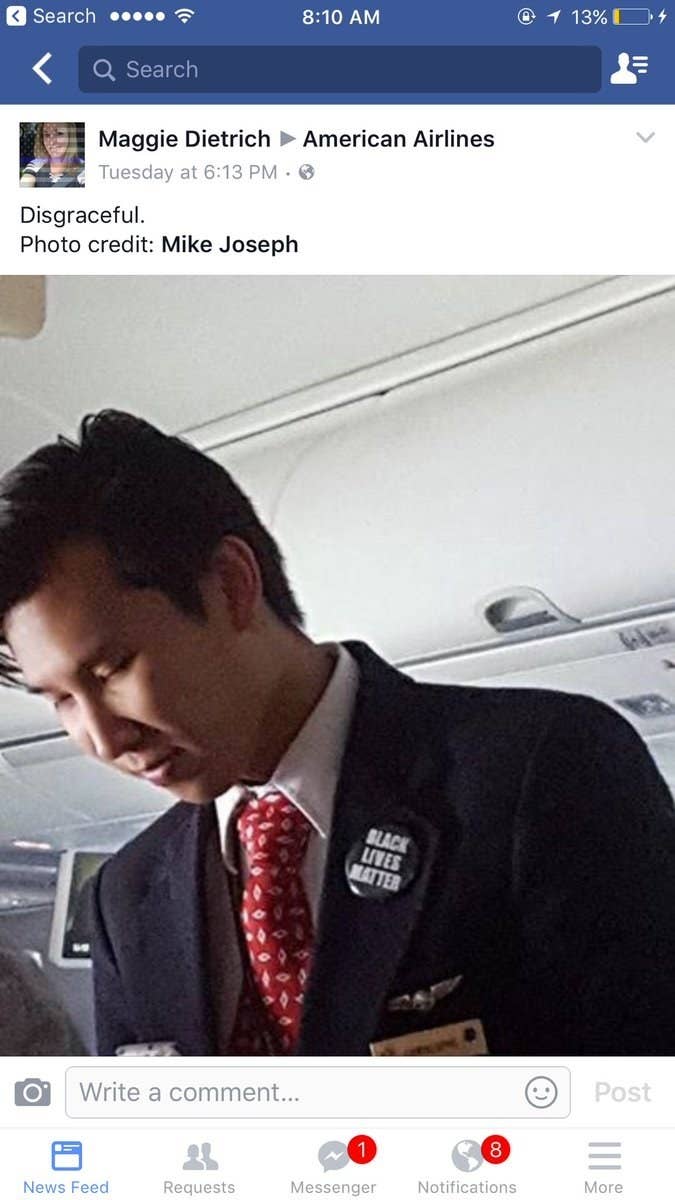 Dietrich told BuzzFeed News she was "not sure why so many people are being hateful, as anyone can clearly see I've made no racist or hateful comments whatsoever."
"I don't support any group, this one included, that promotes murdering police officers, arson, theft or all out civil disobedience," she said. "This organization does not promote, at least on any news outlet I've ever seen, peace and equality."
Dietrich said that she had received hundreds of messages including "outright threats, only proving my whole point on this organization."
"So sad really," she said.
American Airlines responded 20 minutes later, hiding the post "in accordance with community guidelines," as it displays a photo of an employee.
The airline's response in the now-hidden post read:
We appreciate your concerns and have alerted our flight attendant management team who will investigate and ensure all uniform standards are followed. In accordance with our community guidelines, we've hidden your posts since it includes a photo of an employee. Thanks for your understanding.
Initially, people who had seen just the photo came forward to voice their support over what they saw as the airline's decision to allow a member of staff to wear the pin.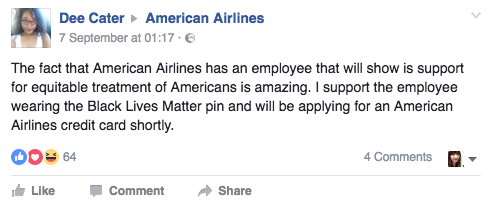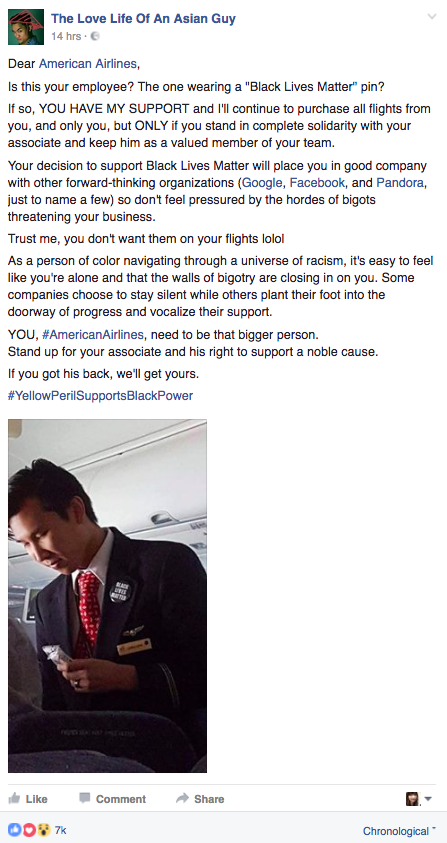 However, once people found out the airline had hidden the post, they started leaving angry comments on AA's Facebook page.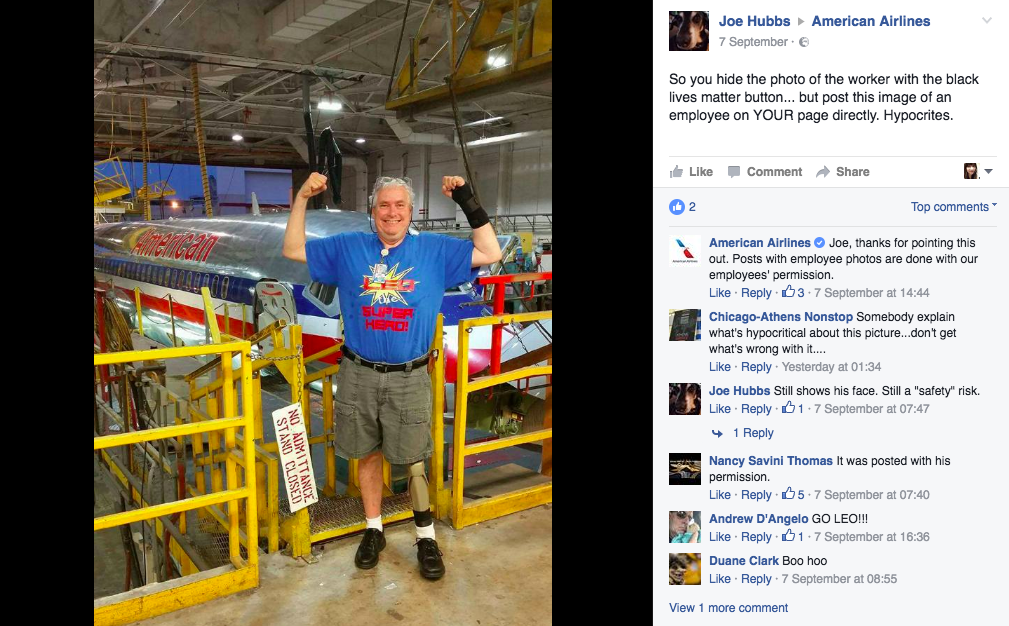 Others, though, threatened to boycott the company because they felt it was supporting the Black Lives Matter movement, which some called a "hate group."




But most were critical of what appeared to be American Airlines trying to hide one of their employee's supporting Black Lives Matter.

Users threatened to boycott the company if the employee was made to face disciplinary action over the pin.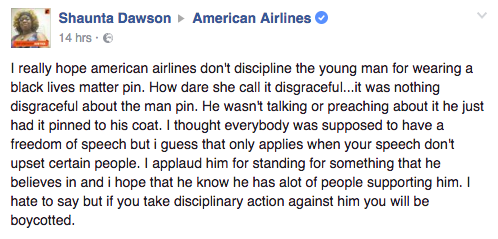 And now, responses are spilling over to Twitter, where people have also been threatening to boycott the airline should anything happen to the employee.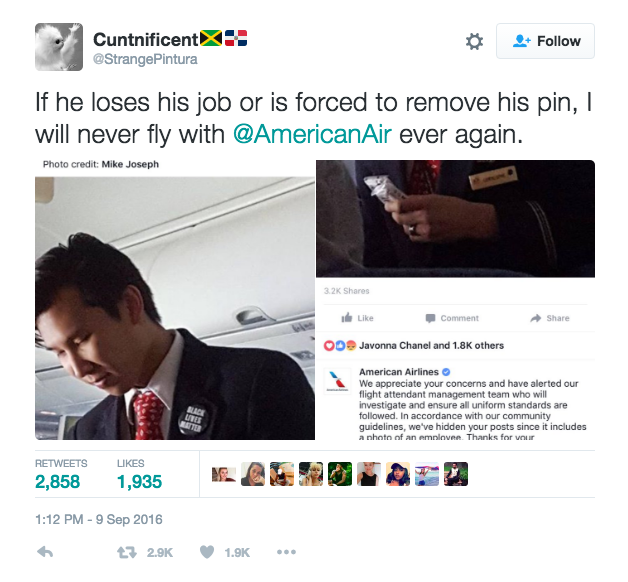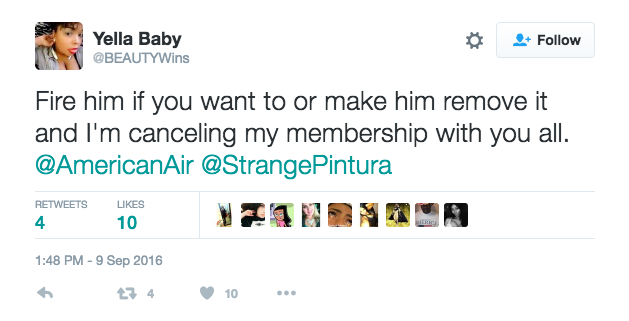 An unsourced screenshot of what people say is the airline's uniform policy has also been floating around on both Facebook and Twitter.
The policy in the screenshot states that a maximum of two pins that are "charitable/philanthropic causes or organization or personal pins of the employee's choice" may be worn.
The airline has been responding to all comments on the matter on Twitter with the same response.
UPDATE: A spokesperson for American Airlines told BuzzFeed News the company does not display any photos or videos of its staff that appear to be taken without their consent on social media channels the company controls, in order to protect the staff members' privacy and ensure their safety and security.
The spokesperson declined to comment on any discussions that have taken place with the employee in question as the company "does not comment on personnel matters."